New outdoor spaces
Pools, baseball diamonds and bike paths provide fresh athletic activities in the city.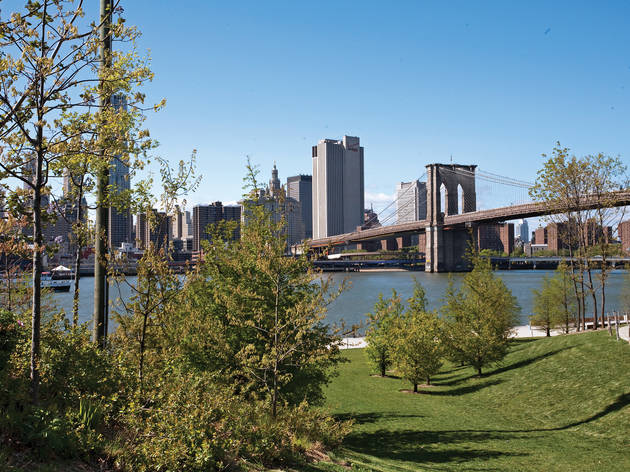 1/3
Time Out, Photograph: Marielle Solan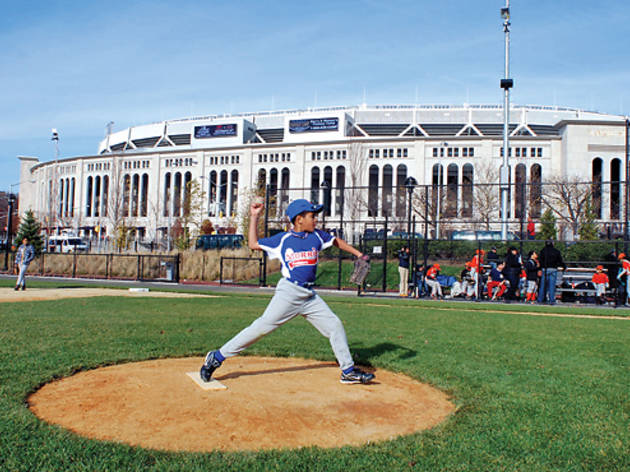 2/3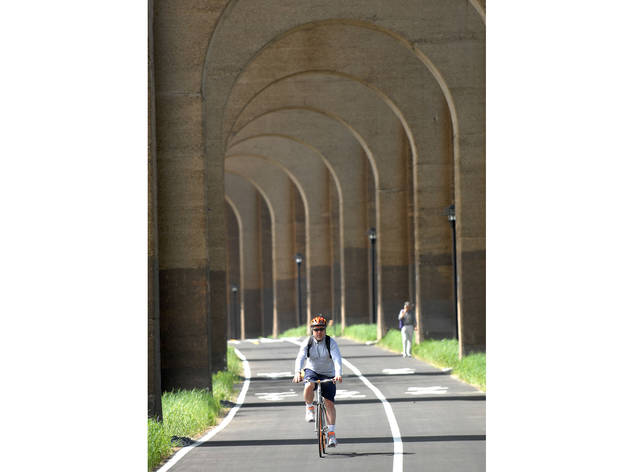 3/3
NYCDPR, Photograph: Daniel Avila
Macombs Dam Park
After a much-beleaguered redevelopment, these three new ball fields—which sit in the footprint of old Yankee Stadium and replace the four that were bulldozed to make way for the Bronx Bombers' new digs—opened last month. Although 16 months behind schedule and at almost twice the initial budget (currently estimated at $195 million), the new Macombs Dam Park does provide much swanker, if fewer, diamonds than its previous iteration. The Kentucky bluegrass grounds are peppered with pin-striped paraphernalia, from a refurbished bat smokestack (which stood outside the old stadium) to viewfinders that pinpoint locations of famous events in Yankees history. Most poignant, the city has sewn a blue polyfiber outline of the old field into the new one. It might be difficult to walk onto one of the diamonds, though; the park has already received more than 20 permit applications from leagues to play there. If you're lucky enough to find the fields empty between 10am and dusk, you can swing for the fences on the same spot where Babe Ruth crushed homers 80 years ago. River Ave between 157th and 161st Sts, Bronx (nycgovparks.org). Daily 10am–dusk; free.
Brooklyn Bridge Park
This 85-acre green space has been under near-continuous construction since 2009 in order to revamp the site's former industrial docks, numbered 1 to 6 from north to south. Between the two piers that bookend the park and the neighboring Empire–Fulton Ferry State Park, the area now boasts a verdant lawn, gardens, two playgrounds, a waterfront biking-walking path and the restored Jane's Carousel. This summer, the park will receive a 1,500-square-foot wading pool, which will occupy the greenway adjacent to Pier 2 for at least the next five years (officials are hoping to secure a permanent swimming hole by then). Last year's new attractions—three sand volleyball courts and a roof deck with concessions from Bark Hot Dogs and Uncle Louie G's Italian Ices & Ice Cream—will open again at the southernmost section, Pier 6, at the end of May. In the fall, visitors can expect a new area of Pier 5, with three artificial-turf fields for soccer, cricket, lacrosse and softball; rows of tables and barbecues for grilling; and a pedestrian bridge connecting Brooklyn Heights' Squibb Park to Pier 1. Main St at Fulton Ferry Landing, Dumbo, Brooklyn (brooklynbridgeparknyc.org). Daily 6am–1am; free.
Randalls Island
Currently, anyone venturing by foot or bike to Randalls Island Park must brave the noisy, car-exhaust-filled sidewalks on either side of the Robert F. Kennedy Bridge. That will change on June 2, when the 103rd Street Footbridge, closed two years ago for repairs, reopens to provide an essential link to the island from the East River Waterfront Esplanade and East Harlem. Its ribbon-cutting coincides with opening of FLOW.12 (through Oct 31), a public art installation organized by Randall's Island Park Alliance, Bronx Museum of the Arts and Made Event, the company that stages the Electric Zoo festival there each Labor Day weekend. The pieces on view are integrated into the surrounding environment, and include aluminum statues of notable figures tied to the island's past, such as Robert Moses and Jesse Owens (their faces will be cut out so visitors can pose as them). Those sculptures will dot the island's network of bike-and-pedestrian routes, which include the first phase of the Hell Gate Pathway, a mile-long track that runs under the arches of the island's elevated rail. In 2013, work will begin on another segment to connect the path to the South Bronx. Randalls Island (randallsisland.org). Daily 6am–midnight.
Related