Public eye: Benjamen Denham, 75
New York street interviews: Stories from the sidewalk as told by real New Yorkers about their lives in the city that never sleeps.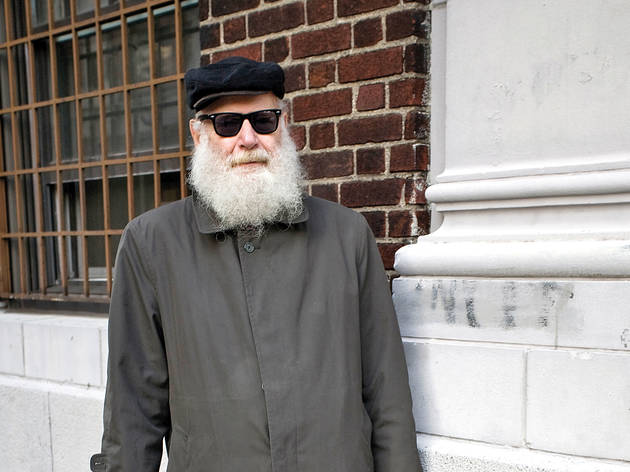 Washington Pl and Washington Sq West
What are you up to?
Oh, I was just doing some conducting in the park with the local bands.
Which bands do you work with?
Whatever groups are there, really. Sometimes I'll go around the whole place conducting each one.
Wait, so you mean you go count time for strangers?
Yeah.
Does anyone ever resist?
A few times in the beginning, a couple bands would move away quickly. I just followed them, and after two or three years, they got used to me. Now they welcome me. One lady said, "The music doesn't start till Benjamen gets here." Wasn't that nice?
Nice! But how do you conduct with bands playing music you don't know?
I do it automatically. It's kind of like a trance I go into.
Do you have a conducting stick?
Yes, someone gave me a conductor's wand, but I use a straw usually. When I go into that trance, sometimes a kid will run in front of me.
What else do you do with your time?
Well, I'm writing a number of books on couponing. I collect coupons. Between that and food stamps, I save about 50 percent on bills.
Any memorable coupon gets?
Oh yeah. One time I got 150 free unlimited coupons for Ocean Spray cranberry juice. I send in five or six every day.
Are you sick of it yet?
No, I love it.
What did you do before you retired?
I had boutiques that sold jewelry, dresses, handbags.... My partner is Jules Van Rouge. He made jewelry for Vogue and designed for Valentino.
Sounds like the makings of the good life.
It was. We had 27 covers of Vogue! We have 10,000 pages from magazines with our jewelry in them—and our names. But our money went to lawyers, and on moving and medical bills. Now we're on a tight budget, and it's tough.
Where's all that jewelry?
Well, we gave it to the magazines and we rarely got it back. In exchange, though, we got to be No. 1 artists.
More from Benjamen
"My stores were called Benjamen's. Always Benjamen's."
You might also like
See more New York stories from the sidewalk
See photos of New York street style
See more in Things to Do
Sponsored listing
Feast
This family-style bistro in the East Village serves rustic and seasonal American fare. The list of snacks includes several familiar appetizers, albeit with some unexpected twists: chicken skin crisps ($7) seem reminiscent of pork rinds, while the crispy deviled egg ($10) and fried rice with parmesan, shiitake mushrooms and truffle zest ($10) reference two beloved American foods. The rest of the menu is divided into garden (beets with crispy farro, caramelized goat cheese and chrysanthemums, $12), sea (octopus with celery root puree and pickled Asian pear, $17), land (duck with caramelized apple, charred scallion and beet greens, $26) and harvest (kabocha mac and cheese, $16). Groups of two or more can share several dishes with the "feast" option ($52 per person), while larger groups of eight or above can book five days in advance for the "whole hog" feast complete with suckling pig ($75 per person).
Venue says: "Chartiki every Tuesday! We partner with different charities & offer a special drink menu-30% of beverage sales go to the charity of the week"