Heads up! We're working hard to be accurate – but these are unusual times, so please always check before heading out.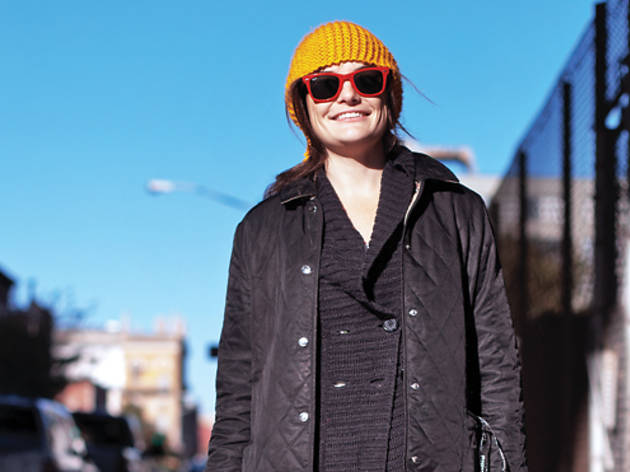 Public eye: Bitsy Metcalf, 28
New York street interviews: Stories from the sidewalk as told by real New Yorkers about their lives in the city that never sleeps.
Berry St between South 5th and 6th Sts, Williamsburg, Brooklyn
Good thing you're not big—your name could make things really awkward. [Laughs] That's a good call. My dad named me Bitsy when I was two, and I swear, you cannot be an introvert with a name like this.
What are you up to? I'm new to Williamsburg—just moved from the Village—so I'm getting out of the house, exploring. Brooklyn is really genuine and real compared to the city. I've been interested in getting a bike.
It's a necessary accessory in Williamsburg. Totally! But at first, I didn't understand why I wouldn't just go to Kmart and get one for $150. Then I learned that you don't do that in Brooklyn. You get an old vintage.
Just for show? Well, it's definitely better made....
You've already drunk the Williamsburg Kool-Aid. I know, it happened really fast. [Laughs]
So why did you move? I'd been in New York for five years and I didn't know if I wanted to go home, back to New Orleans, to officially start my life. Instead, I decided to have a new experience.
As a Yankee, I picture the New Orleans upbringing as being all plantation homes, hurricanes and coming-out balls. That's about right.
Seriously? Yeah, you nailed it.
Did you have a coming-out ball? I made my debut.
Weird! Yeah, it's connected closely to the Mardi Gras tradition in New Orleans, and your participation is based on the crew your parents are in. My dad is in Rex, which rolls on Mardi Gras day. Eight of us watched the parade downtown in white gloves. Later on that night, we were presented at the ball.
Sounds like you're from an establishment family. I mean, a little bit. I'm from a family with lots of family in New Orleans.
So is there pressure to be a pearl-wearing fancy housewife type? No, no pressure. But what I love about New York is that you can really figure yourself out and not have to be around people like that. I still have fun doing that, but I'm over it. There's so much more out there.
More from Bitsy
"Before I moved here, I could count how many times I'd been to Brooklyn on one hand."
You might also like
See more New York stories from the sidewalk
See photos of New York street style
See more in Things to Do