Public eye: Conway Liao, 32
New York street interviews: Stories from the sidewalk as told by real New Yorkers about their lives in the city that never sleeps.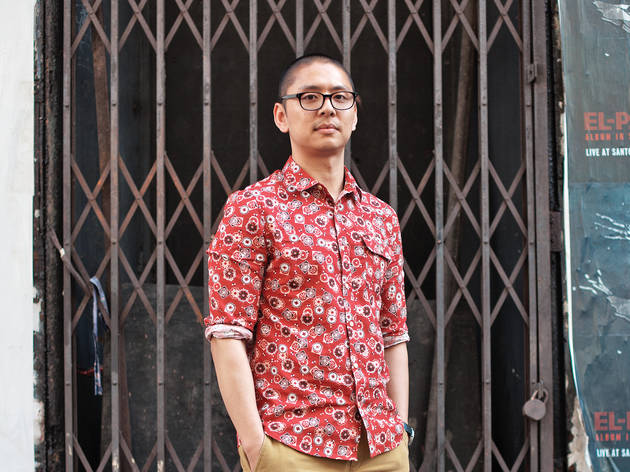 Spring St between Bowery and Elizabeth St
What are you up to? Just about to get a drink with some coworkers at Sweet & Vicious. We all work at an interactive ad agency called Rokkan.
Ah, you're a designer. Well, I'm actually an interaction designer or, as they call it, an experience architect. It's a blend of technology, design and computing. So I'm not, like, a designer-designer.
You just play one on TV. Right. I guess I'll take that as a compliment.
Do. So advertising—it's just like Mad Men, right? There are some parallels. The philandering is familiar. The drinking, too, except instead of whiskey and old-fashioneds we have a kegerator in our office.
Classy. And you're all sleeping with your secretaries? [Laughs] No, we don't have any. Plus, don't shit where you eat, you know?
Right, very important. Where are you from? I grew up in the Bay Area. I've been in New York going on four years. Every time I go back to San Francisco for more than a week, I get bored.
Hey, I didn't say it.… [Laughs] Yeah, it's beautiful, but…. I think a lot of people who grew up on the East Coast go out there and fall in love with it, actually. I seem to meet a lot of people from Boston out there.
Which definitely doesn't speak well for it. [Laughs] I guess it doesn't.
Where do you live? On the LES. I moved from Clinton Hill a couple
years ago.
That's so reverse-hipster of you. I guess so. Though now that I have a dog, I'm looking to move back.
How is it being a new dad? It's completely different. I have to come home at lunch to take her out of her crate and play with her.
And you can't stay out all night anymore. Right, exactly. Which is kind of one of the reasons why I got a dog, so that worked out well. My parents kept asking why they didn't have grandchildren yet, so I asked them if they'd settle for a canine one.
And? It's holding them over for a while. They haven't met her yet, but they've done a lot of FaceTime. It's a temporary measure. [Laughs]
More from Conway

"I have 30-plus cameras at this point."
You might also like
See more New York stories from the sidewalk
See photos of New York street style
See more in Things to Do