Heads up! We're working hard to be accurate – but these are unusual times, so please always check before heading out.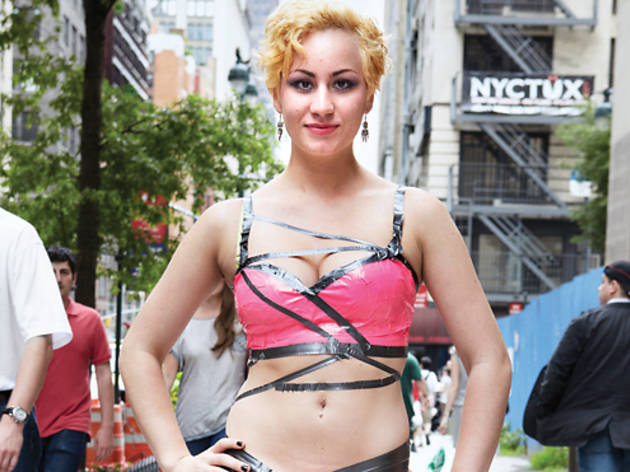 Public eye: Elena Rodriguez, 19
New York street interviews: Stories from the sidewalk as told by real New Yorkers about their lives in the city that never sleeps.
Madison Ave between 33rd and 34th Sts
This is a new one. Do you dress like this every day? [Laughs] No, this is a special outfit I made for the Gay Pride Parade. It's my way to celebrate.
Very MacGyver. Where are you from? Asuncin in Paraguay. I was in Oakland, California, for a program this year, but I'm going back home in ten days.
What kind of program? Babysitting a two-year-old and a four-year-old.
Sounds terrible. [Laughs] It was amazing, actually. I was really lucky I had a great family. I got to become part of the family and the country, learn the culture and share mine.
And chase after screaming children. I like kids, so it wasn't hard. They were especially nice to me. I taught them songs in Spanish.
What's the first thing you'll do when you get home? Eat a lot of the food I've been missing. And go to clubs. You have to be 21 here. In my country, the age is 18. It's been kind of hard for me.
Poor thing, a whole year on the wagon. Ummm, right. There are a lot of things here that I thought were just in American movies, but then I realized that it's actually a part of your culture.
Like underage drinking? No, like the way this country is so big that no one really cares about what other people do. It's more relaxed and open-minded here. I'm from the capital of Paraguay, but the whole country is only six million people. So where I'm from, everyone meets everyone. It can make you nervous, but at the same time it's like we're a really big family.
A big, Catholic family. [Laughs] Kind of. I was raised by my mom and she is not religious. I have Catholic friends, but also friends from a lot of other religions. As long as they don't try to change my mind, I respect that.
How would people in Asuncin react to your getup? It would be really weird if I wore this there. We are not used to seeing this kind of outfit, but we are introducing new fashion designs. We have opened our minds a little bit recently. I guess I will try to take this idea to Paraguay and make people adjust. [Laughs]
More from Elena
"Everything is more natural in my country. I can definitely taste the difference in the meat and vegetables here."
You might also like
See more New York stories from the sidewalk
See photos of New York street style
See more in Things to Do