Heads up! We're working hard to be accurate – but these are unusual times, so please always check before heading out.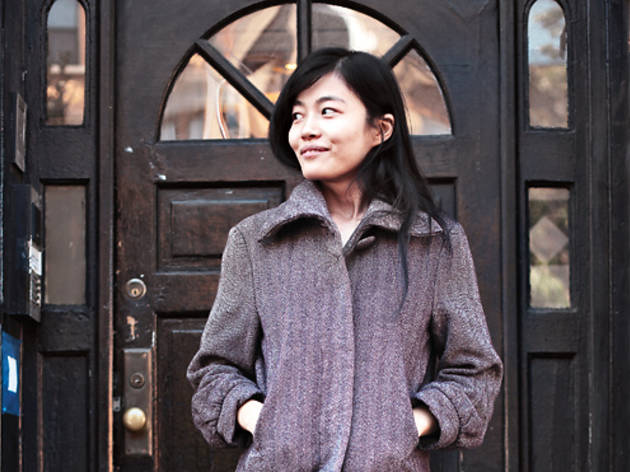 Public eye: Guyang Chen, 26
New York street interviews: Stories from the sidewalk as told by real New Yorkers about their lives in the city that never sleeps.
Vanderbilt Ave between Bergen and St. Marks Sts, Prospect Heights, Brooklyn
What are you up to? I'm apartment hunting.
Renting or buying? Buying. I'm not sure if I can afford it, but I actually made an offer today for a place in Williamsburg.
Did you lowball 'em? I didn't. The open house was packed, and I don't think they were that open to negotiations. Plus, he was serving Bloody Marys.
Bloody Marys. Good call. Yeah, it works. Lowers the inhibitions, you know? It's like, Oh well, I'll just buy the apartment.
How'd you get so lucky to be buying real estate at 26? My dad was telling me I had to purchase a house because the interest rates are so low. So he gave me his savings and I think some of it was my grandparents', who recently passed away. So yeah, I'm very lucky.
Wow, no pressure or anything, spending your family's life savings. I know. It's probably the biggest risk I've ever taken: I don't know if I'm secure at my job, or what's going to happen with the economy and the housing market, but I dunno, it's just money and he's telling me to do it.
What do you do? Graphic design, both print and Web. I work for a nonprofit called the Climate Group. It's the first NGO to work solely on climate change. We do research and analysis, and showcase studies to get business and government leaders excited about it.
But Guyang, don't you know that climate change doesn't actually exist? Um. You know, I did my research before I joined, but even if it doesn't exist, clean energy is the way to go.
What a diplomatic response. Is that what you say to the Rick Perry supporters among us? We try to be diplomatic. The Climate Group claims to be politically neutral.
Do you do your small part to prevent climate change? I try not to eat meat—especially beef. There are so many reasons for that, but it's a big contributor to greenhouse gases.
How long have you kept it up? Almost a year, but I went on a crazy binge. I couldn't help myself. I ate bratwurst and turkey sandwiches for two weeks.
More from Guyang
"I grew up in Park Slope. No, I can't drive."
You might also like
See more New York stories from the sidewalk
See photos of New York street style
See more in Things to Do