Heads up! We're working hard to be accurate – but these are unusual times, so please always check before heading out.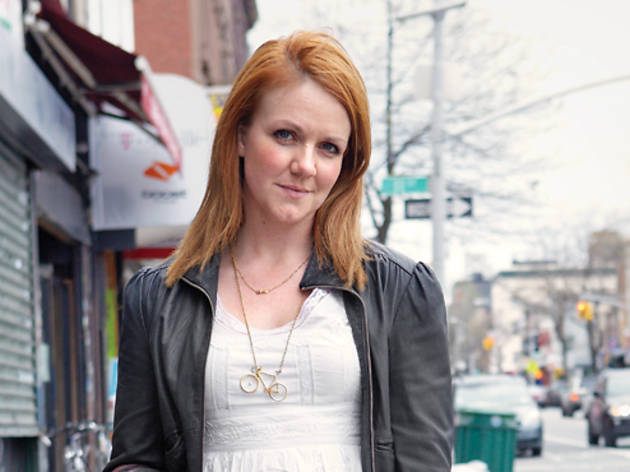 Public eye: Hayley Burnham, 29
New York street interviews: Stories from the sidewalk as told by real New Yorkers about their lives in the city that never sleeps.
Fifth Ave between 10th and 11th Sts, Park Slope, Brooklyn
I just learned the phrase copper knob and now I get to use it. [Laughs] I'm actually not even a real redhead. I had a little band in London with a friend who was a real one, so the band was called Red and the Imposter. I'm the imposter.
You're very convincing. What kind of music do you play? Oh, we did mostly cover stuff, so it's not like a proper band. I play guitar.
Do you live in New York now? Yes, as of six weeks ago. I moved here from London for work—I work for a brand consultancy firm and I'm here setting up a New York office.
And how are you finding it? I'm loving it. Everyone said it would be really difficult at first, and I'd be homesick, but it's been fine. It's a whirlwind of a city and it's an adventure every day.
Yeah, what did they think, that you'd be homesick for a Tube that shuts down at midnight and pubs that close at 11pm?
I know! I don't know what they were thinking. [Laughs] But I grew up outside of London and lived there most of my life, so this is a big change.
There must be something you're homesick for. Well, I found a shop near me that sells Marmite, and that's what I was most worried about.
And you didn't get mocked for buying it? No, and I even took a photo of it in the shop. My flatmate is a chef, and he tried it for the first time when I brought it home.
Vomit central? No! He did take a big spoonful, though, which is not what you're supposed to do. He liked it better on toast.
Marmite aside, which city is more on the cutting edge of culture, London or New York? I'm living in Williamsburg, which seems very on the pulse, I suppose the way East London does. Before I came here I would have said London, but now I see there's so much going on and such a celebration of creativity here.
You'd better hope your London friends aren't reading Time Out New York—you sound like a traitor already. [Laughs] I know. I'm sure they'll be all right.
More from Hayley
"I went to Coachella and the crowd went mad over Tupac."
You might also like
See more New York stories from the sidewalk
See photos of New York street style
See more in Things to Do