Heads up! We're working hard to be accurate – but these are unusual times, so please always check before heading out.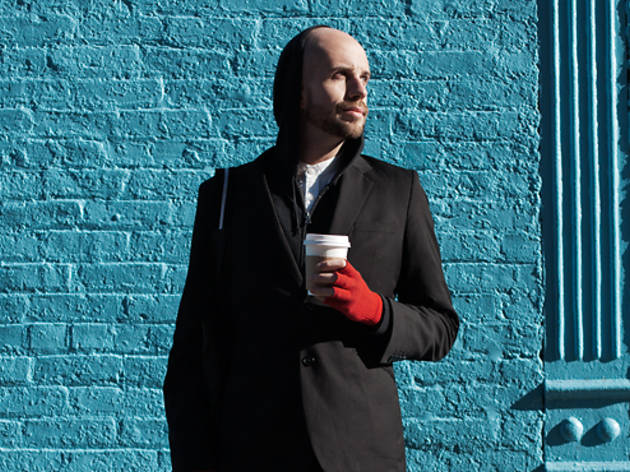 Public eye: Jeff Moore, 28
New York street interviews: Stories from the sidewalk as told by real New Yorkers about their lives in the city that never sleeps.
Grand St at Bedford Ave, Williamsburg, Brooklyn
What do you do? I work for Lomography.
The hipster camera company? [Laughs] You could call it that. I'm the Northeast territory manager.
Photo nerdery required? They always say they're not looking for graphic designers or photographers when they hire for positions like this. That said, I do have a BFA in illustration, but I've been in sales forever. I'm also an independent curator. That's a little side project, and a chance to show my work.
So where is the art scene happening these days? Most of my shows last year happened in Red Hook. There's a really interesting art community developing out there, in that independent way that happens when a place hasn't been overly gentrified.
Speaking of which, what is Instagram doing to Lomography? Oh, it's been great. It's raising awareness about what Lomography does. I often interact with customers and people will be like, "I've been using Instagram, and now I want to do the real thing."
So Instagram is like a gateway. Right. I mean, iPhones are great, but it's all so impermanent: You can lose your phone, your hard drive can crash.… And also, you're always just looking at a screen. For me, Lomography is about that moment when you get the envelope back, and you're with friends, going, "Oh, look at this one!"
I forgot what that was like. Right? My favorite thing to do at parties is when people see me shooting and are like, "Hey, let me see!" I'll turn around the back of the camera and be like, "Oh, you have to wait a day." [Laughs]
I guess there's no chance of being bought out for, say, a gajillion dollars by Facebook. I don't see that as something we would be interested in. Lomography is all about community.
Spoken like a true publicity man. [Laughs] No, but really, our online community has a million people signed up. We had this killer bus trip last weekend for World Pinhole Day.
Pinhole Day? World Pinhole Day. We had 70 people all doing pinhole photography down on the piers of Coney Island. It was so much fun.
More from Jeff
"I travel a lot for my job. No bedbugs yet."
You might also like
See more New York stories from the sidewalk
See photos of New York street style
See more in Things to Do