Heads up! We're working hard to be accurate – but these are unusual times, so please always check before heading out.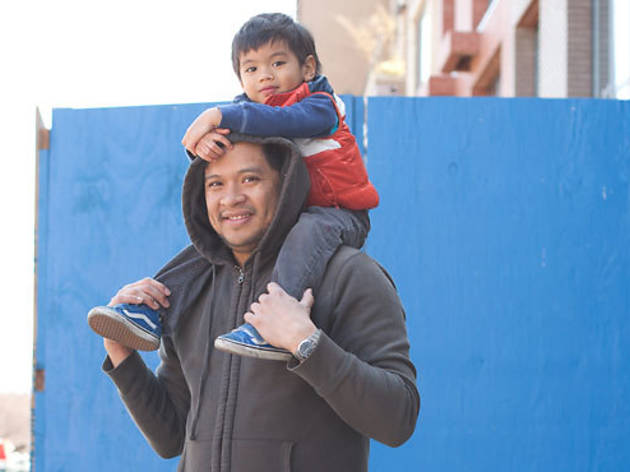 Public eye: John Divinagracia, 37, 
and Santi, 3
New York street interviews: Stories from the sidewalk as told by real New Yorkers about their lives in the city that never sleeps.
Bergen St at Vanderbilt Ave, Prospect Heights, Brooklyn

That's quite an accessory you have on your shoulders. [Laughs] Santi really knows how to emote in front of the camera.

I can tell. Santi, have you been working on your smize? [Santi is silent.] He's pretty shy. He only started talking a year ago. Sometimes it's difficult for him to communicate, especially with strangers.

Are you a modern-day Brooklyn dad? I guess so. I'm not self-conscious about my masculinity while holding a bottle, if that's what you mean. [Laughs] At the end of a stressful day at work the only thing I can think of is spending some time with my kids.

Kids, plural? We also have Eve, who is almost one. When she was born, the deal was that my wife would take care of Eve and I would take care of Santi, but now we're trying to mix it up so I don't miss out on all Evie's firsts.

Where are you from? The Philippines. My wife and I moved here ten years ago. We were young and wanted the opportunity to work in the U.S. The first couple years were pretty hard, and then we settled in. We started on the Upper East Side.

Well, that would be rough for anybody. [Laughs] Right. So we moved to Brooklyn.

Are you homesick for the Philippines? I hear it's the texting capital of the world. It's true—15 or 20 years ago, texting was already prevalent there. The Nokia phones were the thing then.

So coming here was like going back in time? Exactly. Those clamshell phones everyone had here were so funny. When the first Matrix came out, and all the Americans were so excited about the cell phones in it, Filipinos were all like, What's so cool about those phones? Everyone has them.

So what does the Filipino future of cell phones look like now? Well, I think the U.S. surpassed us.

No wonder you're staying here. [Laughs] Yeah, true. We thought we'd just stay for five years and go back, but we love Brooklyn too much— the vibe, the people. We want our kids to grow up here.
More from John

"We figured a name like Santiago would have the girls lining up."