Heads up! We're working hard to be accurate – but these are unusual times, so please always check before heading out.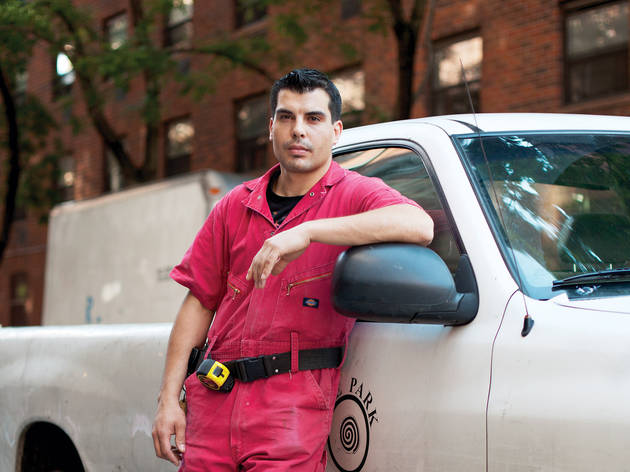 Public eye: Marcos Contreras, 32
New York street interviews: Stories from the sidewalk as told by real New Yorkers about their lives in the city that never sleeps.
Elizabeth St between Prince and Spring Sts
What are you up to? Just going to buy some materials. I'm a carpenter at the Bowery Hotel.
You look like Central Casting's version of a carpenter. [Laughs] A lot of people say I look like a fireman or something like that.
What sort of carpentry do you do at the hotel? We make all the furniture for the hotel and the restaurant, and maintain it—fixing and repainting, mostly.
Neato. You make all that old-looking furniture in there? Yes, I love it. People come in with crazy ideas. Like lately, we've been building furniture with wood that's been taken off of old buildings in New York. So I've been making things —tables, armoires, wine racks, shelves—from 200-year-old wood.
You could sell that at ABC Carpet & Home for, like, a million dollars. [Laughs] Sometimes, people come to me and ask why I don't set up a showroom. Maybe one day I will. My full-time job is at the Bowery, but sometimes the guests call me to make things for them.
Do you think it helps that you wear a hot-pink jumpsuit? Uhhh, I don't think so. This is the Bowery uniform.
So which celebrities at the hotel break their beds the most frequently? [Laughs] I can't really say. Hotel policy, you know?
That's very discreet. Where are you from, by the way? I'm from Argentina—a place called Mar Del Plata, near Buenos Aires. I've been here for 11 years.
What brought you to the States? Well, my sister came first, then my brother.
I was all alone, so I came here too.
Do you think you'll ever go back? I'd like to, but I don't think I will. Now, I'm a part of New York. I have two kids. One, the boy, is eight years old, and I also have a girl who is eight months.
So you have a complete set. Yes, I think that's all for now. It's the American Dream.
Does it feel like the American Dream when the baby wakes you up in the middle of the night? Yes. I love her—I love my son, too—she's just starting to say things. Like papa. It's pretty good.
More from Marcos

"My wife is from Uruguay. Our kids are American, but we try to put a little Latino in them, too."
You might also like
See more New York stories from the sidewalk
See photos of New York street style
See more in Things to Do