Heads up! We're working hard to be accurate – but these are unusual times, so please always check before heading out.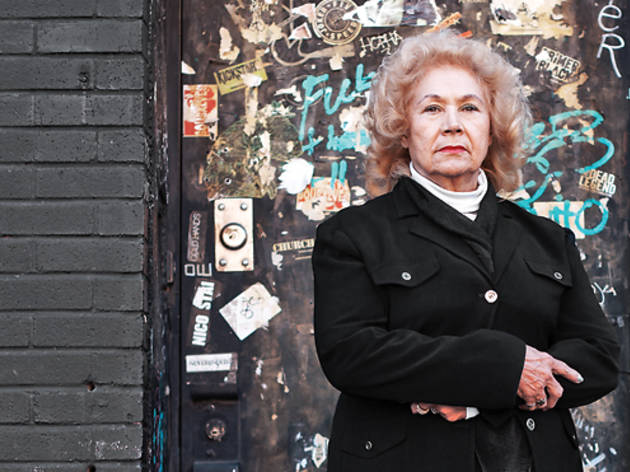 Public eye: Maria Cay, 70
New York street interviews: Stories from the sidewalk as told by real New Yorkers about their lives in the city that never sleeps.
Grand St between Driggs Ave and Roebling St, Williamsburg, Brooklyn
You are not 70. Yes.
Do you feel younger than that? No.
But you're about to walk into a bar. Yes, I own this club. It's called Caribbean.
Is it crawling with young Williamsburg types? No, no. It's a sport club. Only a few people come over here. Old friends and family.
How long have you been open? Thirty years. We used to have a baseball league. That's why the club stay so long. When we have the league, the families of the players come here. But we don't have that no more. The permit for the park is too expensive.
Thirty years ago things must have looked different around here. Before, it was a lot of stores, and now it's like before again: a lotta stores. In the '80s everybody went out of business.
Where are you from? Puerto Rico. I came when I was 15. I went to Manhattan—Delancey. Then I moved to Brooklyn.
You can't tell me the Lower East Side is the same now as it was then. Oh, no. The Lower East Side is better than before.
Sounds like you're not particularly nostalgic. I never miss nothing. I live on the day.
Is that how you stay so young? Yeah, maybe. [Laughs] I don't worry about the past and I can't worry to the future. You gotta live in the now.
I think Caribbean could really appeal to the young folk around here. Some of them, they come here. They don't stay long because over here we only play pool and dominoes. Those kids like to dance and to make parties.
I would have guessed that you would like to dance. I do, I do.
In those shoes? Oh, yes. I like to buy shoes. I always use high heels, every day. I feel comfortable.
In stilettos? At 70? What is your secret? I have no secret. I exercise sometimes. I touch my feet, up and down, that's it. That's all you need all day.
More from Maria
"I used to be beautiful when I was young. No, no, not no more."
You might also like
See more New York stories from the sidewalk
See photos of New York street style
See more in Things to Do