Heads up! We're working hard to be accurate – but these are unusual times, so please always check before heading out.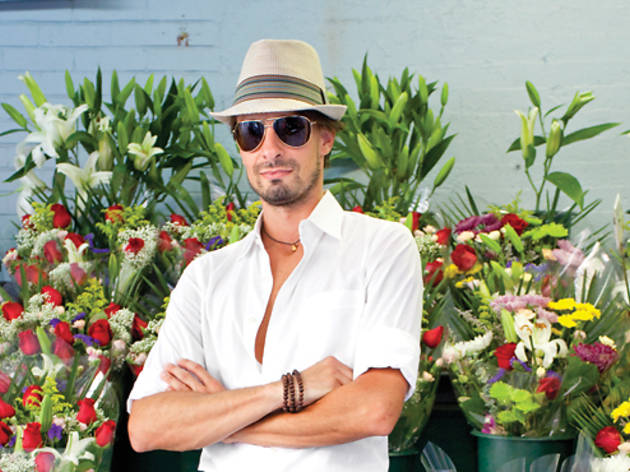 Public eye: Maurizio Nardi, 35
New York street interviews: Stories from the sidewalk as told by real New Yorkers about their lives in the city that never sleeps.
13th St between Fifth Ave and University Pl
You have leisure vibes, like, radiating off you. [Laughs] I just got back from Key West. My partner and I own a home there, so during my days off, I isolate myself and work on my garden.
What do you do? I'm a principal dancer in the Martha Graham Dance Company.
Why did you choose to be a dancer? Dancers never choose; it's the dance that chooses you. You have no other choice. It's not for a paycheck, that's for sure. It's for your heart, your spirit.
And a love of the spotlight? Definitely: the audience appreciation and the rewards of that. Standing onstage is magic. That's another place you can escape to, where nobody can find you and you can be whoever you want.
How are your toes? Oh, they're fine. We dance barefoot, so they get a lot of abuse, but you learn to take care of your feet, your knees, your hips…everything. It's an abuse to the body, what we make it do.
No kidding. Is your partner a dancer too? No, I don't see myself with another dancer.
Too many divas in one relationship? Exactly. I need to be the only one in the spotlight. [Laughs]
Where are you from? Italy—the countryside near Florence.
How could you leave a place like that? I came to New York for a vacation, and it just happened that Martha Graham had auditions for its yearly scholarship. I tried out and won a scholarship.
So you just up and came for good? Yeah. I didn't know a word of English, but I packed my little suitcases and came. My family wasn't in the arts at all, so it was a foreign thing that we all embraced. It was the kind of train you can't miss. So I studied, and I slowly made my way to the second company, and then to the first company, and worked to become a principal dancer. Eleven years goes by quickly.
And suddenly the Tuscan country mouse is nowhere to be found. Well, not really. We'd just have to spend some time together for that to come out. A couple glasses of wine, some nice prosciutto, some pasta­, then we'll talk.
More from Maurizio
"We're about to premiere a brand-new piece at the Vail International Dance Festival."
You might also like
See more New York stories from the sidewalk
See photos of New York street style
See more in Things to Do