Heads up! We're working hard to be accurate – but these are unusual times, so please always check before heading out.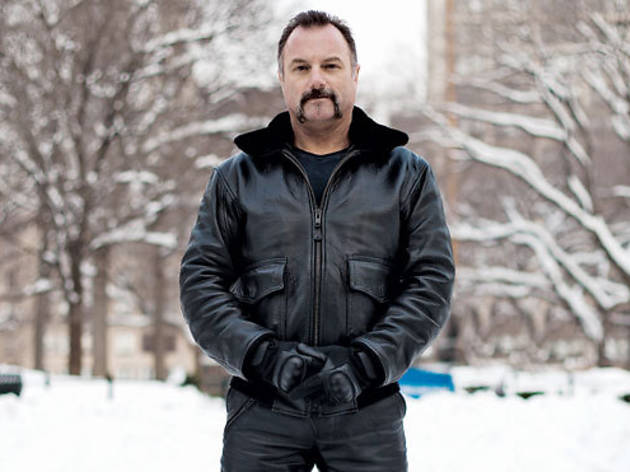 Public eye: Peter Sands, 46
New York street interviews: Stories from the sidewalk as told by real New Yorkers about their lives in the city that never sleeps.
Union Square
What are you up to? I just stopped at the farmers' market. I live around the corner.
Are you loving all the new banks and chain stores around here? I don't mind too much. I've lived here for 17 years and I love the shops and the number of restaurant options.
You sound so unjaded. [Laughs] Well, I do have the luxury of getting out of here most weekends. We have a house in Connecticut. It's in the woods on a dead-end road. And we just got back from Paris—we have an apartment there and go every few months.
Damn. What do you do? I'm the co-owner of Howard Kaplan Designs, an antiques and reproduction company. I do sales and the buying, and some of the designing.
Funny, I had pegged you as a tough motorcycle guy. Well, I am.
A tough guy? Oh, I think so. And I ride motorcycles. I keep my Harley in Connecticut and my sport bike here.
What's the appeal? It's just so good. You're outdoors, but you're moving right along. Every time I get on it, I'm thrilled. I'm very careful—I'm not one of these crazy people who like to go 120 miles an hour. There's something about being in control of a small machine like that, as opposed to being stuck in the cage of a car....
No offense, but you don't talk like a tough guy. Well, what's funny about that is that I was never considered tough. But then when my family came to visit—I grew up in rural Maine—they couldn't believe how I talked to people, and yelled at cab drivers. [Laughs] I guess everybody is tough in New York. The first night I lived here I was walking down Seventh Avenue and these two kids sprayed mace in the wind and it went in my face. Instead of running away from them, I ran toward them. That's how I tend to react. My friends tell me that instead of ready, aim, fire, I'm ready, fire, aim. [Laughs]
Hmm. So do you have bad aim? No no, I have pretty good aim. But I can't deal with the little details. Those are for other people.
More from Peter
"What do Parisians have on New Yorkers? Style. They all know how to tie a scarf."
You might also like
See more New York stories from the sidewalk
See photos of New York street style
See more in Things to Do