Heads up! We're working hard to be accurate – but these are unusual times, so please always check before heading out.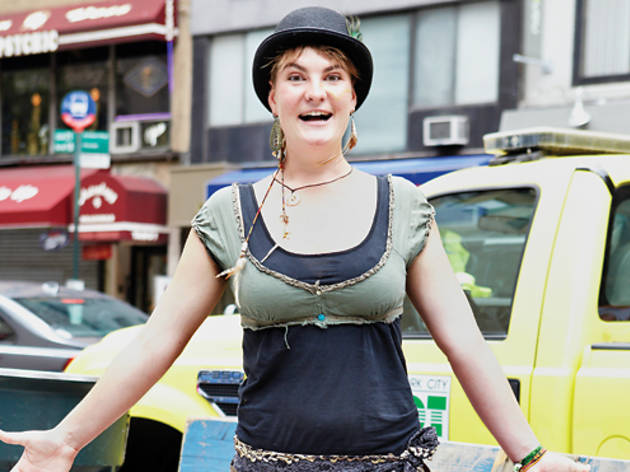 Public eye: Sue Laager, 22
New York street interviews: Stories from the sidewalk as told by real New Yorkers about their lives in the city that never sleeps.
E 33rd St and Madison Ave
What are you up to? I'm at the end of my trip around the world. It's been seven and a half months, and I'm going home to Switzerland in three days.
Sounds great. Highlights? Definitely people, not places. The places I want to return to are where I met amazing people. I met lots of these in New Zealand. In Argentina, I went to a rainbow gathering, which is where you go and live somewhere for a month, from new moon to new moon. It's like a hippie gathering, basically.
I think they're doing that on Wall Street right now. [Laughs] It's more about living together and sharing as a community. I was going to stay there for a week or two but it ended up being a month of running around half-naked and having a blast. And then I went to Nicaragua and worked at a bar in a tree house.
Sounds dangerous. It was a bit high. But you had a beautiful view, with apes swinging above you. I'm doing this project that started in Argentina, where I try to define what a hippie is. I'm asking everyone for their definition and I'm going to make a little book.
Are you a hippie? People call me a hippie—especially because I tend to walk around barefoot. It's funny, I was sitting around the campfire in Argentina with 15 people and all of them looked like hippies. But 12 out of 15 of them said, "No, man, I'm not a hippie." So that's why I'm asking. We all have our own definitions.
In New York, the more relevant question is, What is a hipster? [Laughs] I haven't been here long enough to get that definition.
So what will you do when you get home? I'll be working for the Swiss Union of Student Organizations. We represent all the secondary-level school students in Switzerland. We fight to have better education, to keep schools from privatizing, to make sure we're learning the kinds of things that will help us later in life.
Man. In the U.S., the fight would be for less homework and more parties. [Laughs] We have a lot of freedom outside of school time. So we've had a lot of parties. This is not the problem.
More from Sue
"I'm staying at my uncle's place in Larchmont. My mom wrote to make sure I was going to wear shoes."
You might also like
See more New York stories from the sidewalk
See photos of New York street style
See more in Things to Do