Heads up! We're working hard to be accurate – but these are unusual times, so please always check before heading out.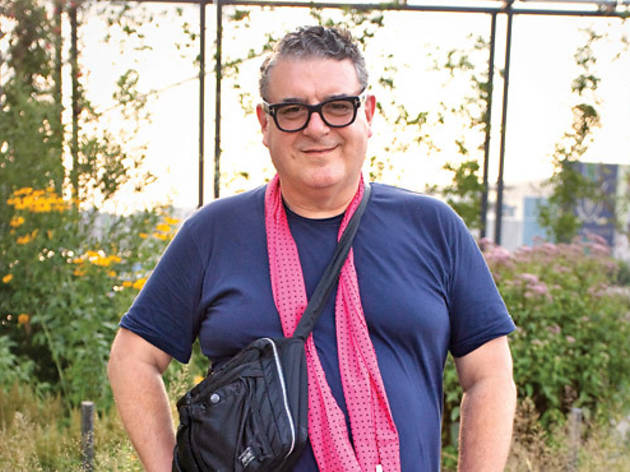 Public eye: Tim Hartley, 58
New York street interviews: Stories from the sidewalk as told by real New Yorkers about their lives in the city that never sleeps.
The High Line
What are you up to? I'm in New York for work. I have the evening off, and I'm just loving the High Line.
What do you do? I'm a hairdresser. This week I'm working for L'Oreal. I was formerly creative director of Vidal Sassoon internationally. I've just been nominated as British Hairdresser of the Year for the third time.
Wow. I guess you've probably touched a lot of famous hair follicles, huh? Well, I'm not a celebrity hairdresser, but I have cut Faye Dunaway's hair, and I cut Toni Collette's hair short. I do have those credentials, but I don't leverage them too much. It's a bad idea to take too much notice of your own PR, really.
How British of you. [Laughs] I'd hate to disappoint.
It seems like a huge responsibility to take scissors to someone's hair. It is. I have messed up before. Hopefully, it was a very long time ago. There's a kind of spiritual thing that happens after you've worked in the industry for a long time, where you can understand what people want.
Should we all be looking to be spiritually connected to our hairdressers? Yes, you have to find someone who inspires you and will push you a little. You can totally change a person's life with a new haircut. It's right up there with handbags, shoes and psychotherapy.
That's really not an overstatement. No. And it's an international language, hair, which I find very comforting.
Can we bridge the chasm between East and West with hairdos? I launched Sassoon in Japan and China, and I would say young people in particular in the Far East devour trends.
What about the Middle East and Africa? I've had a little experience there, too. In a lot of those places, the women are cool, but the men dictate too much. The women will always go for high-fashion hair, and then the boyfriend or the father is a problem.
They're a problem in the Western world, too. They just don't get high fashion most of the time. [Laughs] It's true. But you have to be a bit rebellious, and proclaim your enlightenment and do your own thing. That's very attractive.
More from Tim

"[Prince] Harry? He's a good kid. I think he needs a nicer haircut and less preppy clothes."