Renegade Craft Fair in NYC guide
Craft-addicts shouldn't miss the mother lode of markets—Renegade Craft Fair—as it rolls into Brooklyn this year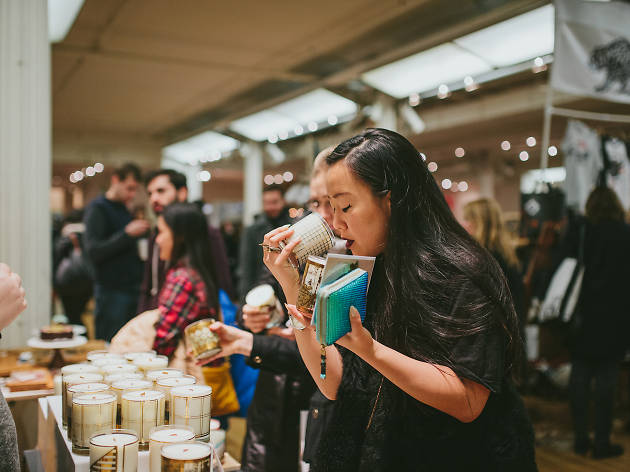 Are you excited for the Renegade Craft Fair? Once the cold weather sweeps in, Gotham transforms into a shopping bonanza where you can find great holiday markets chock-full of unique goods and delicious grub. New Yorkers should get psyched for the mother lode of craft fairs—Renegade Craft Fair—as it enters Brooklyn in Decebmer. Only the most serious artists, tchotchke-making fiends and creative types are invited to gather and display their hand-made or bespoke goods at the Brooklyn Expo Center this season. And this bazaar is undoubtedly one of the most exciting NYC events in December, not to mention the best place to get your hands on the kitschiest and downright coolest garb, artwork and accessories just in time for the holidays. (It's truly a "best in show" ordeal.) Check out loot from more than 200 vendors as well as live entertainment from DJs, DIY opportunities and perhaps some delicious summer drinks at this free and highly-anticipated event.
RECOMMENDED: Full guide to things to do in summer in NYC
When is the Renegade Craft Fair?
Mark your calendars! The fair, which is free and open-to-the-public, kicks off Saturday, December 22 and Sunday, December 23 from 11am–5pm.
Where is the Renegade Craft Fair?
Renegade Craft Fair is taking over the Brooklyn Expo Center located at 72 Noble Street, Brooklyn, NY.
How do I get to the Renegade Craft Fair?
You can walk, bike or take public transportation via G and get off at Greenpoint Avenue.
What will be at the Renegade Craft Fair?
More than 200 artisans are hawking the freshest trends, ranging from jewelry and pottery to artwork and home décor. When you go, experience gratis DIY activities, dance to DJ sets and more. When the shopping fatigue sets in, hit the on-site food trucks for some grub. For more details, check out the craft fair's website.
Archive Renegade Craft Fair content