In their sequin-clad heydey, glam rock band Scissor Sisters were often labeled as campy, a description lead singer Jake Shears bristled at. "Between the lines," he said over the phone, "that was kind of homophobic." In the grim cultural years following 9/11, the Scissor Sisters' brand of hyper-curated, cheeky exuberance could be misread as gaudy. Shears met Gore Vidal in 2012, just weeks before the icon of discourse died. "The thing he said that I'll never forget is, 'camp is just another word for somebody who's got no talent.' I thought it was one of the best fucking quotes I've ever heard."
For a generation of fiendish fans, the Scissor Sisters were no camp sideshow, but perhaps the sole bastion of blissful expression in a straight-laced age of Nickelback and Jack Bauer. At the center of the technicolor explosion stood Shears, a big-eyed, boyish soprano with a penchant for stripping down to his skivvies on stage—latent from his years as an East Village go-go dancer. Shears—a.k.a. Jason Sellards—was a rockstar for a self-aware, spectacular, and, indeed, campy age to come—long before Lady Gaga and Ryan Murphy became defining cultural arbiters. Since their 2012 album Magic Hour, the Scissor Sisters have become an occasional outfit, but their musical and visual DNA is everywhere—in acts like Shamir, Olly Alexander and countless others.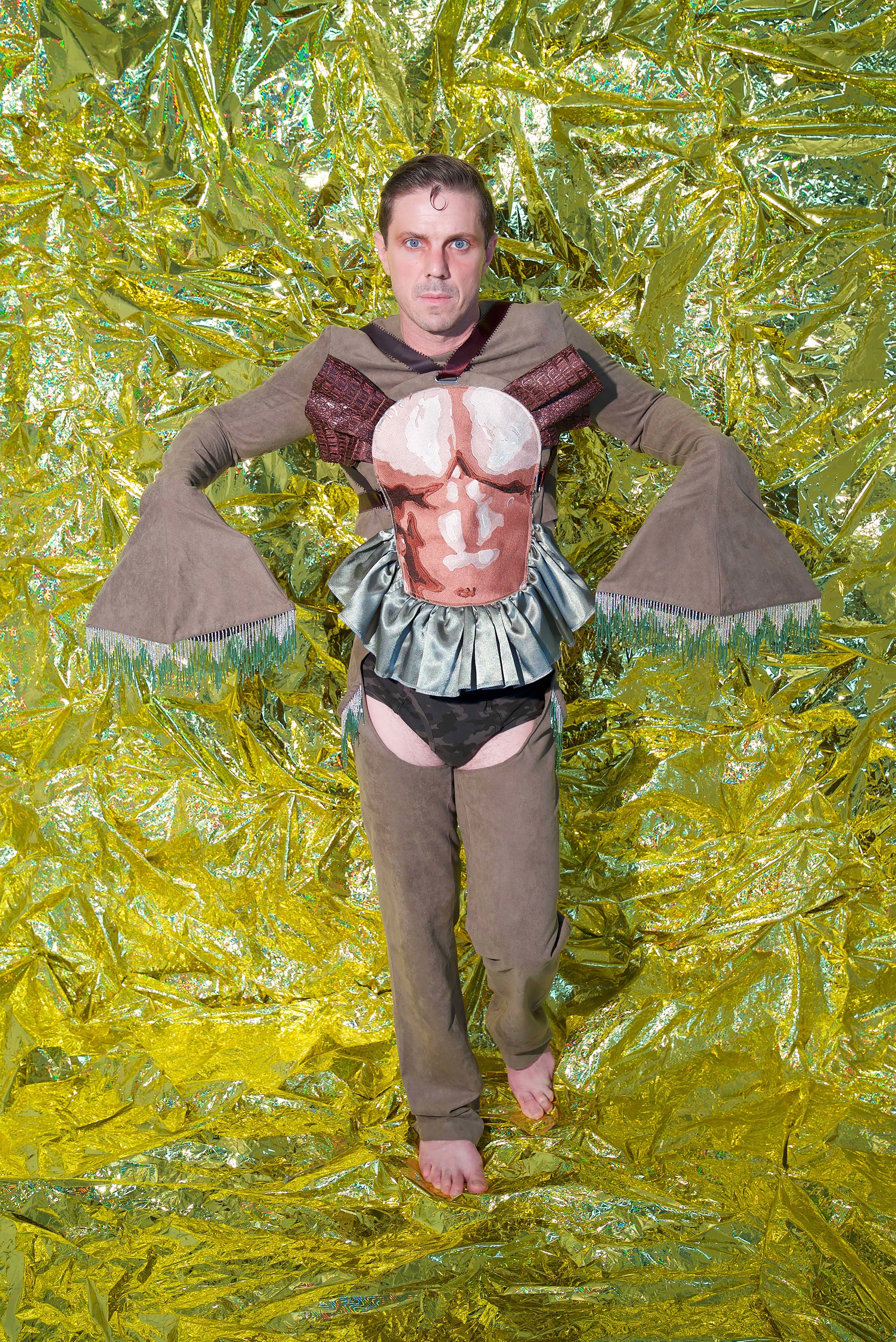 Photograph: Andrew Tess, Wearing Vasilis Loizides
At 39, with a new wave of work, Shears is now breaking out as inexhaustible independent creative force—in sync with yet another new renaissance of culture. In January, he took on the surprisingly buttoned-up role of Charlie Price in Broadway's Kinky Boots, and released his bittersweet memoir Boys Keep Swinging on February 20, which details his childhood in Arizona and first years in New York, through the first years of the Scissor Sisters. And later this year, he'll launch his first solo album.
"I'm beat," Shears said, while resting up before a show. "I've basically done eight shows in four days. I feel like a shell of a person. I barely leave the stage for two and a half hours. It's full-on, but fuck, it's fun."
Though a phone interview prevents exposure from Shears' irresistible cheshire cat grin, his voice is undeniably sexy, with the bouyuant confidence you'd expect from a straight rocker. But despite his endless array of revealing costumes, stacked Instagram selfies and ambitious career moves, Shears' memoir reveals a coming-of-age mired in self-doubt and shame, saved only by rock paragons like Beck and David Bowie—and by some slim faith in his own potential as an artist.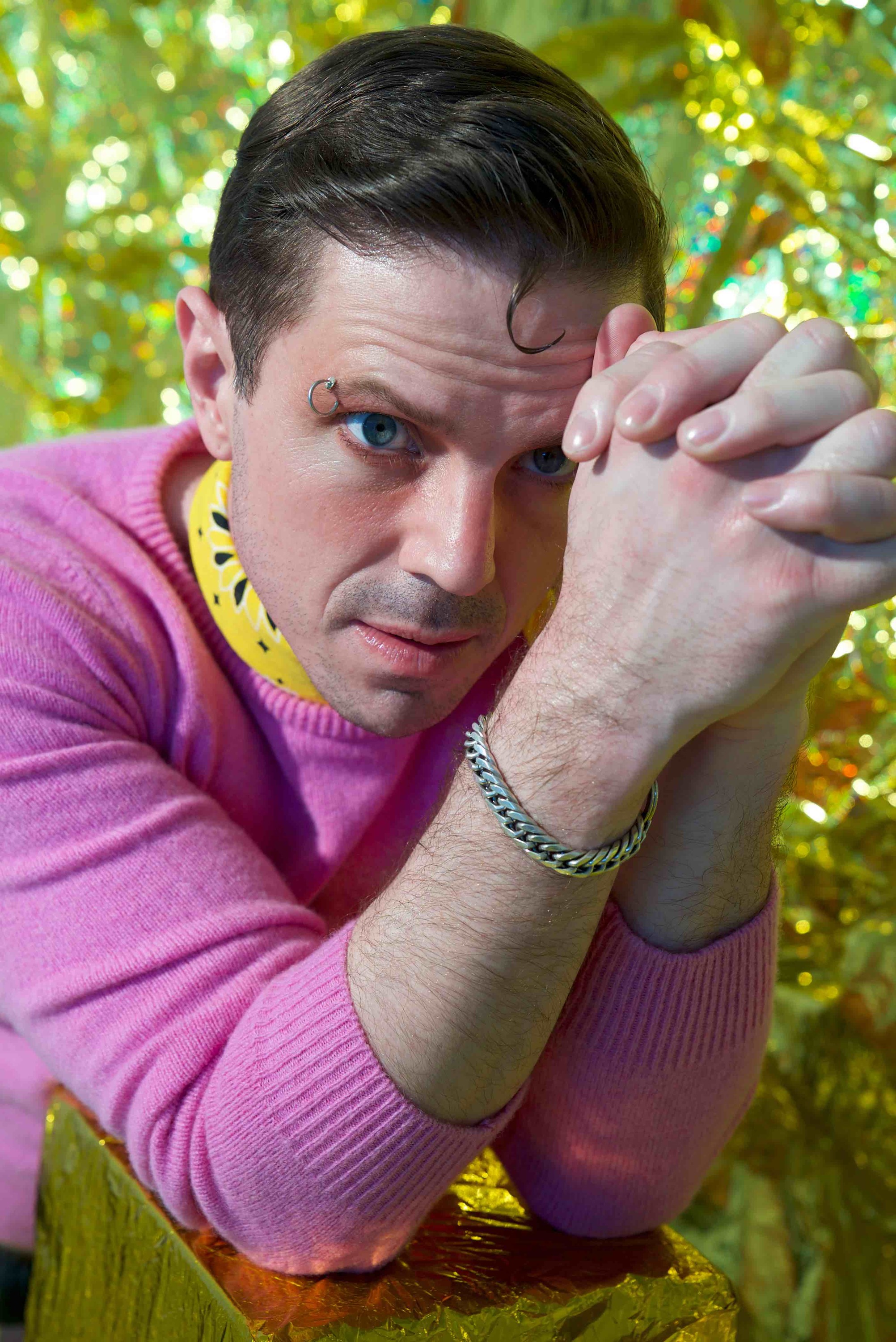 Photograph: Andrew Tess, Sweater: Hades Wool, Handkerchief: Levis, Bracelet: Martine Ali
Shears doesn't view his current streak as some greater triumph over neurosis, but rather as part of a larger cycle of dealing. "Every few years, I have to go through it, and fight for my own feeling of freedom in my life. The last couple years have been amazing. I ran off to New Orleans [where he lives part-time] and that place has kind of changed my life, and given me a new sense of freedom. But if you were talking to me two and a half years ago, I was in a real different place, and felt trapped in a lot of ways. I kind of look at my life as constantly getting out of the corners that I've painted myself into."
Though the Scissor Sisters were always icons of subversion—just remember the feeling of hearing "I Don't Feel Like Dancing" while George W. Bush was president—Shears is now facing a more mainstream audience than ever before as the lead in Kinky Boots, a musical that has grossed over $270 million since it opened in 2013. Shears is giddy for the exposure to new fans.
"It's really sweet. It's what makes the show really special. You get a lot of people in it who aren't exposed to the type of things I've done before. New Yorkers can be sort of jaded, but you get teenagers from the midwest and their parents, having the time of their lives and getting their minds blown. It's fun to talk to people after and see how excited they are—it's really gratifying."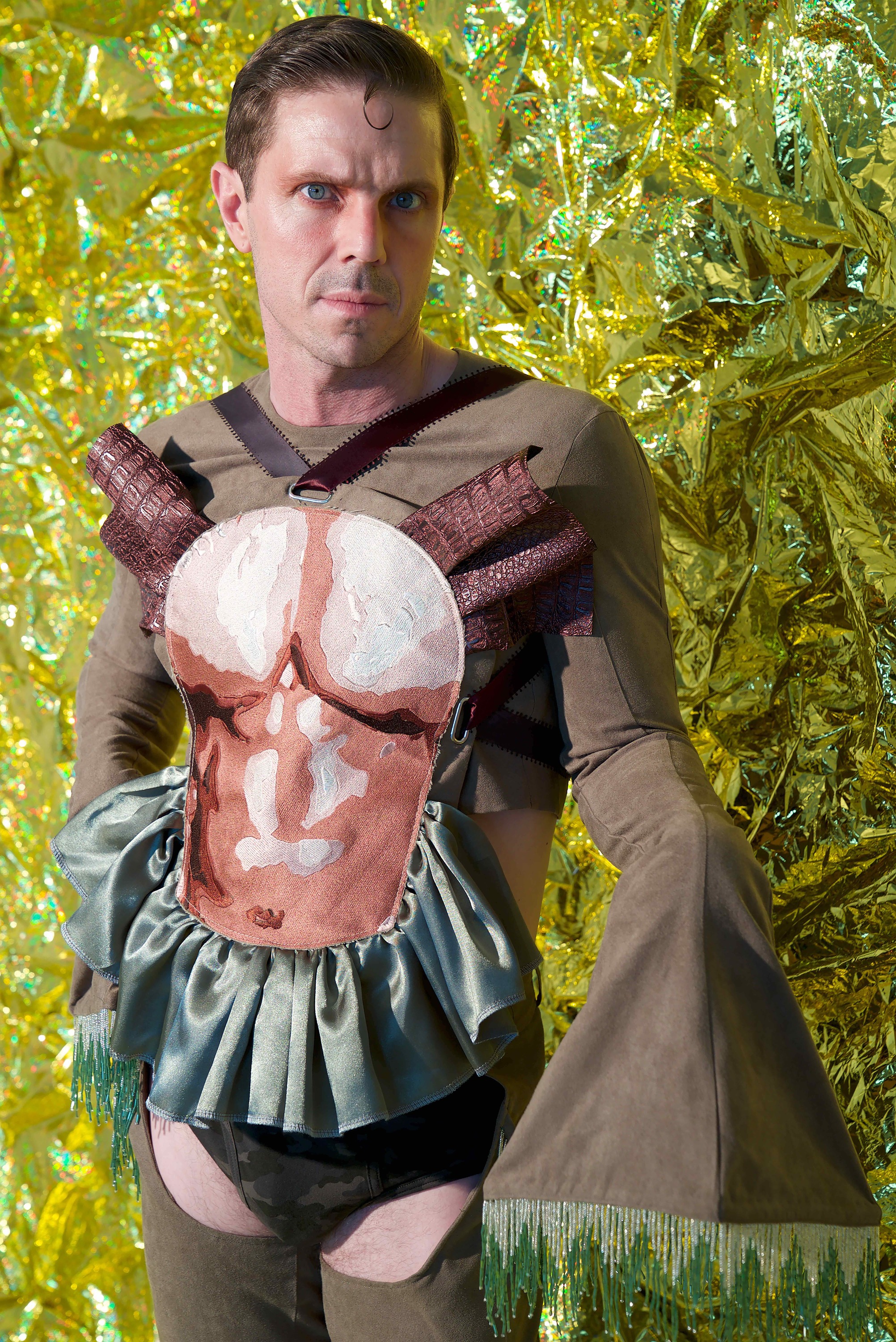 Photograph: Andrew Tess, Wearing Vasilis Loizides
Like Bowie or RuPaul, Shears has marked himself as a shapeshifter—morphing from jolly go-go twink to muscle-bound leather master between albums. Each phase of the book checks in with the status of his bangs, his body and his clothes as a way of placing him in age and time. He admits to battles with body dysmorphia, even after the story of Boys Keep Swinging ends. "It hit a peak a couple of years ago, and I just… it was a problem. In a way, I"ve kind of had to say fuck it. I'm turning 40 this year. I'm over this, I'm done with it."
But the role of Charlie Price may be his biggest transformation yet; he's playing a buttoned-up, repressed straight dude. "It's really ironic that my character has no outrageous costumes. The character is very conservative. One of the cast members looked at me and said, 'you are melting away.' This show is changing my body. I'm the thinnest I've been in years. My face looks different. I keep looking in the mirror before I go out on stage, and I barely recognize myself."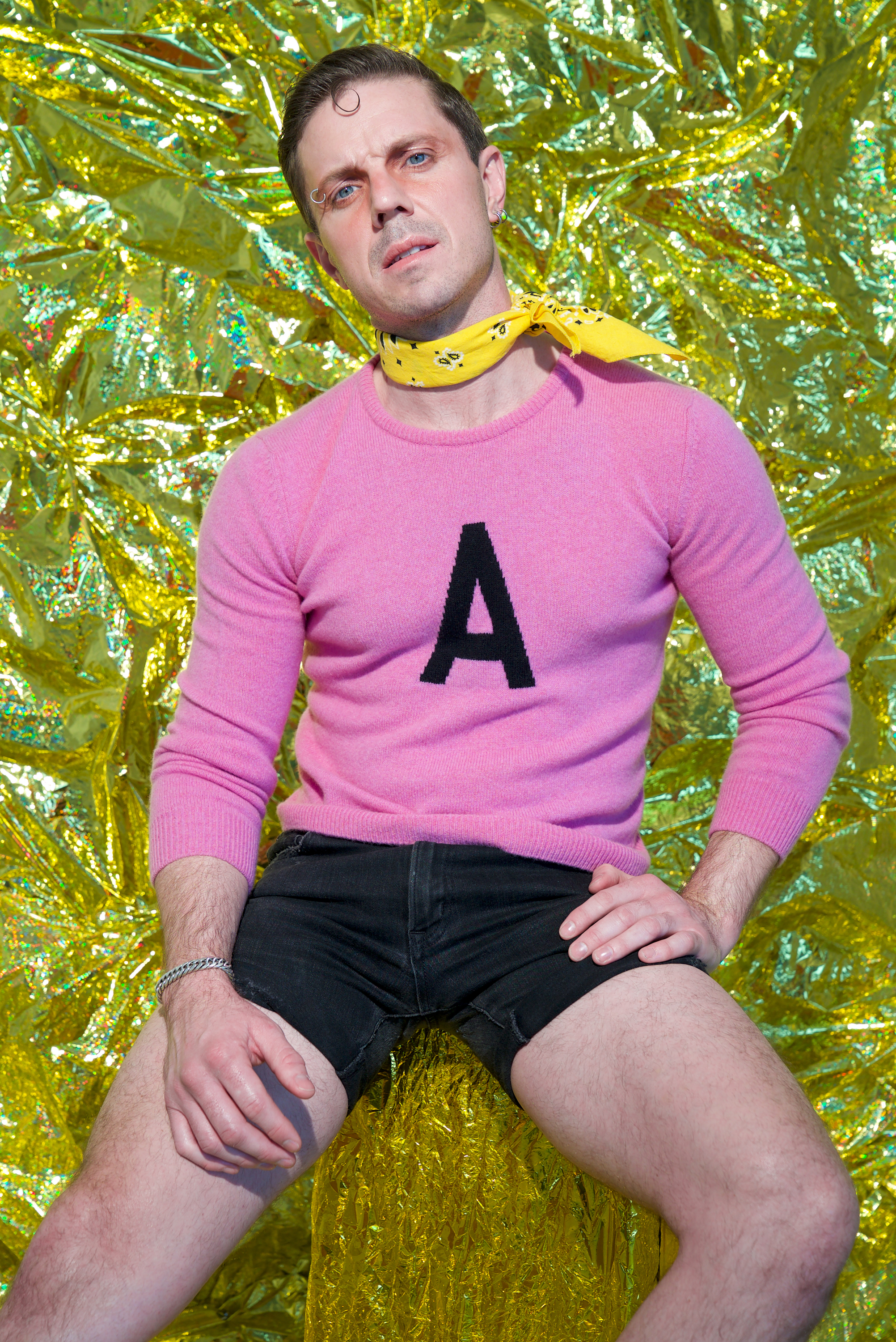 Photograph: Andrew Tess, Sweater: Hades Wool, Shorts: Levis, Handkerchief: Levis, Bracelet: Martine Ali, Earrings: Stylist's own
Just as Scissor Sisters' joyous vision set forth a decade to come of queer-inflected pop stars and cultural resistance, so will Shears' new body of work make a vast mark in today's burgeoning new world order. But by the time we'll have caught up with him, he'll already be onto the next project. "What's been so fun about this last couple of years—writing this book, doing the show and making my own album—is that this is all firsts for me. It made me feel that it's really kind of limitless as to what one can do. I'm really excited to keep going and surprise myself."
Styling: Israel Mejia
Hair: Junya Nakashima
Makeup: Raoul Alejandre
Set Design: Taylor Horne
Location: DSG Studios