Heads up! We're working hard to be accurate – but these are unusual times, so please always check before heading out.
Seven midtown spots that played a role in Bob Fosse's life
Midtown Manhattan was once referred to as "Fosse Country" by the famed director and choreographer's friends.
Bob Fosse may have been a creative genius in his professional life—creating such iconic works as Chicago and Cabaret—but he was pretty structured when it came to his personal life in New York. He largely stayed within a 20-block radius of midtown Manhattan.
With renewed interest in the life and work of the artist, as a result of the current FX limited series Fosse/Verdon, we decided to check in with Fosse author Bob Wasson about the NYC spots that once served as his regular haunts.
"It's all Midtown. It shows you how regulated his life is," says Wasson. "Having that kind of structure, allowed him to be free. It reminds me of how Flaubert said to be bourgeois in your life so you can be radical in your art. Fosse was like that. He was into routines, and I think Midtown Manhattan helped him maintain those routines. He never really left."
Read on for seven New York spots that played a role into Fosse's life.
Bob Fosse's NYC
"One of Fosse's friends, the writer Noel Behn, called the Times Square section of midtown 'Fosse Country' because that's where all of his headquarters were. The theaters, Carnegie Deli, the DGA, the Brill Building, ICM, where his agent was... That 20 blocks of midtown was like his office."
"This became a big spot for him because it was right across from ICM where Bob's agent Sam Cohen was. They were the best of friends. Cohen was bad about returning phone calls, so the only way you could get to him was by interrupting him during lunch here. They'd constantly be interrupted by people as they ate. They ate lunch there a lot, their booth was the first one on the left and it became a place of business and a total hangout. Fosse would also go there for dinner with Herb Gardner and Paddy Chayefsky a lot and take it over. There were many late nights of crackpot movie ideas, including one that they improvised about King Kong. They were going to write a script."
"Fosse was walking with a friend of his up Fifth Avenue, and they passed the cathedral. She said she wanted to go in and light a candle for mass and he said, 'I can't go in. Because I'm afraid god might just strike me dead.' That really just shows you the level of self-loathing that he had. He pulled out a wad of bills and was like, 'Light some candles for me,' and then walked away."
"It was called the 46th Street Theatre then. It was a theater that Gwen [Verdon] and Fosse loved, it was like a good luck charm for them. It goes back to their first show together, Damn Yankees. Since then, they collaborated on New Girl in Town and a show called Red Head. Subsequently, Fosse did How to Succeed in Business at that theater. I think it was a large theater, and they liked that. There was a sentimental attachment, but also that literal advantage it had by being a really big theater even down in the dressing rooms."
"That's where the opening night party for Chicago was, and where Fosse got word of Clive Barnes' review of the show which was mixed at best. Fosse always got attacked for style over substance, flash and razzle dazzle as opposed to real content. He got nailed for that for Chicago, and it was at the Rainbow Room where he first heard it. When Fosse got a disappointing review it was always bittersweet because he was angry and sad but always also felt like he got what he deserved."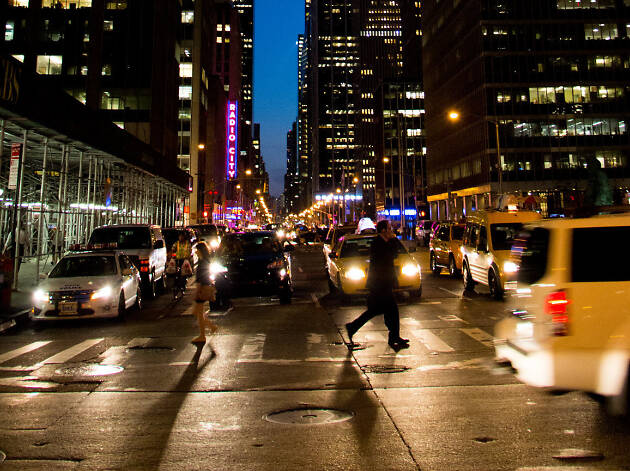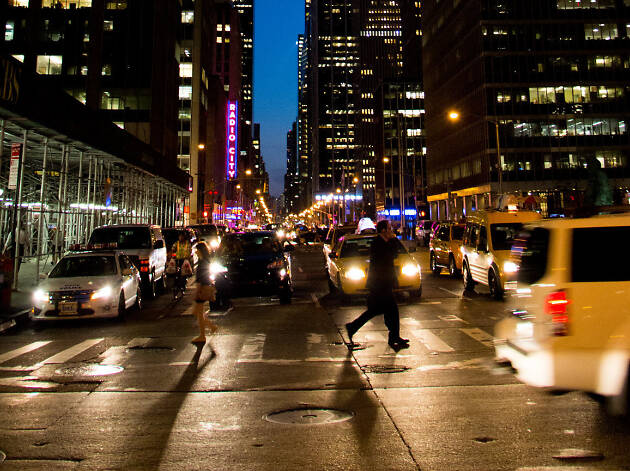 Courtesy CC/Flickr/Don McCullough
His last apartment at 100 W 56th St.
"He pretty much always lived in Midtown or Upper West Side near the theaters. There was one point where he joked, I lived in the city for however many years and I only moved a couple blocks. He was a creature of Midtown. The character's apartment in the film All That Jazz is a pretty accurate copy of what Fosse's apartment looked like in this building."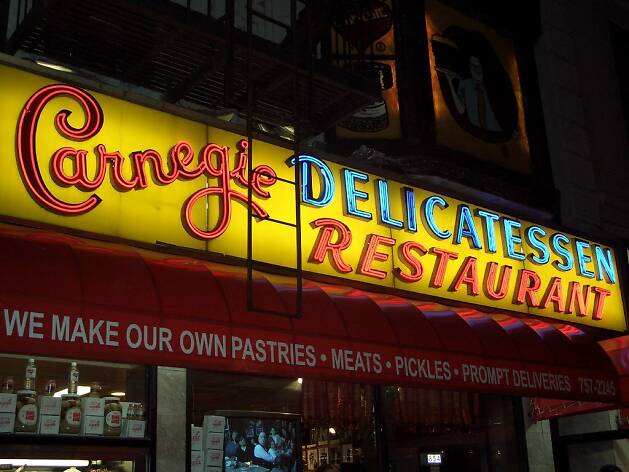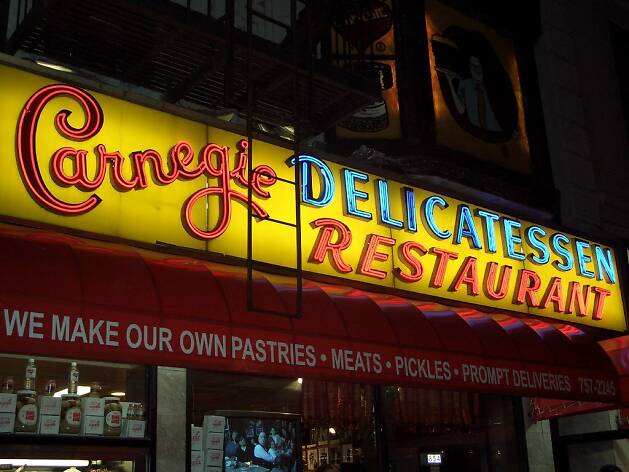 Courtesy CC/Flickr/larryfishkorn
"This was a matter of convenience, like the Russian Tea Room. Whenever Fosse wasn't in rehearsal, he was down at the Carnegie Deli. His office was upstairs in the same building. The deli was like the commissary. He'd have his table, and it was where you'd always be pretty sure to find Fosse. Unless, of course, he had a meeting at the Russian Tea Room."