Sweat box: JuggleFit
Run away to the circus—for a few hours, at least—at this quirky fitness class.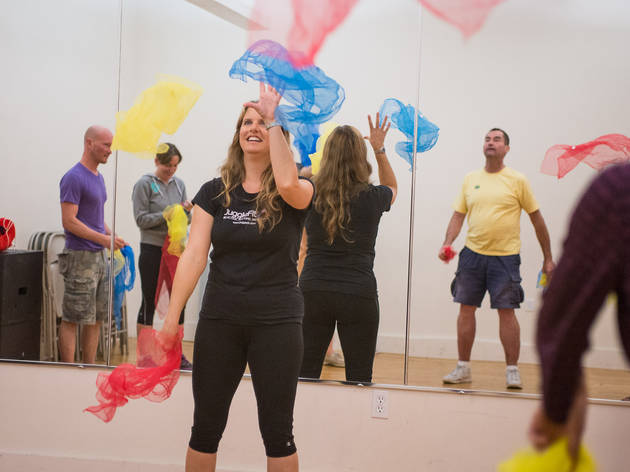 1/11
Photograph: Eric Harvey Brown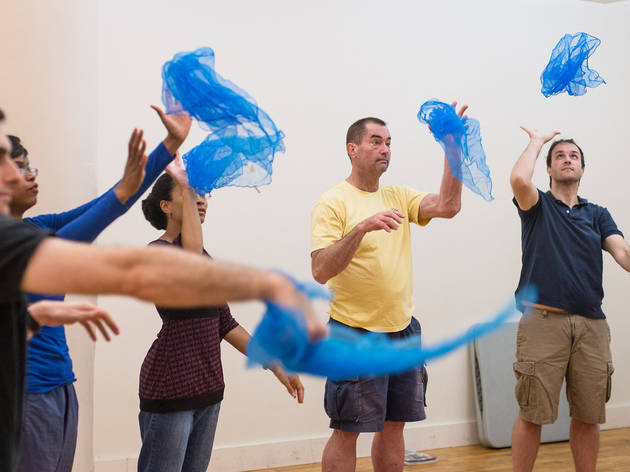 2/11
Photograph: Eric Harvey Brown
3/11
Photograph: Eric Harvey Brown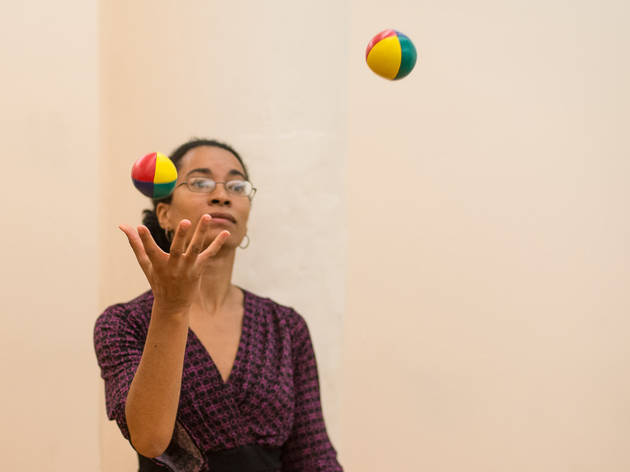 4/11
Photograph: Eric Harvey Brown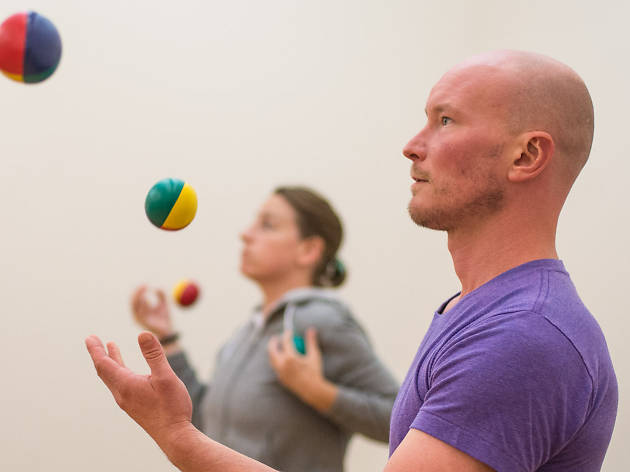 5/11
Photograph: Eric Harvey Brown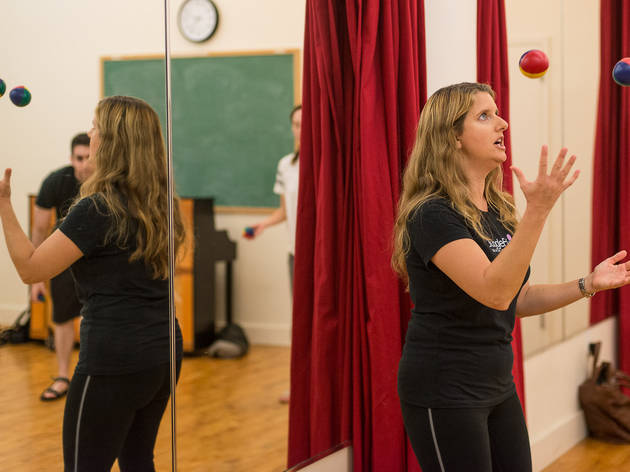 6/11
Photograph: Eric Harvey Brown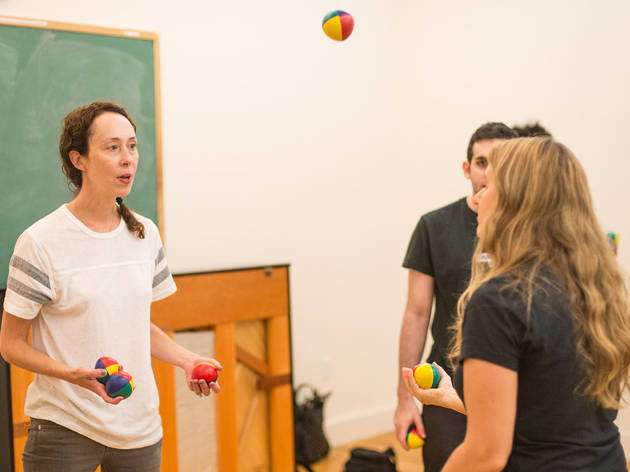 7/11
Photograph: Eric Harvey Brown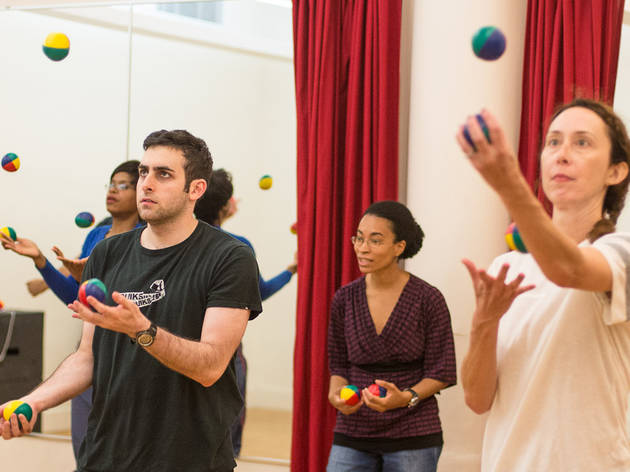 8/11
Photograph: Eric Harvey Brown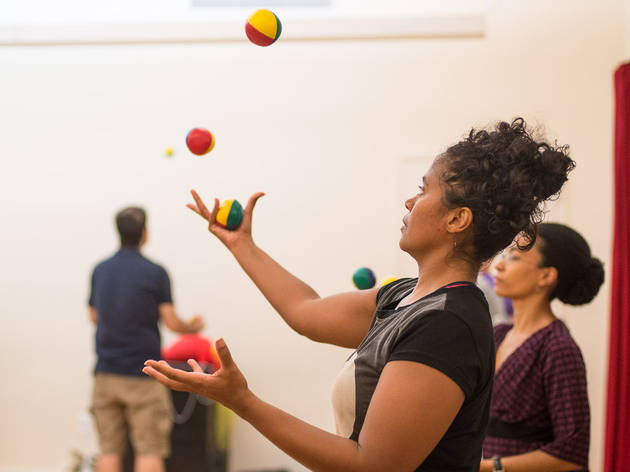 9/11
Photograph: Eric Harvey Brown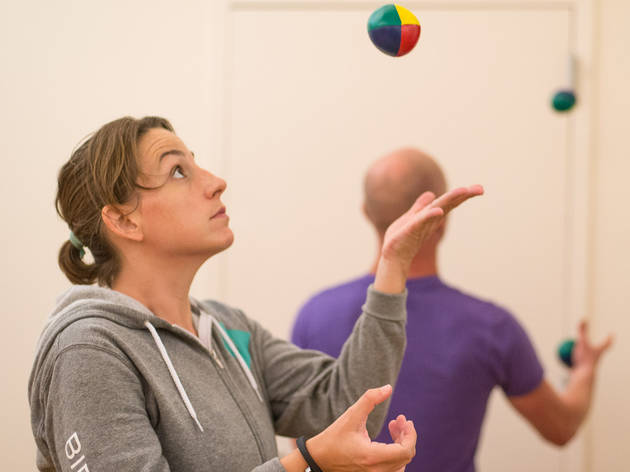 10/11
Photograph: Eric Harvey Brown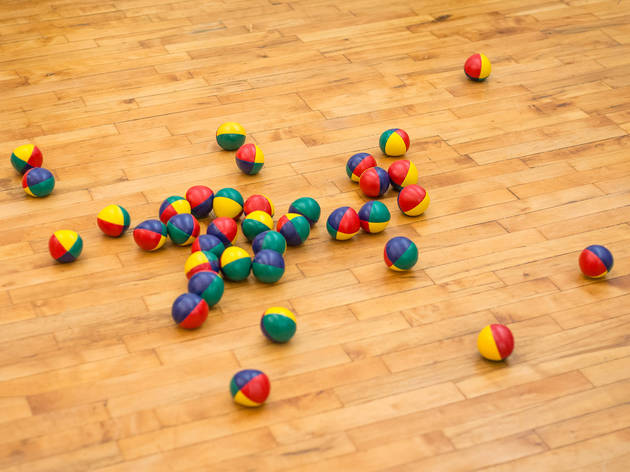 11/11
Photograph: Eric Harvey Brown
I've always wanted to up and join the circus, but I wouldn't look good in spandex. How can I fulfill my big-top dreams?
JuggleFit workshops cater to aspiring performers and regular joes who want to improve their coordination or have a laugh. Founder Heather Wolf joined Ringling Bros. and Barnum & Bailey as a bassist for the circus band when she was 23; six years later, she left with serious juggling chops picked up from her fellow performers. She's been teaching the skill since 2006 and has mastered the art of tossing five balls, knives and even flaming torches.
RECOMMENDED: Find the best NYC fitness classes and gyms
But I'm completely uncoordinated.
Fear not: Workshops cater to everyone from newbies to experts. The basic classes, which last 45 minutes, start with scarves. The slow-floating cloths boost your confidence and help you finesse your throwing technique and timing. Balls are introduced one at a time and Wolf walks around the room giving individualized tips. And because juggling requires total focus, no one will notice if your balls drop (hey, no giggling).
Awesome—it turns out that I have secret juggling superpowers!
Great! If you're a natural, stick around for the advanced workshops, held immediately after the beginner classes. You'll learn how to smooth out your technique, plus more complicated tricks and maneuvers like reverse cascades (in which you reverse the direction of the balls) and the over-the-top (in which you throw one ball high above the others).
Do I need my own equipment?
Scarves and as many balls as you can handle are included for the length of the workshop. Wolf sells sets of three beanbag-esque spheres for $20 at the end of class. You'll want them: They're heavier than tennis balls, which makes it easier to control your throws, plus they don't roll away if you drop them.

The name implies it's a fitness class. You're sure I don't have to wear spandex?
Street clothes will do, but fair warning: You will work up a sweat. Wolf describes juggling as light cardio because you're constantly in motion. And the day after, you may be a bit sore in your arms, shoulders and hamstrings (from lunging to run after dropped balls). But if you want to take it a step further, try JuggleFit boot camp at Brooklyn Bridge Park (Sun 9am; $15), which combines the activity with circuit training. Either way, your brain will definitely get a workout: A University of Oxford study from 2009 found that juggling increases connectivity in white and gray matter. Plus, it's difficult to think of anything else while you're concentrating on not dropping a ball on your toe, making this a low-cost way to clear your head without booking a therapy session.
JuggleFit takes place at CAP21, 18 W 18th St between Fifth and Sixth Aves, studio 502 (347-217-4579, jugglefit.com). Beginners Sat 2pm, advanced Sat 3pm; $15.
Sponsored listing
Ayza Wine and Chocolate Bar
There's not much better than sipping wine while nibbling on a quality bar of chocolate, and Ayza Wine and Chocolate Bar has based their business off this perfect pairing. Try something off the restaurant's extensive wine list, or choose from its wide selection of chocolate martinis, ranging from raspberry with chambord and kahlua, to almond with frangelico and a hazelnut truffle, to peppermint with creme de menthe (each $15). For dessert, Ayza not only offers cacao-themed desserts like chocolate pizza ($9) and fondue ($11), but also gourmet chocolate bars from the likes of Jacques Torres ($2.50) and Cioccolada($3). It's not all sweets, either—diners can also choose from assorted cheese plates, charcuterie boards and tapas, or order off the full dinner menu. If you want it all—wine, cheese plates, tapas and chocolates—check out the group dining option, where $60 gives you access to a two-hour open bar and plenty of small plates.   
Venue says: "Our outdoor seating is completely open! Happy Hour is great at the patio. Every weekday, 3-6pm. Join us!"
You might also like