The adventure-cation staycation: Take an adventure vacation in NYC
Get out of your comfort zone with these exciting trips: Go surfing, try trapeze and sleep on a boat with this adventure-vacation staycation.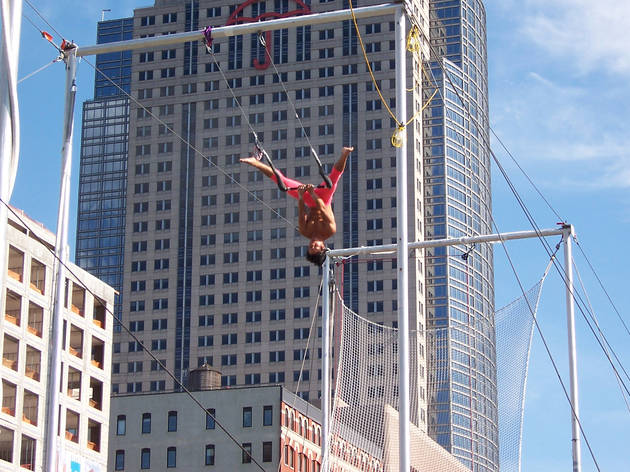 Try new and exciting experiences with our adventure-vacation staycation. Try outdoor sports like surfing in the
Rockaways
, swinging for the fences in
Chelsea Piers batting cages
or flying through the air with the greatest of ease at a Trapeze School New York class. Or for the intrepid and adventure ready, spend a night on a "boatel" in Far Rockaway.
RECOMMENDED: Full list of staycation ideas
Since cool Brooklyn kids and taco-obsessives alike have lauded it as a seasonal hangout, it's easy to forget what made the Rockaways a classic New York summer destination in the first place: the only surf scene in the city. For beginners, low waves make June, July and August optimal months to start learning, while more experienced boarders should ride the best swells during hurricane season in September and October. Find your ocean guru at the New York Surf School, which offers 90-minute stand-up paddleboard and one- or two-hour surfing classes daily. New York Surf School (718-496-3371, surflessonsnewyork101.com). Paddleboard lessons start at $95 per person, surfing lessons start at $70; both include the use of boards and wet suits.
Buy tickets
Read more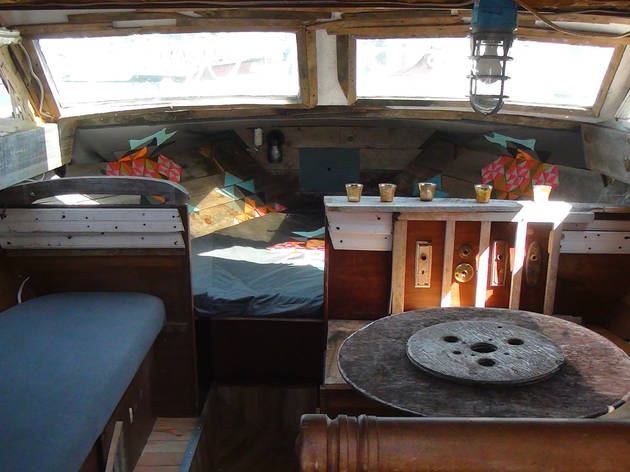 Spend a night at the Boatel
For those seeking an outdoorsy escape and an artsy getaway rolled into one, check into the Boatel, conceptualized by Constance Hockaday, Flux Factory artist collective and Marina 59. A team of 23 artists from New York City, Cape Cod, Philadelphia, Houston and Toronto transformed 17 old boats and a few docks at Jamaica Bay into a series of floating art installations that double as a place to camp out for the night. (Although they're not supposed to be hotel-quality by any means—accommodations provide some basic comforts, but guests are asked to arrive "adventure ready.") Choose from revamped ships such as Bad Irene, featuring decor inspired by Star Trek and space travel, or Charlie's Angels, a patchwork castle tree house. And if you'd rather not stay the night, just stop by on Thursday nights this summer for a free lecture series hosted by experts in a variety of fields, including ornithology and cartography. 718-945-4500, marina59.com. Boats for three to four people start at $55 per night.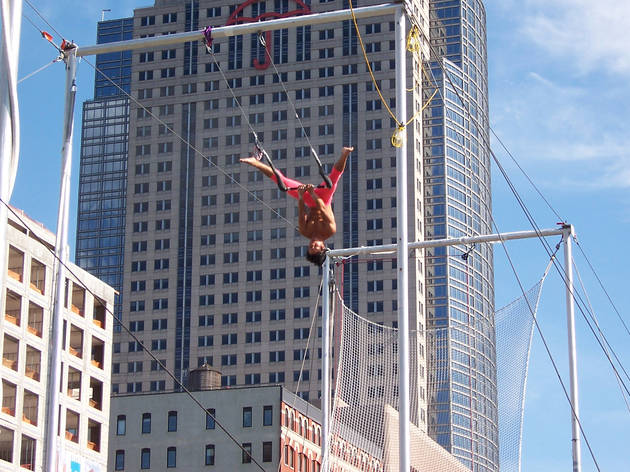 Hit a home run at Chelsea Piers and swing to the sky at Pier 40
While most New Yorkers are trying to get beach-body ready by hitting the gym, you can opt for a more exhilarating workout by pretending to be a hotshot slugger: Test your swing at the fast-, medium- and slow-pitch softball or baseball batting cages. If you'd rather turn the sport into something closer to a video game, try besting the ProBatter simulator, which features a giant screen depicting a pitcher throwing a ball (it's used at Major League Baseball training sites). Thrill seekers who'd rather be soaring through the air themselves can choose from a number of classes at Trapeze School New York on Pier 40. Sessions for all levels are available, including beginner, intermediate and advanced flyers. The Field House at Chelsea Piers, Pier 62, 23rd St at the Hudson River (212-336-6500, chelseapiers.com). Regular pitches ten for $2.75, ProBatter pitches 16 for $5.50; cage rental half hour $55, one hour $85, ProBatter $90. Trapeze School New York, 343 West St at the West Side Hwy, third floor (212-242-8769, newyork.trapezeschool.com). Times and prices vary.