Heads up! We're working hard to be accurate – but these are unusual times, so please always check before heading out.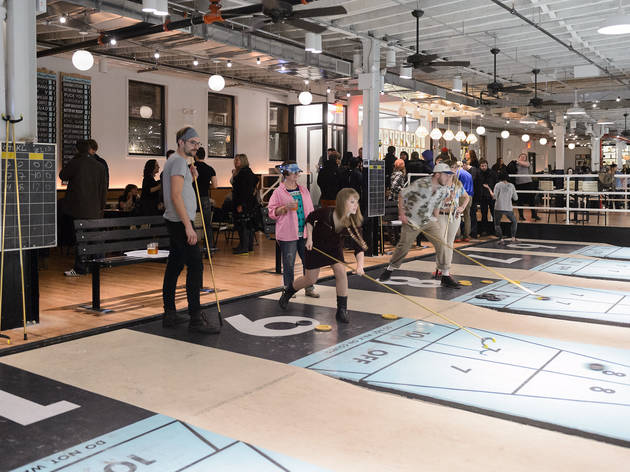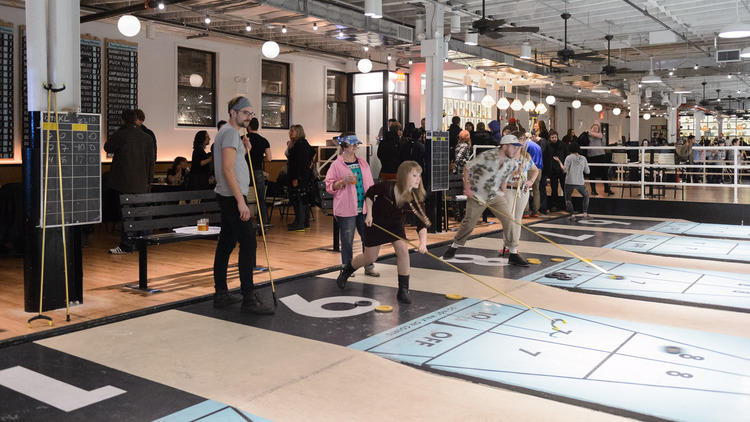 The best kid-style fun for grownups in NYC
NYC has endless kid-approved adult activities—kickball, roller-skating, you name it—so start having some good, clean fun
One of the best things about the city that never sleeps? You also never have to grow up. We've rounded up tons of cool activities most associated with kids that are oh-so-awesome to enjoy as an adult. NYC invites you to pair skee-ball, shuffleboard and ping pong with booze at its many bars with games. Or how about an adult sleepover (no, not that kind of adult sleepover) in one of our cool NYC parks? Or perhaps you'd like to embrace your inner-child on the raceway while visiting one of the best New York beaches. NYC really is a true playground for adults. Recapture some of that youthfulness with these great activities.
Best kid-style fun for grownups
Remember your summer-camp days when you sang songs by the fire and suddenly felt so much closer to everyone in your bunk? Well, every Friday, Beach Bazaar teams up with the National Park Service to re-create that enchanting experience in Riis Park with an evening bonfire and a concert featuring local musician Lorena Leigh. And we mean local—Leigh lives on the Rockaway peninsula, and she brings her neighborhood musician friends to accompany her ukulele with their instruments and voices. You're welcome to sing along too—or jam out if you bring an instrument—and don't forget to bring some graham crackers, chocolate and marshmallows. It really ain't a campfire without s'mores. 16702 Rockaway Beach Blvd, Queens (riisparkbeachbazaar.com). Fri 7–9pm; free. Through Labor Day.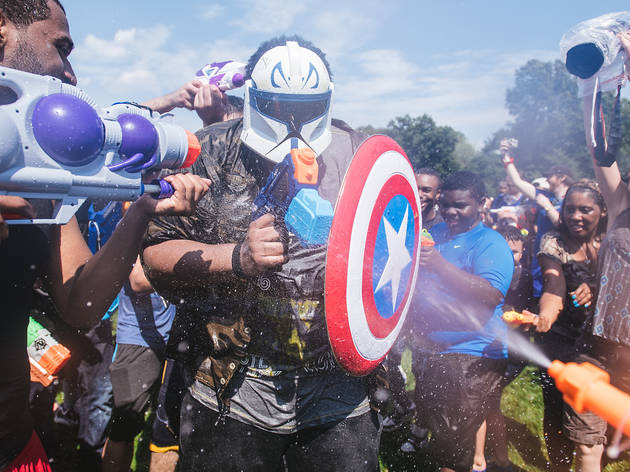 Photograph: Matt Marquez
12. New York City Geek Adventure Group
Nerds dig socializing too! Need proof? Hook up with this Meetup group of fun-seeking young professionals and students. There are several activities planned every month, ranging from Nerf-gun battles and LARPing adventures (that's live action role playing, to the uninitiated) to group movie dates to films like the upcoming Ghostbusters release and BYOB board game nights. Glasses welcome. Various locations (meetup.com). Various dates, times and prices.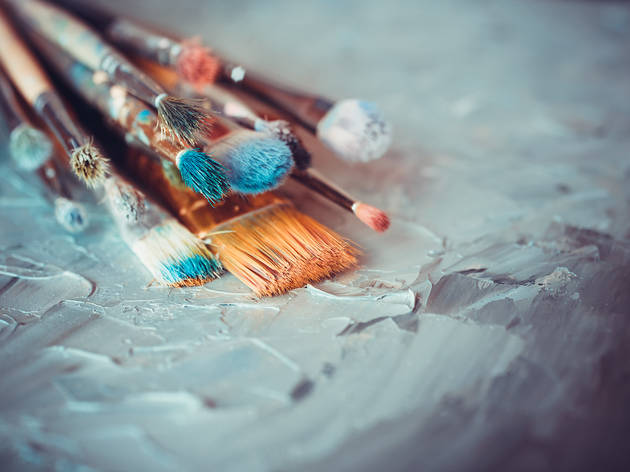 Photograph: Shutterstock
13. BYOB Painting at Paint Along NYC
Every kid loves art class—it's that block of the day when you leave the classroom and let your imagination run wild, and you don't usually have to answer any teacher's sneaky trick questions. So what could be better than a blank canvas, colorful paints and a helpful instructor at the ready to teach you brush-wielding techniques? Getting all that and bringing a cold beer or bottle of wine from home to help you free that creativity. At Paint Along NYC, you not only can BYOB and BYOP (though paints are included), you also bring home the project you complete in class. Two-hour classes occur on various evenings throughout the month, so pick either the most convenient time or the theme of your choice (there are ones for floral designs, fruits and owls, to give you an idea). 129 E 27th St, second floor (917-474-5587, paintalongnyc.com). Various dates and times; $45–$55.
Throw your hands up in the air and scream, "Wheee!" as you ride down the metal slope built into the side of a 40-foot-tall man-made hill—the tallest slide in New York. The aptly named fun zone is part of Governors Island's new hills development (opening July 19), which gives visitors amazing views of the city and more space to enjoy urban nature. If the thrill of the descent leaves you winded, there's refreshing ice cream from Blue Marble and Mr. Softee calling your name in the food court. govisland.com. Wed–Fri, Mon, Tue 10am–6pm; Sat, Sun 10am–7pm.
If you lived for the arts and crafts sessions at summer camp, then this decidedly big-kid version should be your jam. Learn how to embroider, knit and crochet, or use glue, glass and paper for decoupage. A true classic camp activity, tie-dyeing, becomes sophisticated when you learn the art of shibori pleating and folding to make those eco-friendly dye patterns look really groovy (the next two-and-a-half-hour workshop is July 22). 256 Third Ave, Brooklyn (347-529-5627, makeworkshop.com) Various dates and times; $50–$500.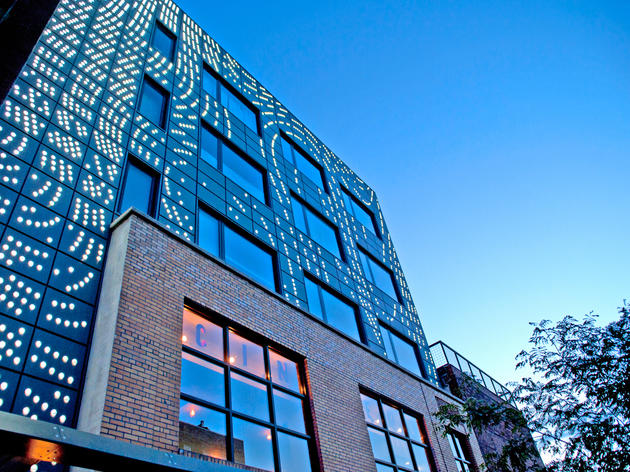 The Saturday mornings you spent gorging on junk cereal and watching nonstop cartoons don't have to be a thing of the past! For one weekend every month Nitehawk Cinema hosts this morning (but not too morning) breakfast bash, during which kids at heart can enjoy an onslaught of cartoon classics dating back to the '30s on the big screen. While you watch, munch on all-you-can-eat bowls of sweet, sugary and chocolate cereal. Grab some grown-up milk (a White Russian) to chase it down, or order a shot of Baileys or Kahlúa to pour directly into your bowl.
◊ 136 Metropolitan Ave, Brooklyn (718-782-8370, nitehawkcinema.com). Various dates and times; $16.
Show off your coordination skills and dance moves or just have fun with your friends as you glide around at this roller-rink party. Lola Star, a beachside boutique owner and champion of Coney Island, hosts with her impeccable retro flair at Prospect Park's Lakeside every Friday night through October 14. Each week has a different theme—often featuring music from your youth or someone else's—like "Wannabe Spice Girls" playing sugary pop (July 29), "Soul Train" blasting house and soul music (August 19) and "Oops I Did It Again," a '90s night (September 2). If you want to win Best Dressed (yes, of course there's a costume competition), remember that Lola likes all that glitters and sparkles.
◊ Enter at Lincoln Rd and Ocean Ave, Brooklyn (lakesidebrooklyn.com/dreamland). Fri 7:30–10pm; $18. Through Oct 14.
Rally two of your most baller friends for the upcoming Skee-Ball season at Williamsburg watering hole Full Circle Bar, which kicks off its next ten-week tournament in October. You'll have plenty of time to practice: On Sundays and Thursdays till September, the Skee-Ball lanes are free, and you get gratis hot dogs with your drink. Win-win, playas. 318 Grand St between Havemeyer St and Marcy Ave, Williamsburg, Brooklyn (347-725-4588, fullcirclebar.com). $100 per player.
Remember all those bowling parties you went to as a kid? You know, greasy pizza, gutter guards and that one kid bawling his eyes out after dropping a ball on his foot? Relive the good ol' days with a few beers and a few games amid the '70s-style wooden decor at Williamsburg bowling bar The Gutter. Bowling is cash only and runs $7 per game (or $40 to $45 per hour), plus a $3 shoe-rental fee. Yeah, you still have to wear the shoes. Just consider it athletic normcore. 200 North 14th St between Berry St and Wythe Ave, Williamsburg, Brooklyn (718-387-3585, thegutterbrooklyn.com)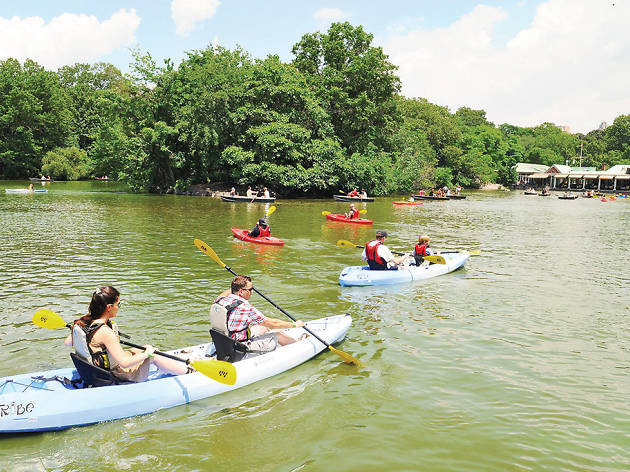 Photograph: Courtesy NYC Parks
20. Kayak around NYC's waterways
There are more options than you'd think to kayak for free in NYC. At the New York City Downtown Boathouse (Pier 26, Hudson River at North Moore St; downtownboathouse.org; Mon–Fri 5–7pm through Sept 5, Sat, Sun 9am–6pm through Oct 12), you and a pal can cruise during 20-minute sessions, which is how long it'll take for your arms to get tired. Feeling (slightly) more ambitious? Row on the East River for a cool half hour at Brooklyn Bridge Park Boathouse (Brooklyn Bridge Park between Piers 1 and 2, Furman St at Old Fulton St, Dumbo, Brooklyn; bbpboathouse.org; Thu 5:30pm, Sat 10am; through Aug 31), but show up early, because everyone and their cousin wants to paddle around the charming view of the Brooklyn Bridge. Feel like peeping some art while you row? Kayak alongside outdoor sculptures at Long Island City Community Boathouse. 46-01 5th St between 46th Ave and 46th Rd, Long Island City, Queens (718-228-9214, licboathouse.org). Sat 1pm; through Sept 13.
Show more
Need more friends for activities?
Find someone to pal around with our guide of how to meet new people in NYC featuring classes and meet-ups