The coolest NYC companies: fashion start-up Of A Kind
Among the myriad NYC companies in fashion, Of A Kind distinguishes itself by using storytelling to draw mass-market consumers to under-the-radar designers.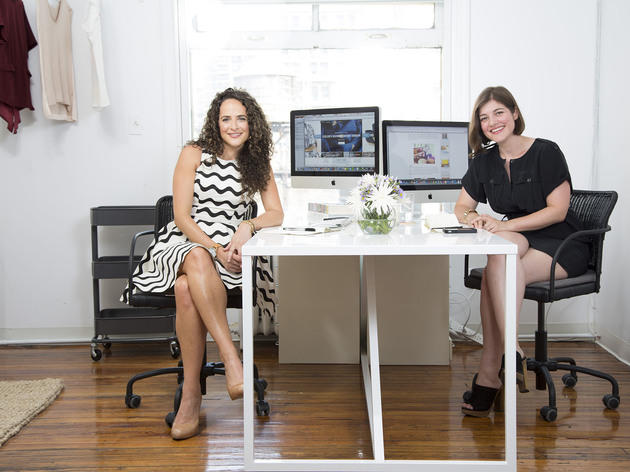 1/6
Photograph: Rayon Richards
Claire Mazur and Erica Cerulo of Of A Kind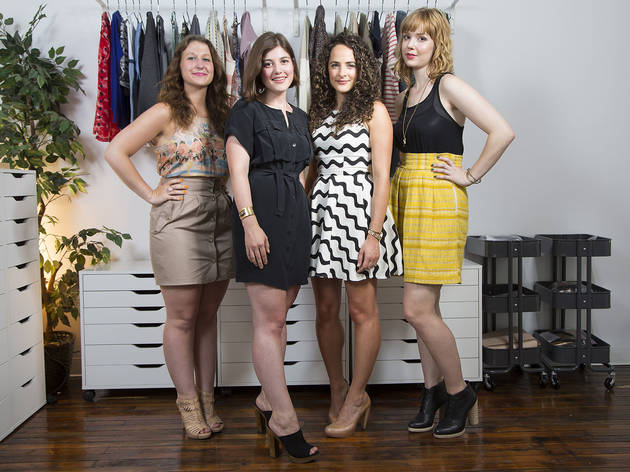 2/6
Photograph: Rayon Richards
Michelle Gattenio, Erica Cerulo, Claire Mazur, and Keely Thomas-Menter of Of A Kind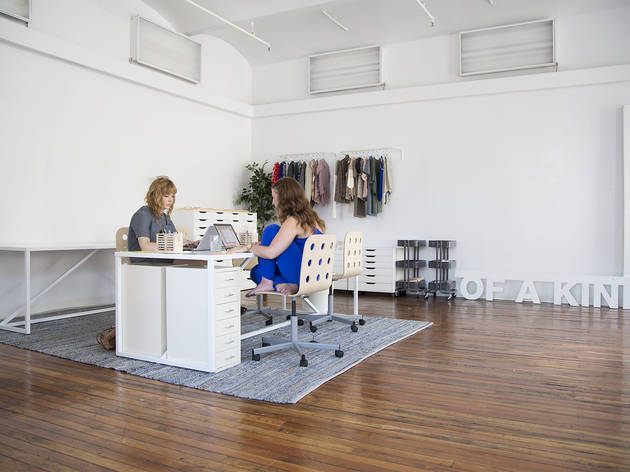 3/6
Photograph: Rayon Richards
Keely Thomas-Menter and Michelle Gattenio working at the Of A Kind office space.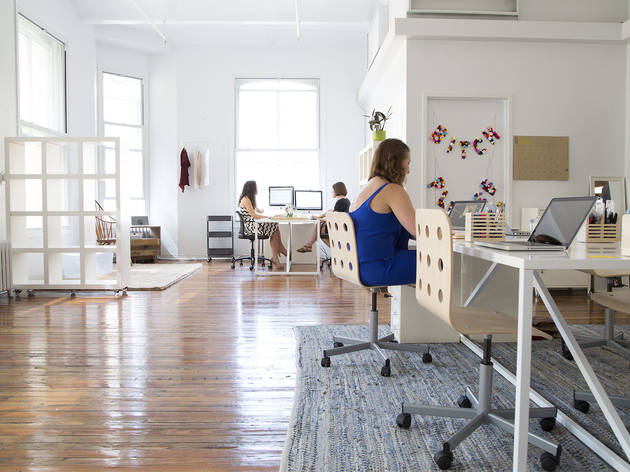 4/6
Photograph: Rayon Richards
Claire Mazur, Erica Cerulo, and Michelle Gattenio working at the Of A Kind office space.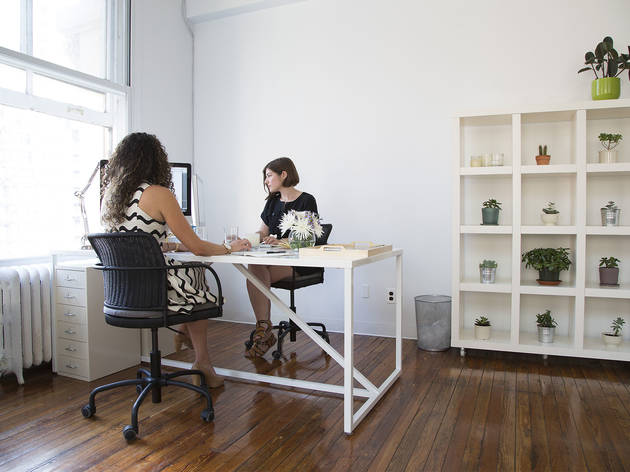 5/6
Photograph: Rayon Richards
Claire Mazur and Erica Cerulo working at the Of A Kind office space.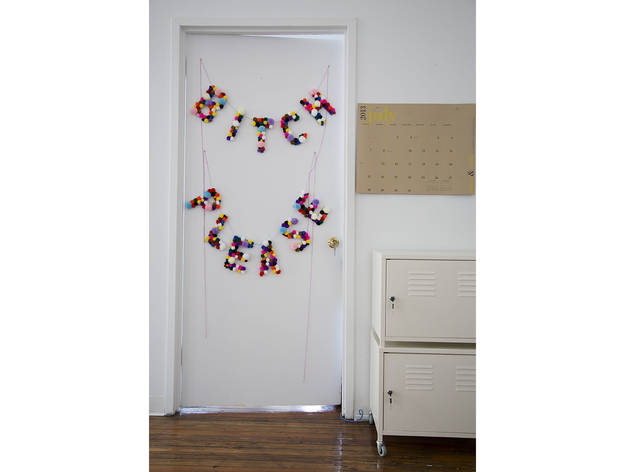 6/6
Photograph: Rayon Richards
best shops in NYC
to a nationwide audience through its highly curated e-commerce site. Take a peek behind-the-sceenes of one of our favorite
cool companies
and get advice that'll help you find a
better job
.
RECOMMENDED: The coolest NYC companies to work for
Friends and business partners Claire Mazur and Erica Cerulo met more than a decade ago, while attending the University of Chicago. They followed different paths after graduation (Mazur pursuing a career and master's degree in arts administration, Cerulo taking editor gigs at magazines such as
Details
and
Lucky
), but in 2010, they combined their interests, starting Of A Kind
(ofakind.com)
, a fashion-and-accessories e-tailer that brings limited-edition, independent designer goods to a wide audience.
The idea:
Mazur dreamed up OAK in the midst of applying for a job at affordable-art website 20x200
(20x200.com).
"I was inspired by the way the company used the Internet to support [new] artists," she says. "There's a trend toward conscious consumption; people want to know where the things they buy are coming from." The twosome thought customers might need some convincing to spend their cash on relatively unknown brands, which is where Cerulo's editorial experience came into play: "Storytelling goes a long way in making people feel connected [to the artist] and that they are investing in something that matters," she says.
Securing the funding:
The pair solicited friends and family around the time of their launch and raised $100,000, which they stretched over approximately 18 months. "We've been lucky to bring in revenue since Day One," says Mazur. "We've been cash-flow positive for almost a year."
Staffing up:
At first, Mazur and Cerulo posted on fashion-savvy colleges' job boards, but found the best candidates through listings on their brand's own blog. "It's really important that we find people who are engaged with Of A Kind, not people who just want to work at a start-up or want to work in fashion," says Cerulo. "In order to really succeed, we need to find people who connect specifically with what
we're
doing." The company now consists of the founders, an operations assistant and a recently hired production assistant.
Building the brand and customers:
The duo began blogging about designers and products they loved before diving into the commerce portion of their business, which gave them time to establish the brand's tone and aesthetic, and grow a steady following. By OAK's official launch day, their blog had amassed a few thousand followers. "We were the first e-commerce site to launch on Tumblr, which generated a lot of press for us," says Mazur. Two years in, they started their "Ten Things" newsletter, which introduced their voice to customers without pushing products. "It's not related to fashion at all—just ten random things Erica and I have discovered or been obsessed with—but it keeps people coming back, and those readers also forward it to their friends," says Cerulo. And although Of a Kind is based in New York, it features designers from all over the country, as well as Canada. Mazur and Cerulo take advantage of that geographic diversity, often traveling to places such as San Francisco and Austin, where they host events at stores, support area designers and, in turn, expand their company's customer base.
Advice:
"It's important to define roles and write them down. Everyone should know what their responsibilities are to avoid the ball getting accidentally dropped."
—Claire Mazur, cofounder
"Show up excited, with a real passion for what you're doing. That's what makes a start-up successful. You're going to be deeply involved, so it has to be something that you are truly interested in."
—Keely Thomas-Menter, operations assistant

"You have to be so organized, and everyone has to be on their game. If you get a customer e-mail on Saturday, you don't necessarily wait until Monday to respond. It's very much a 24-hour job, which has been fun, but it takes a little getting used to."
—Michelle Gattenio, production assistant
Sponsored listing
Kat & Theo
This Flatiron gem offers seasonal, New American fare from executive chef David Fisher, who's put in time in such Michelin-starred restaurants as Jean-Georges, Aquavit and Aldea. From an open kitchen overlooking the 70-seat dining room—a moody, brick-walled stretch divided into a front bar area fitted with leather booths and metal trellis archways, and a back dining room warmed with a stone fireplace—Fisher deploys starters like tomato-braised octopus with cannellini beans ($18), and delicata squash agnolotti with lemony shrimp and firey chiles ($14). Robust mains include a juicy hanger steak accompanied by earthy rutabagas ($28), and a slow cooked leg of duck glazed accented with sweet plums ($29). 
Venue says: "Kat & Theo offers Happy Hour Mon - Fri from 5pm-6:30pm, enjoy a Classic Cocktail $10, select Wines & Prosecco $8, and select Beers $7"