The ghostly Village
Thrills and chills abound on this tour of Manhattan's most haunted 'hood.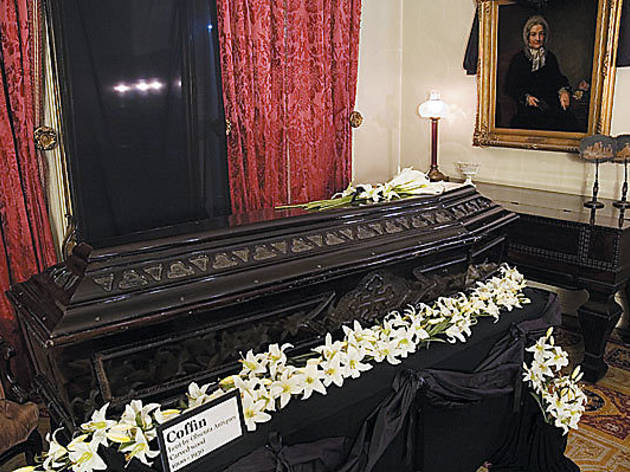 Start:
6 at Astor Place
End:
N/R at Prince St.
Distance:
2.36 miles
Time:
3 Hours
RECOMMENDED: All Halloween, NYC coverage1.
Start at the
Merchant's House Museum
(29 E 4th St between Lafayette St and Bowery, 212-777-1089)
, where visitor services coordinator Roberta Belulovich says creaking stairs, slamming doors and a roaming lady in white are all par for the course. The übercreepy house is currently decorated for a 19th-century funeral, with black wreaths, draped mirrors and white lilies set atop a period coffin. On Sunday 2, visitors can join the mourning—BYO little black dress.
2.
New Amsterdam gov Peter Stuyvesant is entombed under
St. Mark's Church in-the-Bowery
(131 E 10th St at Second Ave)
. According to Joyce Gold of Joyce Gold History Tours of New York
(212-242-5762, joycegoldhistory-tours.com)
, his is one of three ghosts that haunt the site—listen closely, and you may hear his famed peg leg tromping about.
3.
Refuel with pumpkin ice cream from
Sundaes and Cones
(95 E 10th St between Third and Fourth Aves, 212-979-9398)
before passing NYU's most haunted dorm,
Brittany Hall
(55 E 10th St at Broadway)
; here, students have reported hearing footsteps and the feeling that they're being watched.
4.
The brownstone at
14 West 10th Street
(between Fifth and Sixth Aves)
is popularly known as "The House of Death"; some 22 ghosts, including that of Mark Twain, are believed to haunt it. A tragedy put the house on the map in 1987, after resident Joel B. Steinberg was convicted of beating his six-year-old daughter to death. "There's something evil there," says Marilyn Stults of Street Smarts N.Y. tours
(212-969-8262, streetsmartsny.com)
.
5.
Around the corner, at
40 Fifth Avenue
(at 11th St)
, sits the onetime home of Judge Joseph Force Crater, who Joyce Gold says hopped in a cab after a Broadway show in 1930 and was never heard from again. His case was reopened in 2005, when a letter surfaced suggesting that a deceased Queens grandmother had information about Crater's mob murder and burial under the Coney Island boardwalk.
6.
Continuing down 11th Street, look for the tiny, triangular
Second Cemetery of Spanish-Portuguese Synagogue, Shearith Israel
, east of Sixth Avenue. Gold says it's the only visible burial ground in the West Village.
7.
Formerly Aaron Burr's carriage house, the dining room at
One if by Land, Two if by Sea
(17 Barrow St between W 4th and 7th Sts, 212-255-8649)
is appointed with creepy chandeliers and, according to Marilyn Stults, at least three ghosts, including a woman thought to be Burr's daughter Theodosia, who was lost at sea in 1812. She's been seen descending the dining-room staircase. Recalls Stults, "When my foot touched that first step it felt like I was walking on ice—it knocked the wind out of me."
8.
Shake off your shivers with deviled eggs and a crackling fireplace at the
Blind Tiger Ale House
(281 Bleecker St at Jones St, blindtigeralehouse.com)
. Happy hour runs from noon to 8pm daily, with $1 off draft beers (including a variety of pumpkin ales).
9.
Spin over to
MF Gallery
's "
Sixth Annual Halloween Art Show
," on the mezzanine at the lounge I Tre Merli
(463 West Broadway between W Houston and Prince Sts, 917-446-8681)
for horror-inspired Pop Art, including watercolor "zomb-o-lanterns." The show is on display through November 9.
10.
End your scary journey at
Evolution Nature Store
(120 Spring St between Greene and Mercer Sts, 800-952-3195)
by treating yourself to a taxidermied bat ($79), skull bracelet made from Asian water buffalo bone ($10–$19), and watermelon-and-worm or strawberry-and-scorpion lollipops ($2–$4).
More haunted happenings!
Merchant's House Museum ghost tours
Is this really New York City's "most haunted house"? Rooms will be lit with flickering candles as museum staffers tell bone-chilling ghost stories and display evidence gathered during paranormal investigations. 29 E 4th St between Lafayette St and Bowery (212-777-1089, merchantshouse.org). Thu 30, every 30 minutes from 6–10pm; $25, members $13. Reservations required.

Spine Tingling & True: Ghost Stories of the Merchant's House Museum
Storyteller Anthony Bellov recounts highlights from his ongoing research into the bizarre, supernatural occurrences at the Merchant's House Museum. 29 E 4th St between Lafayette St and Bowery (212-777-1089, merchantshouse.org). Fri 31 at 7, 9pm; $20, seniors and students $15, members $10.

Mid-19th-Century Funeral Reenactment & Cemetery Tour
Halloween's over. Now what? Join the Merchant's House Museum as it re-creates the 1865 funeral of Seabury Tredwell in its double parlors. Presenters will discuss 19th-century funerary customs, and then follow Tredwell's "casket" to New York City Marble Cemetery, where he was temporarily interred. Mourning dress is encouraged, and black armbands will be provided. 29 E 4th St between Lafayette St and Bowery (212-777-1089, merchantshouse.org). Sun 2 3–5pm; $15, seniors and students $10, members $5.

Ghostly Greenwich Village
A forgotten burial ground, public-execution spots and a house haunted by some 22 ghosts (including that of Mark Twain!) make up this spine-tingling walking tour. Meet in front of the Washington Square Arch at the southern end of Fifth Avenue. Street Smarts N.Y. (212-969-8262, streetsmartsny.com). Nov 8 at 6pm, $10.

Soho Ghosts
Soho is chock-full of ghosts—and we're not talkin' thinspo shoppers. This walking tour finds 'em all, and rediscovers St. John's Park, a posh neighborhood that has all but disappeared. Meet at the corner of Mott and Prince Streets in front of Old St. Patrick's Cathedral. Street Smarts N.Y. (212-969-8262, streetsmartsny.com). Nov 22 at 2pm, $10.

Pubs and Poltergeists
The perfect pairing: spirits and spirits. This booze-themed tour hops around the West Village's oldest and eeriest taverns. They provide the stories, you pick up the tab. Meet in front of St. Luke's in the Field Church on Hudson Street at Grove Street. Street Smarts N.Y. (212-969-8262, streetsmartsny.com). Nov 22 at 6pm, $10 (drinks and tips not included).