Heads up! We're working hard to be accurate – but these are unusual times, so please always check before heading out.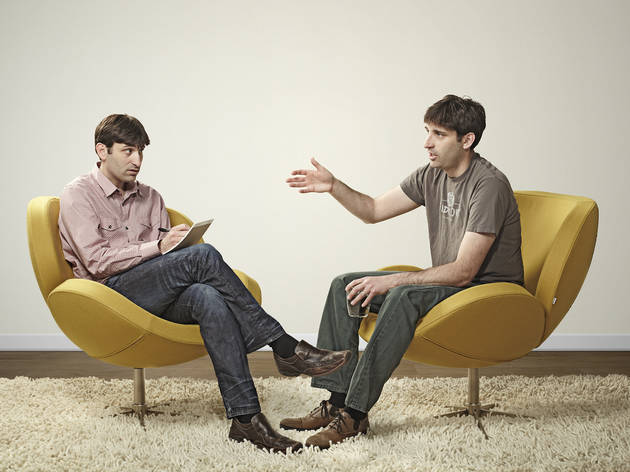 The Interview Show: Host Mark Bazer interviews himself
The Interview Show comes to Brooklyn on May 16. Host Mark Bazer discusses his long-running live talk show—with himself.
Interview Show
at Chicago dive the Hideout. Every month since then, he has invited several special guests (past visitors include comedian Hannibal Buress and Illinois Attorney General Lisa Madigan) onto the stage for 15-to-20-minute Q&A's. On Thursday 16, Bazer visits NYC for the fourth time, to talk with author Sam Lipsyte,
The New Yorker
TV critic Emily Nussbaum and punk musician Kathleen Hanna; a short performance by songwriter Chris Mills is also planned. We asked Bazer to turn his superior interrogation skills on himself and tell us about the upcoming event.

You're not the first person to host a talk show, and you're not the only one to do it in a bar. What distinguishes the Interview Show?
That's a really great question. Let me now evade it. I know what I aim for with the show—something in between, say,
Jimmy Fallon
and
Charlie Rose.
My hero is Dick Cavett. The conversations he had were sometimes hilarious, sometimes deadly serious—usually both in the same interview. That's the goal. Also, I sit behind a desk in which you can see my legs underneath. Most other talk shows can't claim that.
How did you come up with the name? Couldn't think of anything better?
How did you know? Yeah, the name was a placeholder when I thought up the show back in 2008. And then all of a sudden, it was time to promote the first one and it just stuck. Last year, I applied to trademark the name because I learned how to type the r in a little circle. Watch this: ®. Anyhow, the trademark office rejected me, saying the name was merely descriptive. But then I sent them an
Interview Show
mug and they quickly reversed their decision.
Do you talk to your interview subjects beforehand?
Only when I'm interviewing myself. The thing I hate most about talk shows is when the conversations sound staged. "So, have you done any vacationing recently?" "Why, as a matter of fact, I just returned from Fiji." I still, of course, ask all my guests if they've done any vacationing recently. If they say no, I follow up with, "What if we redefined
recently
to mean in the last ten years?"
What's a recent interview you really enjoyed?
We had Jeff Tweedy of Wilco on our recent fifth-anniversary show. I had wanted to have him on for, well, five years. Two minutes into the interview, the owner of the Hideout came marching toward the stage with two members of the fire department. You of all people can imagine what was going through my mind. Luckily, they didn't shut down the show. They just had a loud discussion in the tiny space backstage, which Jeff and I could hear but nobody else could. It wound up making for a better interview.

You do the show each month in Chicago. Why come to New York?
Do you want me to say New York is better than Chicago? Is that what you want? Look, Mark, you may think that, but I certainly don't. The reasons are: It's a challenge, a way to interview new people, a chance to "get out of my comfort zone." And I love
Union Hall
.
How did you choose your guests for your upcoming Union Hall show?
This is the greatest part of doing the show, asking people I admire if they'll be a part of it. So we have one of the funniest—and one of my all-time favorite—fiction writers. And one of the smartest critics covering TV's new golden age. And a musician who has opened me—and thousands of others—up to new ways of creating art and challenging stupidity and ugliness. And a performance of brand-new music by one of the best songwriters around. Man, I'm getting nervous. I may not show up.
The Interview Show: Union Hall, 702 Union St between Fifth and Sixth Aves, Park Slope, Brooklyn (718-638-4400, theinterviewshowchicago.com). Thu 16 at 8pm; $8.
More interview shows
Who better to ask writers provocative questions—and potentially get them to reveal deliciously embarrassing details—than the people who know them perhaps a little too well? See what happens when authors are paired with their closest friends to discuss books and each other's personal lives. This week, The Blonde of the Joke author Bennett Madison talks about his new romantic mystery, September Girls, with Emily Gould, the founder of indie e-book subscription service Emily Books. Free.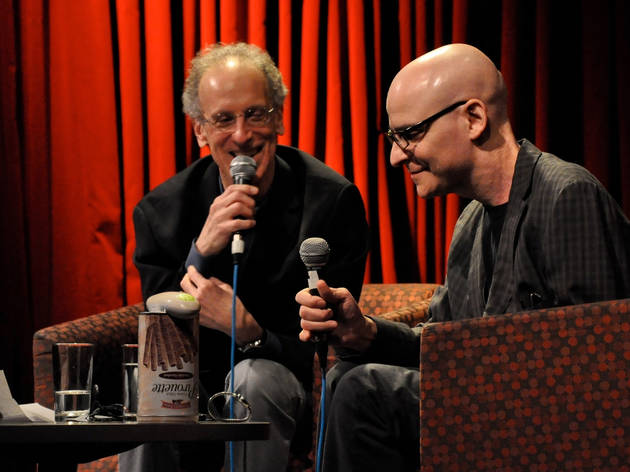 Now in its second season, this public-radio show revolves around the notion that people reveal themselves more fully when they are not the topic of their own conversation. Host Randy Cohen, a former New York Times Magazine columnist, questions prominent cultural figures about one individual, one location, and one item or concept they feel strongly about. At next month's edition, he'll interview The Orchid Thief author and The New Yorker staff writer Susan Orlean ($21). In July, The Daily Show head writer Tim Carvell and staff writer Daniel Radosh select the mandatory discussion topics from their work together ($15).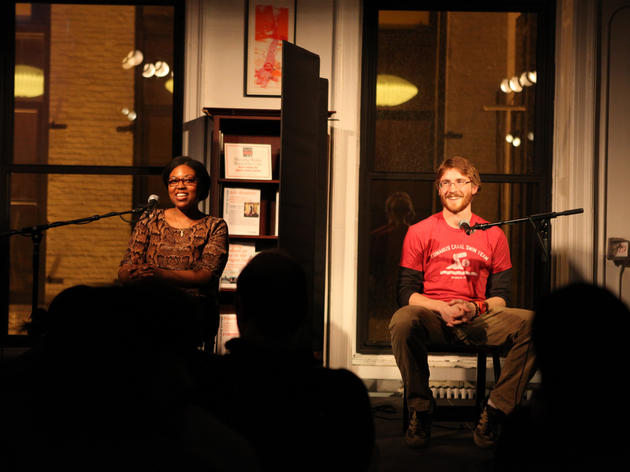 Something like a game of musical chairs with a heavy dose of interrogation, this rotating Q&A aims to encourage honest conversation through anonymity: Audience members and witty guests alike are invited onstage to ask each other anything their hearts desire, while separated by a divider that keeps their identities hidden. Questions range from frivolous to probing, eliciting both raucous comments and heartfelt stories. The upcoming show's lineup is TBD, but past guests have included The New Yorker scribe Lizzie Widdicombe, comedian-author Baratunde Thurston and the Hairpin founding editor Edith Zimmerman. Free.—Nina Stoller-Lindsey