Heads up! We're working hard to be accurate – but these are unusual times, so please always check before heading out.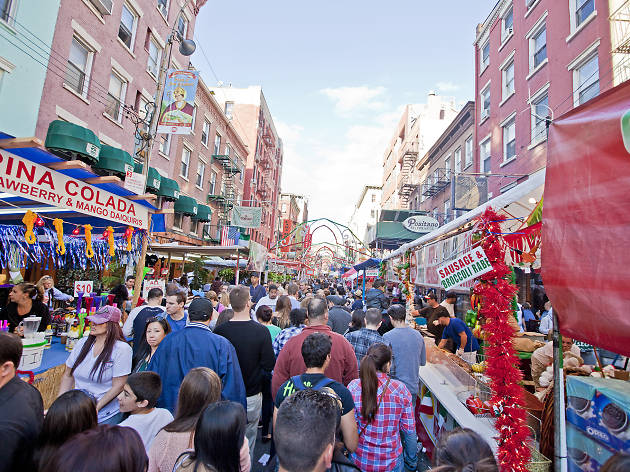 Touristy spots in Little Italy that are actually good
Think Little Italy is just an overrated tourist trap? Guess again—the nabe has some serious highlights!
As one of Manhattan's most enchanting neighborhoods, Little Italy, NYC, is bursting with tourist attractions. From popular coffee shops and Italian restaurants, to the annual two-week blowout celebrating all things Italian, it's no surprise that out-of-towners flock to the bustling nabe. For some jaded New Yorkers, Little Italy may be too overplayed (not as much as Times Square, of course). Regardless, the 'hood has many redeeming qualities, including authentic Italian markets, some of the best pizza in NYC and great bars that locals love.
RECOMMENDED: Full guide to Little Italy, NYC
Best touristy spots in Little Italy
Technically, this Italian restaurant is located in Nolita, but this eatery's thin-crust pizza, classic red-sauce fare and to-die-for meatballs certainly taste like they belong in Little Italy. You can order many variations of the always-crisp pies with a crackerlike crust, but we recommend the vodka rendition, with its reasonable layer of creamy, booze-spiked tomato sauce and perfect placement of fresh mozzarella. Pro tip: Make a reservation in advance.
This family-owned Italian market—or gastronamia—has catered to chefs, tourists and locals since 1910, and represents all 20 regions of Italy. After perusing and tasting samples of the store's authentic imports, which includes a wide variety of high-quality, handmade cheeses, cured meats, olive oil and vinegar, you'll never want to purchase these savory items at any run-of-the-mill grocery joint again.
This 1,500-square-foot dive serves classic cocktails (think rickeys and fizzes), boasts a hefty shot list—think pickle and sangrita backs—and offers frozen boozy slushies that come in many fruity flavors. Need we say more? Okay, fine—If you're feeling peckish, the pulled pork, mac n' cheese grilled cheese sandwich will do the trick. And although the Randolph features weekly theme nights (in the past, the drinking den has hosted many Prince-inspired dance parties) it's best for happy hour drinks.
Looking for a great place to have brunch? This cozy gastropub by brothers Tom and Anthony Martignetti serves six different variations of Bloody Mary's, and traditional breakfast fare including vanilla french toast, huevos rancheros and sloppy egg sammies. The decor evokes a Victorian and Industrial vibe with its repurposed factory carts that double as tables, but this is truly a no-frills, simple spot for great food and drinks.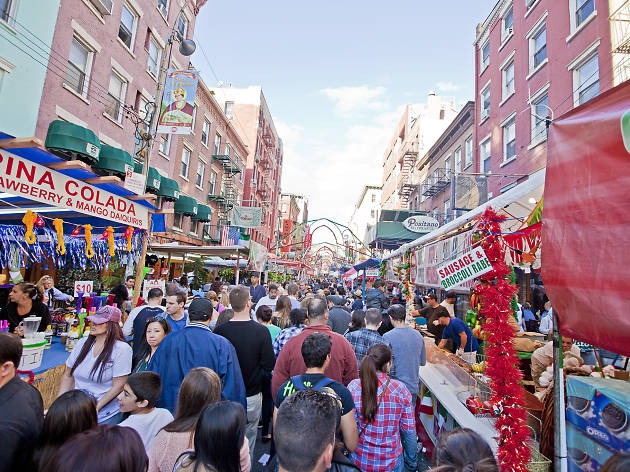 Photograph: Shutterstock
5. The Feast of San Gennaro
Celebrate the martyred 3rd-century bishop and patron saint of Naples at this 11-day festival that fills the streets of Little Italy every year. Watch the professionals in action at the cannoli-eating competition, and you won't feel so bad about indulging in calorific treats from the food vendors. Make sure to return daily for live musical performances. Mulberry St between Canal and Houston Sts; Grand St and Hester St between Baxter and Mott Sts.
Craving a cannoli? How could you not be while wandering around Little Italy? Oblige your tweet tooth and pop into this quaint bakery for Italian pastries, gelato and some of the best cannolis in town.
Why not check out nearby Chinatown?
Chinatown, NYC is known for food, but the nabe has other attractions too. Here's our guide to the best things to do.