Heads up! We're working hard to be accurate – but these are unusual times, so please always check before heading out.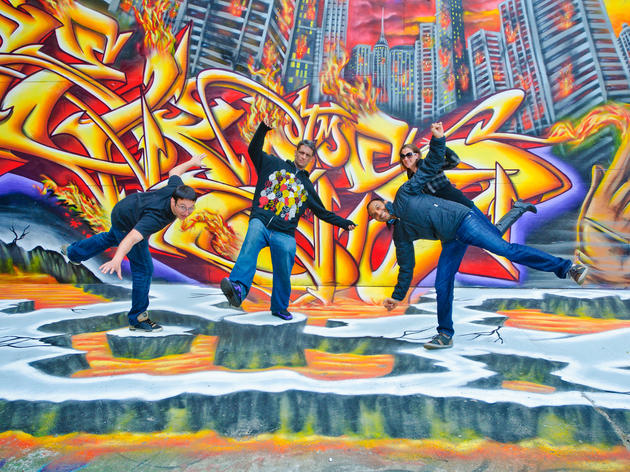 1/6
Photograph: Eric Harvey Brown
Streetartists Greymatter, Meres One and Zatgirl with Vipin Goyal in front of a Meres One mural at 5Pointz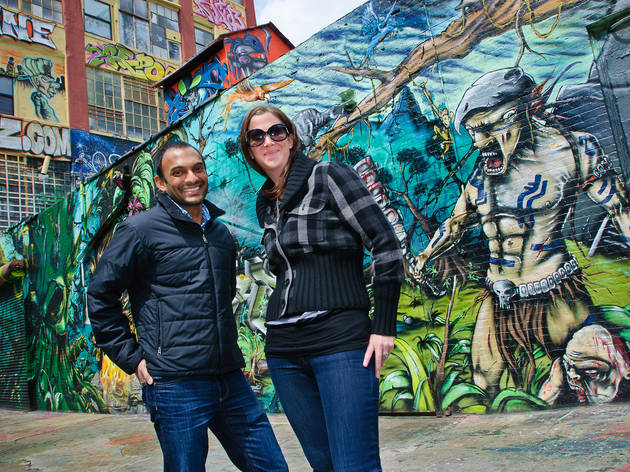 2/6
Photograph: Eric Harvey Brown
Vipin Goyal with streetartist Zatgirl at 5Pointz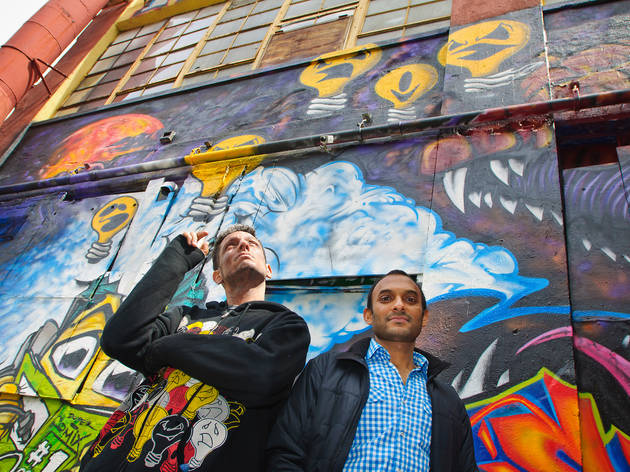 3/6
Photograph: Eric Harvey Brown
Vipin Goyal with streetartist Meres One at 5Pointz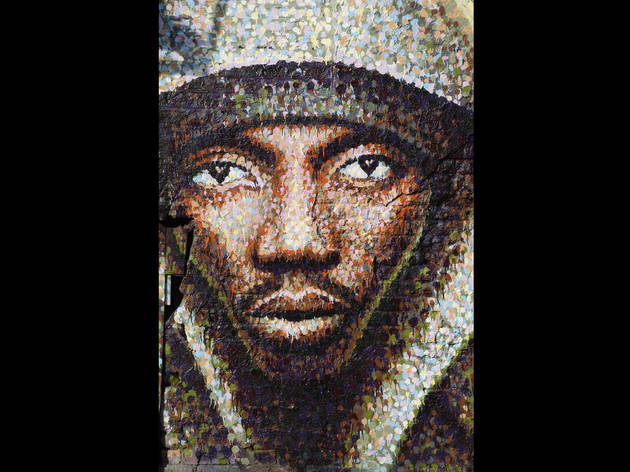 4/6
5Pointz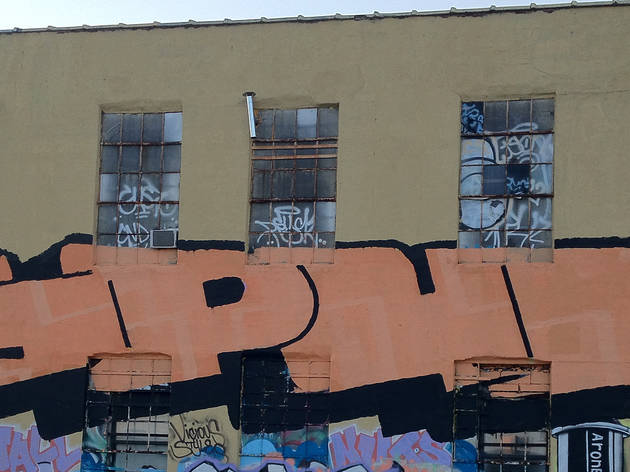 5/6
5Pointz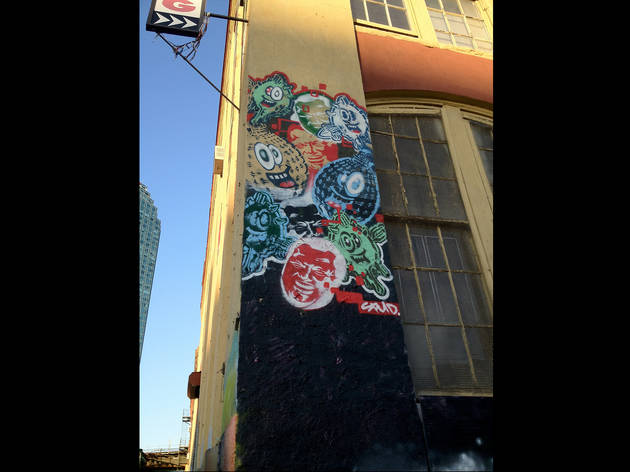 6/6
5Pointz
Unique tours of NYC
A new company adds a selection of one-of-a-kind experiences to the city's current crop of treks.
Two years ago, entrepreneur Vipin Goyal and his wife left their jobs, broke their lease and sold their belongings, raising the money to buy a pair of around-the-world plane tickets. Six months later, Goyal was back in New York, yearning for ways to sate his adventurous spirit locally. That desire was the impetus behind SideTour, a company specializing in crafting quirky experiences hosted by experts in the field. Since launching in fall 2011, SideTour has taken people down luge tracks with Olympians and to urban hives with a Brooklyn-based beekeeper. Goyal spoke to us about the business of creating unconventional events.
How did you come up with the idea for SideTour?
When we were traveling, we were fortunate to have a lot of friends in many of the places we went—Africa, the Middle East, Asia, Australia and New Zealand—and those experiences where we had our own local guides were the most memorable. One of the biggest things that struck me when we came back was that when we travel we're in this mode of discovery, but then we come back to our cities, and we end up going to the same five bars and ten restaurants with the same 20 people.
What is the philosophy behind the project?
We're surrounded by all these amazing people who are doing crazy, remarkable, fascinating things every single day, and if we could step into their shoes for an hour or two, we would enrich our experiences. That was the inspiration behind [SideTour]. I brought together a team in 2011, in the spring, and started piloting a few ideas: You could sled down a luge track with a former Olympic medalist, or you could learn the art of graffiti with an aerosol artist at 5Pointz in Queens, or dine with an investment banker turned monk at an East Village monastery.
How do you curate your offerings?
We have a team of seven people, and we'll sit down for brainstorming sessions where we talk about the kinds of things that we want to do. A big chunk of them come through referrals, like [street artist] Meres One, who is the host of the graffiti experiences at 5Pointz. [He's also its curator]. I had gone to a supper-club event last year and was telling the host about what we were doing, and she immediately said, "I know this amazing artist who you have to talk to." If you click on "Become a Host" [on our website], you can also submit your ideas to us. We filter through those, to make sure the host will be uniquely qualified.
Does being based in New York City help?
I think that New York is the ideal place for us because it's so rich, diverse and full of talented, passionate people. It's a mecca. But I also think that this phenomenon exists in every city. You kind of fall into patterns of least resistance, and unless you're pushing yourself to try new things, it's easy to stay in those ruts. I think there's a huge population that seeks ways to push their boundaries. We're just trying to facilitate that.
What is the next tour on your schedule?
[It's] Live a Day in the Life of a Restaurateur with Jason Denton [Tue 8 7–10pm; $150]. Denton started with one restaurant in1998 called 'ino, and then he opened 'inoteca, 'inoteca e liquori bar and Betto. He starts in Williamsburg with a cocktail at Betto, and then everyone gets in an Escalade to drive to 'inoteca for appetizers, then 'ino for a main dish, and you end up with dessert at Corsino. All throughout, there's lots of wine, and he keeps telling stories. [SideTour's] about that—individuals who are sharing their own stories.
Tour locations, times and prices vary; visit sidetour.com for more information.
Eclectic walking tours
The Great Saunter of 2012
Seeing the entirety of Manhattan is a huge project; doing it in a day is epic. But you can circumnavigate the borough on this 27th-annual 32-mile trek. In 12 hours (give or take), you'll have walked through more than 20 parks and promenades, seen three rivers and glimpsed iconic views of a dozen landmarks, including the George Washington Bridge and the United Nations. The finish is within stumbling distance of Heartland Brewery, where you can treat yourself to a well-earned pint. Meet at Heartland Brewery, 93 South St at Fulton St (212-663-2167, shorewalkers.org). Sat 5 at 7am; $20, family of two $25, Shorewalkers members free.
Jane's Walk
The Municipal Art Society honors late author and activist Jane
Jacobs with 70 tours during this international weekend event. Passionate locals have volunteered to guide treks throughout the five boroughs. For example, Gotham Lost and Found (gothamlostandfound.com) blogger David Freeland looks at NYC's historic red-light district on In Search of the Tenderloin and Tin Pan Alley, and Brooklyn native Gary Zarr tells his personal attachment to a local landmark on the Brooklyn Bridge: Cultural Icon. Times and locations vary (212-935-3960, mas.org). Sat 5, Sun 6; free.
Stories the City Tells Itself
Participants will experience firsthand the creative process of video artist Neil Goldberg, as he leads a tour based on his Museum of the City of New York exhibit of the same name. Visitors will join Goldberg on a subway ride, a ritual that is the subject of his work. The artist illuminates the details that attracted his eye as he takes the group to view his current show. Location disclosed with R.S.V.P. (347-829-7779, elastic-city.org). May 10, 12 at 3pm. $25; seniors, students and MCNY members $20.
Discover Brooklyn's Hidden Edible Plants on a Foraging Journey
Ethnobotanist, food writer and locavore Leda Meredith will explain how to safely identify and prepare wild mushrooms, mulberries, sassafras, and other "weeds" on this tour through Prospect Park. Participants will leave knowing how to find the species in their backyards. Just don't take them from the park; it's illegal. Location disclosed with R.S.V.P. (sidetour.com). May 26 at 10am; $20.
Related:
Non-touristy walking tour companies