Heads up! We're working hard to be accurate – but these are unusual times, so please always check before heading out.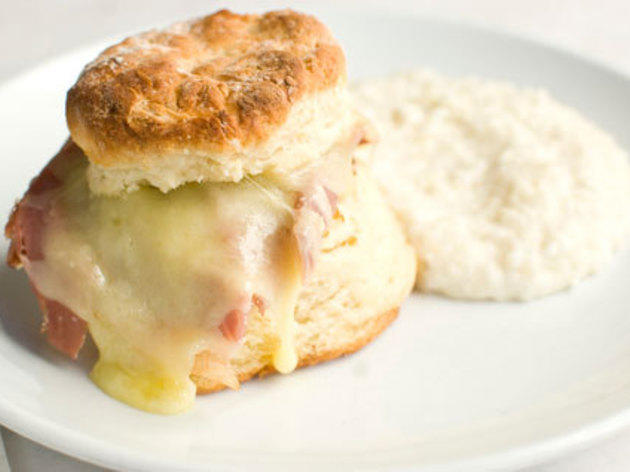 1/9
Egg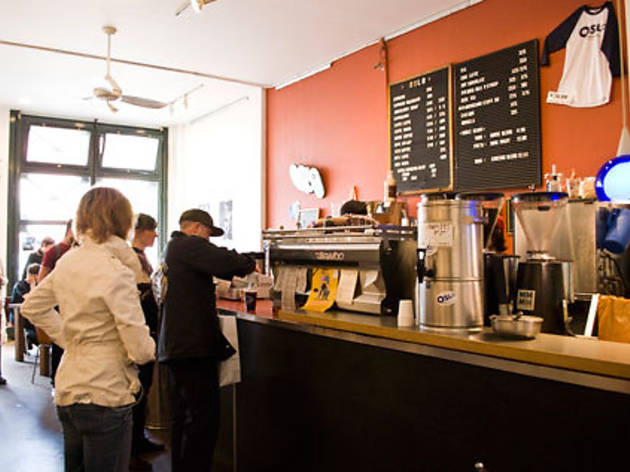 2/9
Oslo Coffee Roasters
3/9
City Reliquary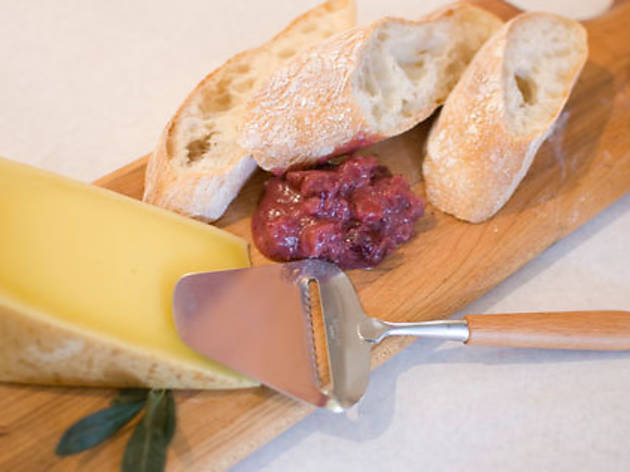 4/9
Bedford Cheese Shop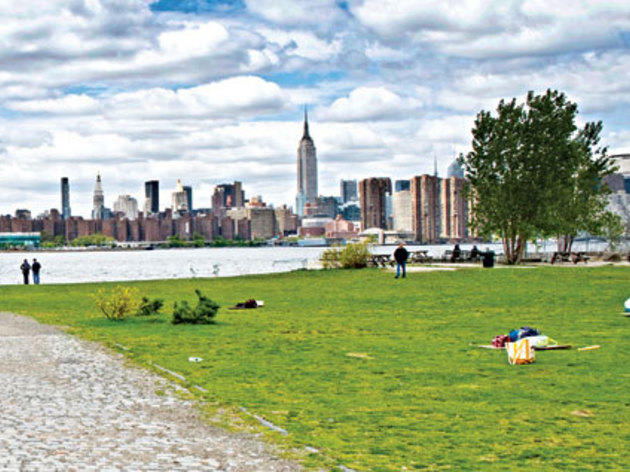 5/9
East River State Park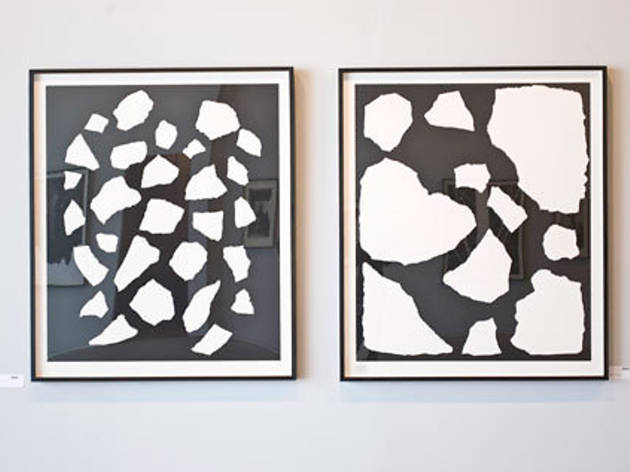 6/9
Causey Contemporary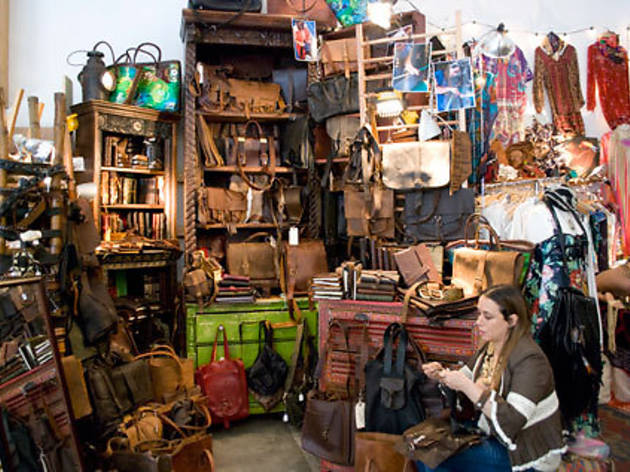 7/9
Artists & FleasLeather goods by Aixa Sobin (aixasobinleathers.com) at Artists & Fleas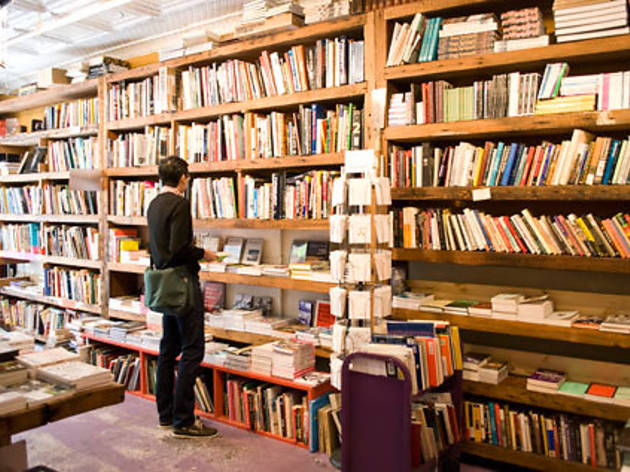 8/9
Spoonbill & Sugartown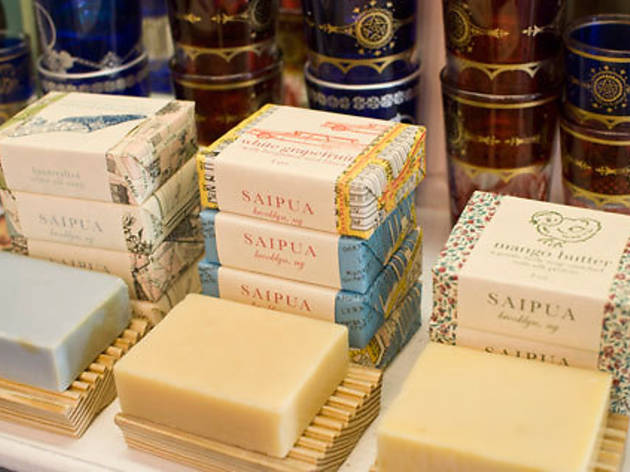 9/9
Catbird
Waiting for brunch walk: Brooklyn
Make the most of your downtime in Williamsburg before your table's ready at Egg.
RECOMMENDED: All our listings for the best brunch in NYC
Start and end: 135 North 5th St between Bedford Ave and Berry St, Williamsburg, Brooklyn
Time: 1 hour
Distance: 2 miles
1 The country ham biscuit with grits ($9) at Egg (135 North 5th St between Bedford Ave and Berry St; 718-302-5151, pigandegg.com; brunch served Sat, Sun 9am–3pm) has been known to lure hungover Manhattanites into Williamsburg, and Brooklyn devotees out of bed at an ungoldly hour. It remains one of those affordable brunches that's actually worth the wait—even for an hour, which is how long it can take on a typical weekend. But this gives you 60 sober minutes to kill in Williamsburg. Put your name down, then awaken your synapses with a strong, cold-brewed iced coffee ($2.50) from Oslo Coffee Roasters (133-B Roebling St between North 4th and 5th Sts; 718-782-0332, oslocoffee.com), a sleek, sunny caf perfect for stretching out with the Sunday Styles section.
2 The quirky Brooklyn institution City Reliquary (370 Metropolitan Ave between Havemeyer St and Marcy Ave; 718-782-4842, cityreliquary.org; admission by donation) is open only on weekends (noon–6pm), so seize your chance to poke around its collection of New York curiosities. The museum's two rooms display Statue of Liberty postcards, vintage seltzer bottles and a reproduction of the last independent newsstand on the Bowery, among other relics.
3 Tide over your growling stomach at Bedford Cheese Shop (229 Bedford Ave at North 4th St,718-599-7588), a purveyor that specializes in small-production farmstead wedges. Cheesemonger Stephanie Bealert recommends fresh goat's-milk cheeses for May, like a creamy Wabash Cannonball ($11) paired with Beth's Farm Kitchen rhubarb chutney ($8.50) on a ciabatta roll ($2). Even if you're just browsing, ask for a free sample—the staff is more than willing to oblige.
4 Nosh on your snack while enjoying a skyline view at nysparks.state.ny.us), a former shipping dock whose seven industrial-chic acres include cobblestone paths and a small, rocky beach.
5 With brunch nearing, check back in at Egg to make sure you haven't lost your place. If you still have time to kill, hit Causey Contemporary (92 Wythe Ave between North 10th and 11th Sts; 718-218-8939, causeycontemporary.com). Unlike in Chelsea, many Williamsburg galleries stay open on both Saturday and Sunday; check out Melissa Murray's drawings of animals, which are situated on slightly fractured landscapes (through May 15).
6 Burn the money you saved on your cheap brunch at the lively weekend-only Artists & Fleas (70 North 7th St between Wythe and Kent Aves; artistsandfleas.com). The nine-year-old market hosts about 70 vendors hawking everything from typewriter key rings ($10 each) to graphic tees by Alexander Campaz. Don't feel guilty if you blow a wad of cash today—your saintly patience deserves some sort of reward.
7 Continue your loop around the neighborhood at Spoonbill & Sugartown (218 Bedford Ave between North 4th and 5th Sts; 718-387-7322, spoonbillbooks.com), where you can leaf through used novels and art tomes like A Spicing of Birds ($22.95), which pairs Emily Dickinson's poetry with naturalist bird art.
8 More frivolous pleasures await across the street at Catbird (219 Bedford Ave between North 4th and 5th Sts; 718-599-3457, catbirdnyc.com), a Lilliputian gift shop fragrant with Saipua soap ($8). Specializing in New York City--made jewelry, Catbird's cases are filled with unusual pieces, like a sterling silver New York State pendant necklace ($112) from the boutique's eponymous line, and Stephanie Simek's pussy-willow earrings ($125). Why not get decked out? You've got a hot date with some fluffy buttermilk biscuits.
Waiting for brunch: Brooklyn in a larger map
NEXT Jackson Heights $1 eating walk
You might also like
Best brunch in NYC
See more in Food & Drink