Heads up! We're working hard to be accurate – but these are unusual times, so please always check before heading out.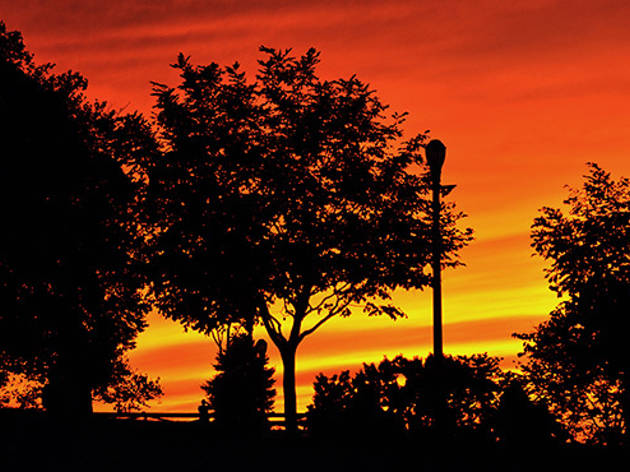 1/10
Photographer: Courtesy Creative Commons/Michael Fleshman/Flickr
1. Sunset Park Dude, sunsets is in the name. Hit up any one of the parks in this Brooklyn hood and you'll be sure to catch one of the best views of the sunset in one of the highest points in Kings County.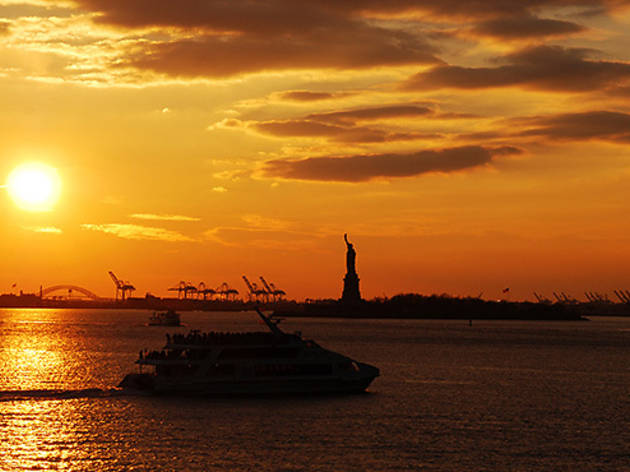 2/10
2. Take the Ferry During Sunset Tis' a cheap man's getaway. Check out what time the sun goes down and hop on one of these things just in time to see it touch the horizon.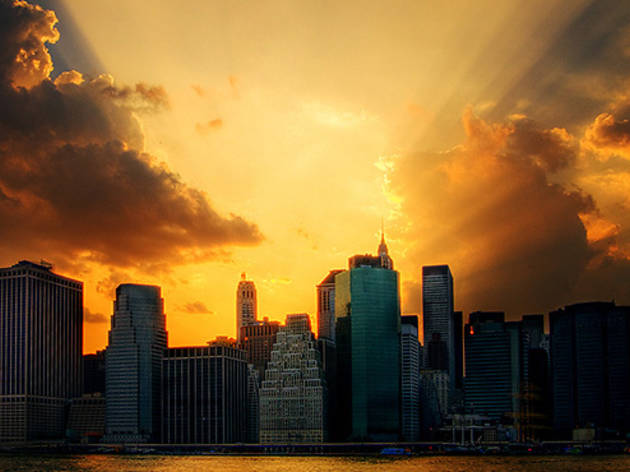 3/10
Photograph: Courtesy Creative Commons/Jim Barry/Flickr
3. Brooklyn Bridge Park This nearly renovated park has free grills on a first-come, first-serve basis. End-of-summer cook-out party under the sun, anyone?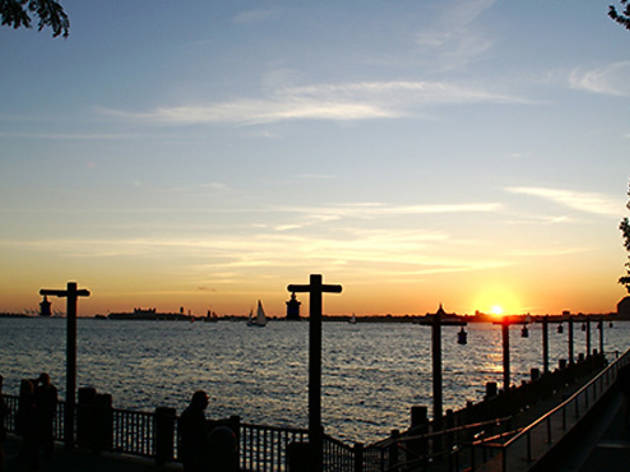 4/10
Photograph: Courtesy Creative Commons/Saitowitz/Flickr
4. South Cove Park There you are. The place? Lower Manhattan. The time? Sunset. Pop quiz, hotshot: where you gonna go? How about South Cove Park, which boasts some of NYC's most beautiful park-iness (actual word) thanks to the incredibly well designed foliage (another actual word). But seriously: if this hidden gem of a park was any more romantic it'd be buying you dinner first.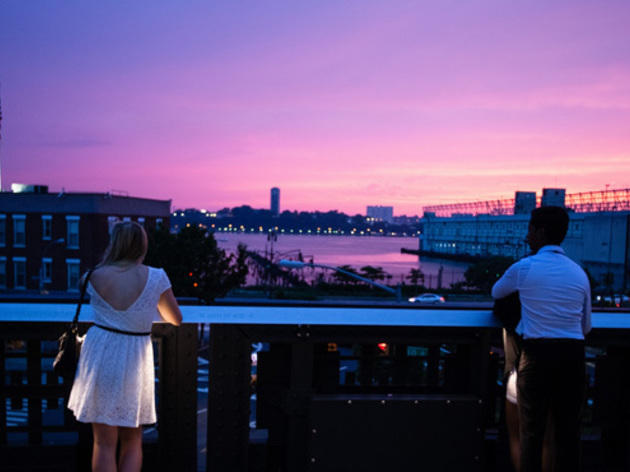 5/10
Photograph: Courtesy Creative Commons/Dan Nguyen/Flickr
5. The High Line We all love this greenway. It's quiet, it's peaceful, and it's probably one of the best places to relax that does not require a spa discount.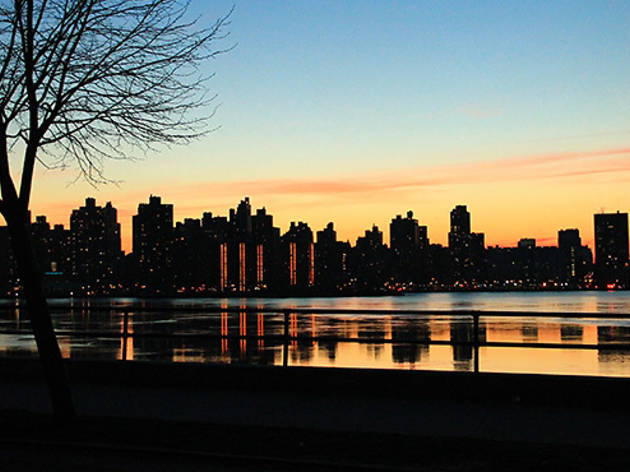 6/10
6. Astoria Park It's the largest open space in Queens- spacious enough to bring your entire family, all of your friends, your friends friends, and even that one guy you don't even like.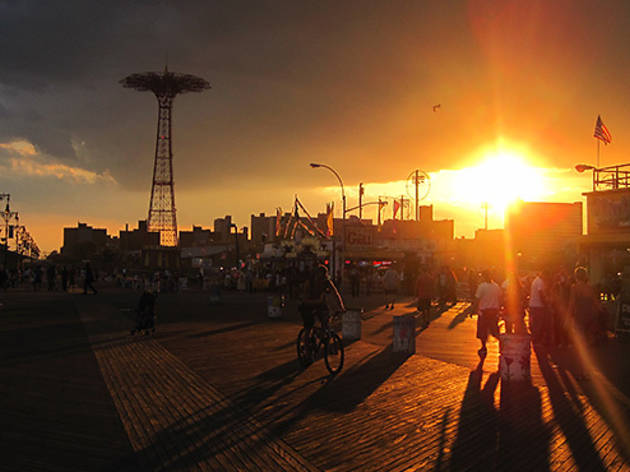 7/10
Photograph: Courtesy Creative Commons/Ramon Boersbroek/Flickr
7. Coney Island Beach Sure, you can ride the cyclone, catch some waves and even eat a famous hot dog from Nathan's, but nothing rounds off a night like watching the sun go down on a beach.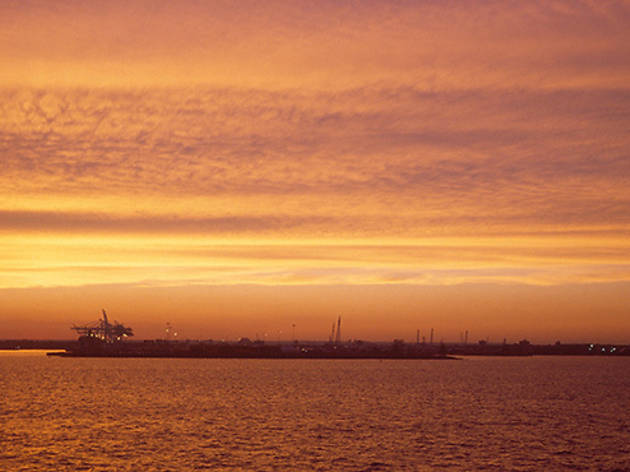 8/10
Photograph: Courtesy Creative Commons/Flickr/Alexander Rabb
8. Great Kills Park No, this is not a park where you'll find the best murders in NYC. It's a National Recreation area made up of four beaches in Staten Island where you're likely to spot one of the rare birds that flock their to stay away from the hectic, big city.
9/10
Photograph: Courtesy Creative Commons/Brain_Bitch/Flickr
9. Prospect Park One the biggest open spaces in New York, you'll be sure to find room to watch the sunset here. Unless you're a sociopath who likes to sit really close to people you don't know. There's support groups for that. Anyway, spread out and enjoy the majestic sunset here on the vast expanse of grass.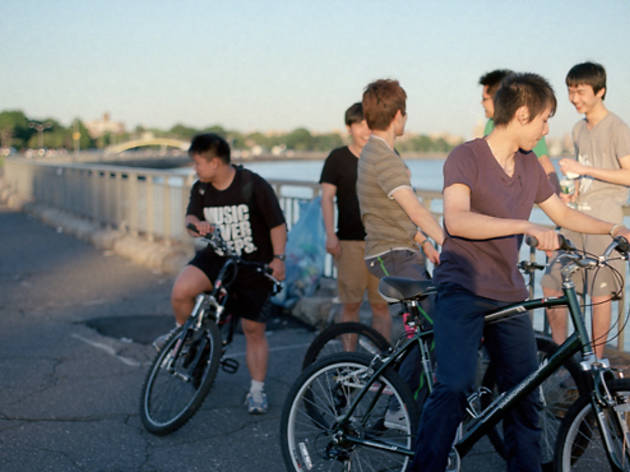 10/10
Photograph: David Tan
The Shore Park Pathway This sounds crazy, but one of the best places to see the sunset in NYC just so happens to be just above a Toys-R-Us parking lot. Hear us out: it makes a ton of sense if you're into biking. Take the Belt Pathway Promenade all the way down from Bay Ridge to Bensonhurst Park. It's a pretty solid 12 mile ride (if you're biking from the Park Slope/Gowanus area) and if you get there just around sunset you'll have a full 180º view of the sunset over the water. The parking lot conveniently has ice cream, waters and sodas at different vendors, and you can walk your bike to a nearby F or D train to get home if it's dark. It's a fantastic ride, and a healthy way to see one NYC's nature at it's very best.
Watch the sunset at these 10 perfect NYC nature spots
These green spaces are the best places to watch the sun go down in the city that never sleeps
best places to chill out
in the evening? Experience total serenity at these pretty city locations that will surely give you the best view of the sun when it hits the horizon, featuring the
NYC's best parks
,
beaches
and lesser-known sweet spots.