Heads up! We're working hard to be accurate – but these are unusual times, so please always check before heading out.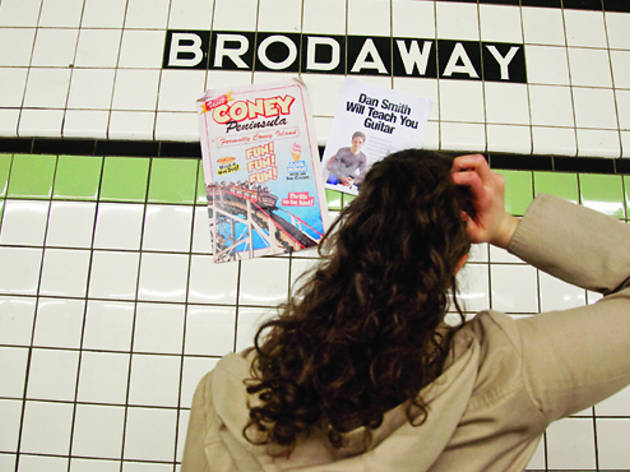 What's up with that?: Dan Smith, Coney Island and the G train
Time Out answers reader questions about New York's secrets, from a misspelled subway sign to Dan Smith's guitar-playing origins.
New York is full of buildings, streets, subway stations and other things whose origins remain a mystery—heck, uncovering those secrets is the whole point of this issue. And we're giving you, dear reader, a chance to have your questions about NYC answered with this column. Send your queries about the city's quirks to whatsup.ny@timeout.com, and we'll answer them on the Time Out New York blog.
RECOMMENDED: Full list of secret places in NYC
Coney Island isn't actually an island—it's a peninsula. What gives? —Jon, Boerum Hill, Brooklyn
Gotham's iconic "Playground of the World" was never one island but three; developers connected the trio by landfill in the late 19th century. The remaining waterway, Coney Island Creek, was further filled in (it now encompasses two inlets) as part of an initiative, spearheaded by Robert Moses, that resulted in the Belt System's Shore Parkway. The highway, completed in 1941, is typical of the controversial visionary's style; it's lined with oceanside promenades, spacious green parks, large playgrounds and extensive bike paths. Its completion also marked the end of Coney Island's tenure as a proper island.
Who taught Dan Smith to play guitar? —David, Bay Ridge, Brooklyn
For more than a decade, flyers featuring Smith's earnest mug, electric guitar and slogan dan smith will teach you guitar have blanketed bodega walls, community bulletin boards and coffeeshop entryways all over town. (The poster even made a 2010 cameo on The Daily Show, and inspired a publicity stunt for John Mayer's Continuum record in 2006.) Whether you see Smith as a cult icon, unintentional comedian or admirably self-built entrepreneur, the question remains: Where did the local legend learn his trade? The strummer started taking lessons with a teacher in Newton, Massachusetts, at the tender age of 13. But who knows what motivated him to pick up the instrument for the first time. "I don't remember there being anything that prompted me," explains Smith. "I think I always wanted to do it."
In the Broadway station on the G line, tiles spell out the word Broadway throughout; but one of them is misspelled as Brodaway. How did that happen?—Michele, East Village
Commuters have long been confused by this blatant typo, which can be found on the Brooklyn station's Queens-bound platform. The mosaic misprint happened during construction in 1937 and is chalked up to a careless mistake, but we like to think it was the work of a prankster looking to enliven his daily routine. Either way, it's here to stay: When Gothamist noticed the anomaly in 2009, the MTA promised to look into it, but has since decided to leave it be, incensing spelling fanatics who deem the correction worth draining a bit of the oft-derided transit agency's budget (what are those fare hikes for, anyway?). MTA spokesman Aaron Donovan called it a "landmark," adding that it was left in place intentionally as part of "historic preservation."