Heads up! We're working hard to be accurate – but these are unusual times, so please always check before heading out.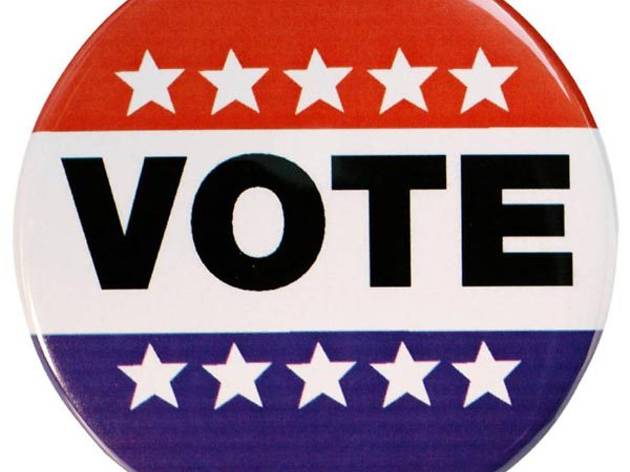 Your guide to voting in the 2012 presidential election
How to register? Where to vote? We answer your questions on how to cast your ballot in New York City.
The presidential election is coming up fast, but are you prepared to hit the polls? Whether you're red, blue or any color in between, we've answered a few frequently asked questions to get you voting-ready come November 6.
Am I eligible to vote?
Unless you're serving a prison sentence, currently on parole for a felony, declared mentally incompetent, not a U.S. citizen or under 18, you can cast a ballot.
How do I register?
You can download a registration form on New York State's Board of Elections website (elections.ny.gov) and send it back via snail mail by Oct 12. You must have lived at your current address since October 7 (30 days prior to Election Day) to vote within your current district. Alternatively, you can visit your county board of elections office (see right) by the same date, where staff can help guide you through the process.
How do I vote if I'm not going to be in my registered district on Election Day?
If you're out of town, have just moved or are a recent transplant from a testy battle state and want to help it swing right or left, you can fill out an absentee ballot and mail it back to your county board of elections. For your vote to make it onto CNN's hologram board, send your ballot in at least seven days before the election. You can also hand deliver it to the county board of elections where you are registered the day before; or until 5pm on Election Day in NYC.
Where do I go to vote, and what do I bring with me?
If you've registered to vote in New York City, you can look up your voter information on the website vote.nyc.ny.us; plug in the address at which you're registered, and your assigned polling place will pop up. Poll sites are open from 6am to 9pm on Election Day. While New York currently doesn't require its voters to show a form of ID, laws differ from state to state; it's always a good idea to carry along photo identification—just in case.
You might also like
101 Things to do this fall
Five films for the political animal
See more in Things to Do