Museums: Fashion, design and architecture
Shoes, shawls, furniture and beautiful buildings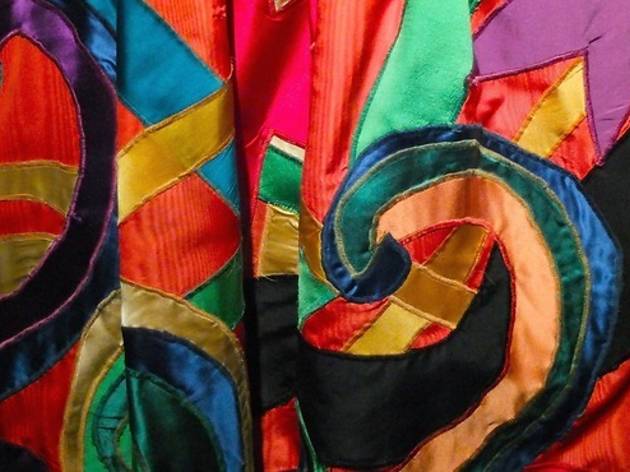 More art in Paris
Those who don't believe that contemporary art (think 'pretentious, highbrow, trendy, urban') and the suburbs ('rough, dodgy, uncultured, rude') could ever go hand in hand should pop over to the other side of the périphérique from time to time. In the last 20-odd years, between the narrow belt covered by the underground and the oh-so-distant terminuses of the RER lines, contemporary arts centres and galleries have been cropping up all over the place, each bolder...
Read more
Secret galleries in Paris Les Eglises - Centre d'art contemporain de la ville de Chelles When two adjoining churches in Chelles were earmarked for demolition, the local council intervened, determined to convert them into a contemporary art venue. Franco-Hungarian designer Martin Szekely and urban landscaper Marc Barani were called in, and they transformed the site into a model of stark, austere beauty: stained-glass windows, a jasmine garden, bold architectural lines...
Read more
Families are well catered-for in Paris with dozens of museums offering regular kids' activities as well as permanent collections that enthrall little and big minds alike. And if all else fails, there's always Disneyland... Musée de la Poupée This small, private museum and doll hospital enchants little girls with its collection of some 500 dolls (mostly of French origin) and their accompanying accessories and pets, which are arranged in thematic tableaux...
Read more
You might also like Unmissable Museums Consider this your cultural bucket list: There is something so impressive, lovely or beautiful about each of these institutions that it would be a shame to miss out on any of them... The Louvre The world's largest museum is also its most visited, with an incredible 8.5 million visitors in 2009. It is a city within the city, a vast, multi-level maze of galleries, passageways, staircases and escalators. It's famous for the artistic glories it contains within...
Read more
After the First World War, architecture in Paris (like in other great cities across the world) turned away from the asymmetrical, sinuous forms of art nouveau, (made famous in Paris by architects like Hector Guimard, who designed the iconic Métro entrances) to embrace the angular, modernist and often symmetrical forms of cubism and neoclassicism. This aesthetic transformation reflected the nation's desire (during the Roaring Twenties and 1930s) to embrace modernity and leave...
Read more
Vitry-sur-Seine used to be a rough and ready banlieue - the largest town in Val de Marne (with some 85,000 inhabitants), famed for its social unrest, including riots. But don't be scared away: this unlikely slice of suburbia has cleaned up its act, and now makes for a fun, art-themed day out away from the pristine (and sometimes stuffy) offerings in central Paris. You'll find streets decorated with graffiti by (amongst others)...
Read more
If you're visiting Paris and planning on cramming in as many museums and monuments as possible, the Paris Museum Pass is a good way to save both money and time. The pass offers direct access to 60 of Paris's most iconic sights, and allows you to skip past the long ticket queues. There are three available options: a 2-day pass for €42, 4 days for €56 or 6 days for €69; so whether you plan to visit the iconic Louvre, Musée d'Orsay and Pompidou Centre, or to take your time exploring the city's sites, there's an option for everyone. Passes can be purchased online, or at visitor centres, museums and shops all over the city.For more information, click here.
Read more