Heads up! We're working hard to be accurate – but these are unusual times, so please always check before heading out.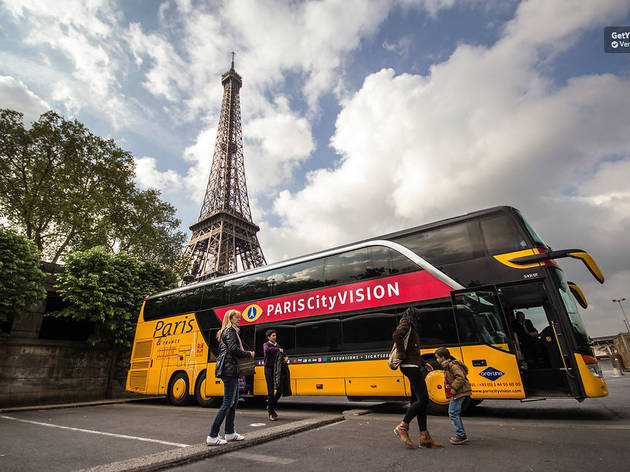 Best Paris bus tours
Give your feet a rest and see the sights of Paris from the comfort of an open-top double-decker
With all those indulgent meals at the best Paris restaurants, endless poses in front of landmarks and the inevitable wrong turning along the way, sightseeing in Paris can be exhausting. But it doesn't have to be: one way to soak up the French capital's main attractions (while resting your feet) is to book a bus tour of the city. With hop-on-hop-off options, cruise and bus combinations, and even indulgent bistro-bus tours, there are plenty of options to suit all tastes and budgets. Start looking, start booking!
Best Paris bus tours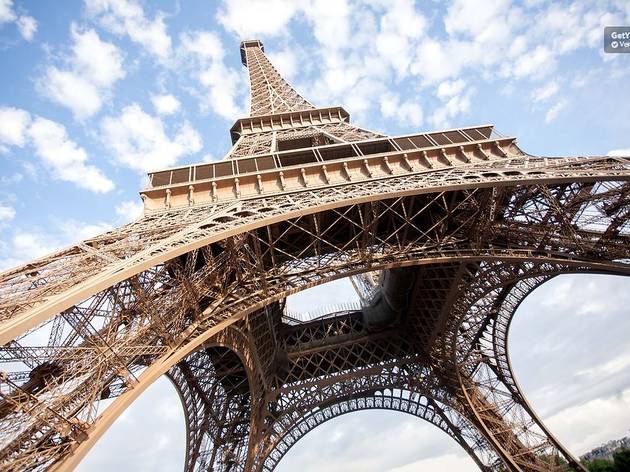 1. Eiffel Tower, audio-guided Seine cruise and city tour
Enjoy the Parisian breeze blowing through your hair as you zoom past the Champs-Élysées, Arc de Triomphe, and Notre-Dame Cathedral from this double-decker bus. If you fancy stretching your legs, this four-hour tour includes a river cruise with commentary and ends with priority access to the Eiffel Tower, where you can get a stunning aerial view of the sights you've just seen at close quarters.
2. Eiffel Tower, audio-guided night river cruise and bus tour
See the City of Lights as intended on this evening tour – it begins with sparkling views of Paris at dusk from the second floor of the Eiffel Tower, and ends with a ride around the boulevards on an air-conditioned bus. There's a one-hour cruise in between so you can definitely say you've explored Paris from all angles.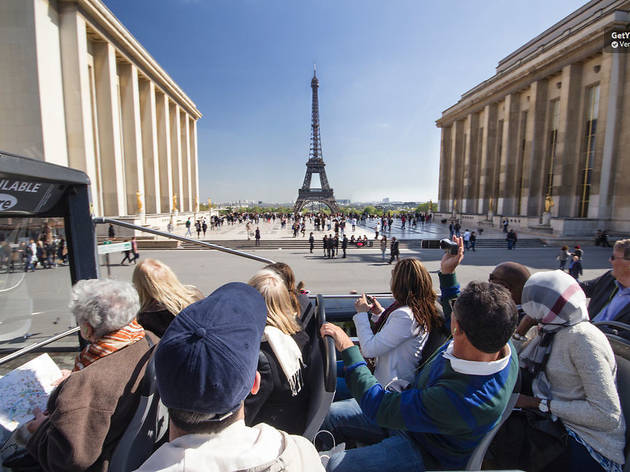 3. One, two or three-day hop-on hop-off ticket
Thirty-four stops, three routes and one ticket to see the lot – interested? The beauty of the hop-on-hop-off ticket is there's none of that post-trip FOMO to endure – you can pretty cover all the city's major landmarks, but to your own beat. Choose between a one-, two- or three-day ticket and bag a seat on the open top-deck for the best views.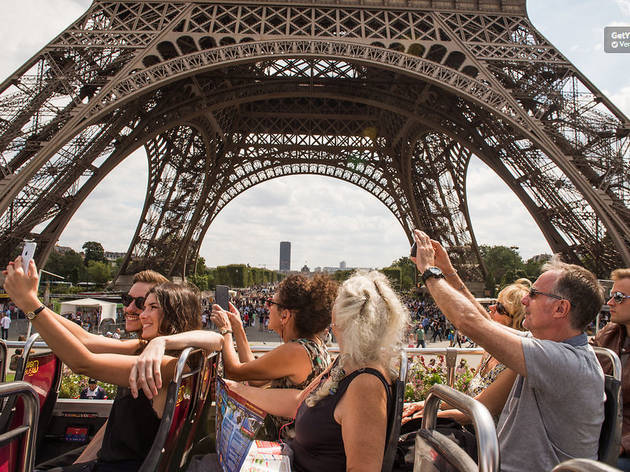 4. Hop-on hop-off bus tour: classic, premium or deluxe
There are three fabulous options to choose from with this hop-on-hop-off bus tour. A classic ticket gets you one-day bus travel plus a walking tour thrown in; a premium ticket includes two days of uninterrupted sightseeing. And if you're feeling really fancy, why not opt for the Deluxe ticket? It consists of two days of bus travel followed by a romantic cruise along the Seine.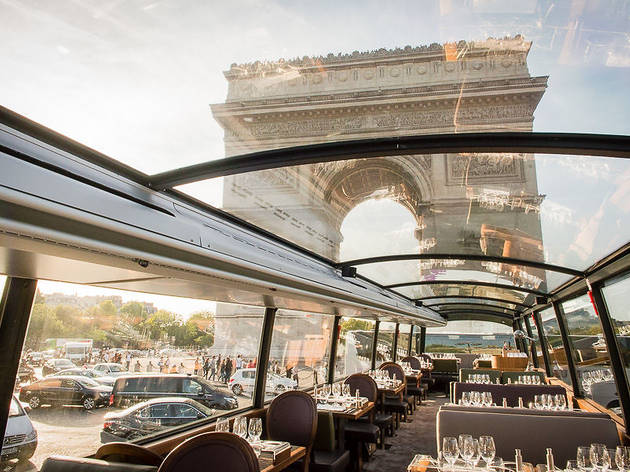 5. Paris food tour: bustronome gourmet tour of Paris
This glass-roofed double-decker bus has got to be the most indulgent way to see the city – and not just because of the panoramic views you take in along your journey. Pull up a chair aboard the 'bustronomy', and you'll be treated to a seasonal four-course or six-course menu. It's a foodie's dream come true!
6. Audio guided bus tour and cruise with Eiffel Tower lunch
If you're short on time, opt for this 90-minute coach tour, where you can marvel at the Louvre, spy the gothic gargoyles of Notre Dame and glimpse Paris fashionistas making their way along the Champs-Élysees. Following the tour, there's a one-hour boat trip up the Seine – and you don't need to worry about packing lunch, as the tour ends with lunch at the 58 Tour Eiffel restaurant. No prizes for guessing where you'll find that.
7. Skip-the-line Eiffel tower, hop-on hop-off bus and cruise
Not only can you take your time touring the city with this ticket, but you get to skip the queues when you visit the Eiffel Tower. And trust us, you'll be sighing with relief when you see them (as you saunter past). There are ten stops on the bus route, all of which you can explore at your leisure, as the hop-on-hop-off tickets are valid for either 24 or 48 hours.
8. City tour with Eiffel Tower lunch and Versailles tour
Spend the morning cruising down the Champs-Élysées in a not-so-glam but air conditioned mini bus before stopping off for lunch at the Eiffel Tower. Once you've refuelled it's on to the Palace of Versailles, which you get to admire before all the suckers in the queue.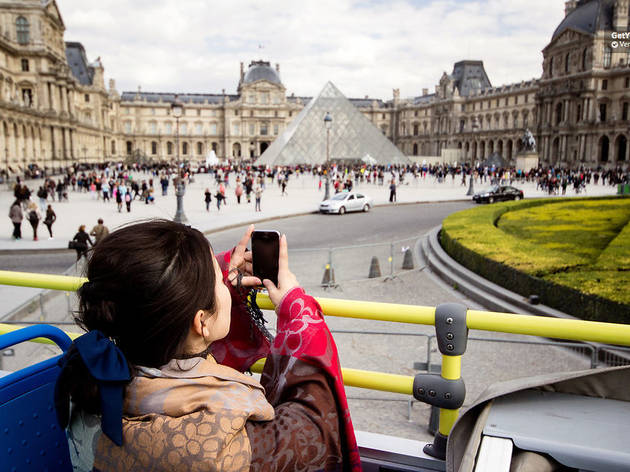 9. Paris à la carte carte: hop-on hop-off tour and Seine river cruise
Can't decide between bus or boat tours? Thankfully you don't have to. With the option of a two- or three-day ticket, you can hop on and off the open-top double deckers and boats to your heart's content. There are 34 bus stops and eight boat stops, so you can get a good, thorough look around Paris.
10. Audio-guided Seine River cruise and illuminations bus tour
Once you're done soaking up the history and the sights from the Seine, get back on the road as a double-decker bus has you pootling past the Place de l'Opéra, Champs-Élysées, the Eiffel Tower, the Louvre, Notre-Dame Cathedral and Saint-Germain-des-Prés. Just plug in the earphones for lively commentary teaching you a little bit about each and every monument.
11. From Paris: audio-guided Giverny trip by motorcoach
Take a break from the bright lights of the city with this half-day tour to the former home of master impressionist Claude Monet. The air-conditioned coach will drop you off right on his door step in the petit hamlet of Giverny, where you can lose yourself in the exquisite planting and enchanting water gardens that formed the basis for his large-scale, iconic and surreally beautiful 'Water Lilies' paintings.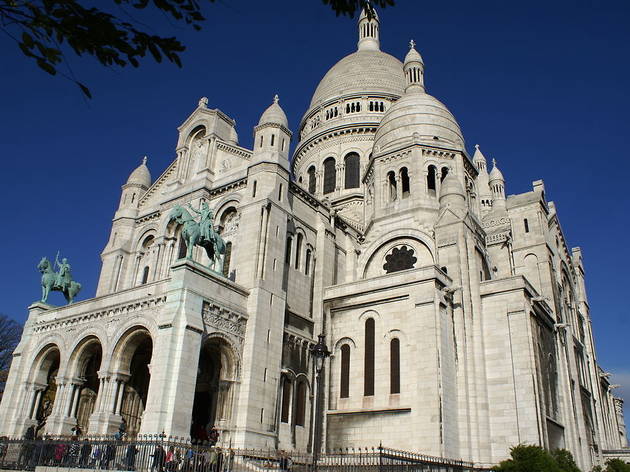 12. Four-hour guided tour by minibus
The bus may be mini, but the tour sure isn't. Spread over four hours, this hefty tour takes you through the city's creative Latin Quarter, past the cafe culture of St Germain-des-Pres and along the quaint Montmarte cobbled streets. A little walking will be involved when you hop off the bus to explore Le Marais historic district, before winding up at the biggest landmark there is: Eiffel Tower.
Check out the best Paris attractions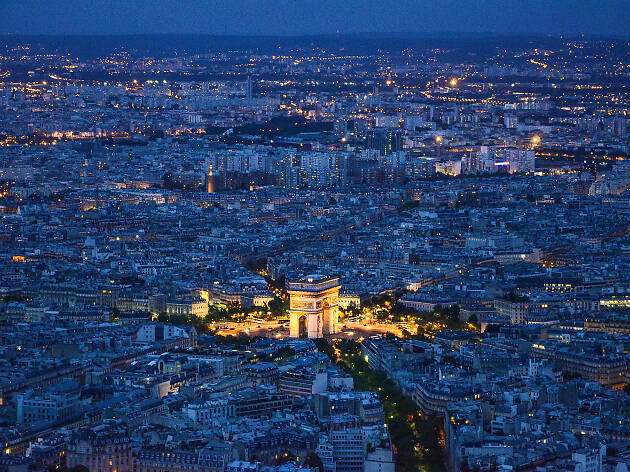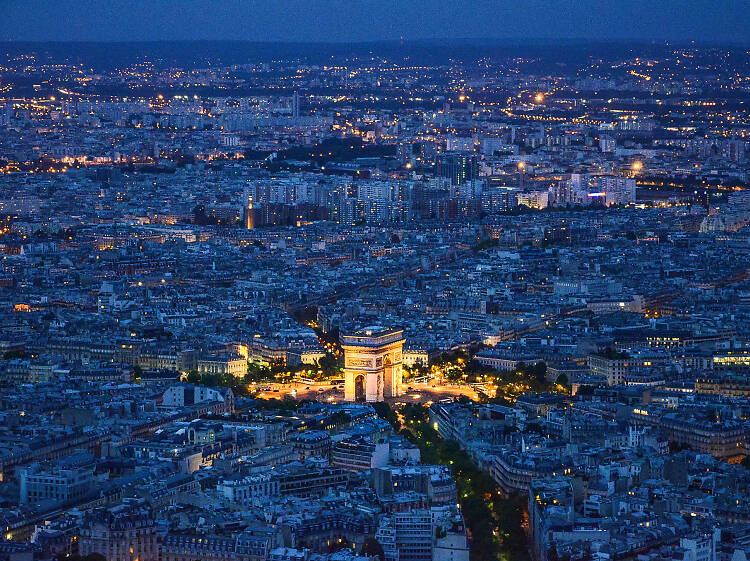 From bustling markets to world-class galleries and unique museums, Paris is packed with attractions you won't want to miss