Where to stay in Prague
Fall in love with the five best neighbourhoods in Prague, complete with hotel suggestions, tours and restaurant tips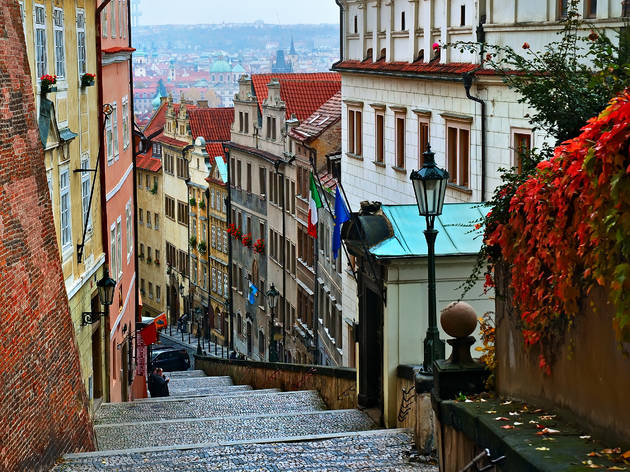 Prague is a city divided by a river. Its sights and attractions span both sides of the Vltava, as do our recommendations, and no matter which side you choose, you won't be far from the cities top restaurants, bars and things to do. The Prague Castle sits just above the romantic streets of Malá Strana, while Vinohrady lies just a few steps separate beyond Wenceslas Square.
Prague's public transportation system is easily one of the city's greatest assets. An affordable, reliable network of metro lines, trams and buses means you can stay basically anywhere in the city and still have easy access to the major points of interest. Skip the crowds, noise and inflated prices of the city centre and get to know some of the surrounding neighbourhoods. We're here to help determine which one is right for you.
Where to stay in Prague
1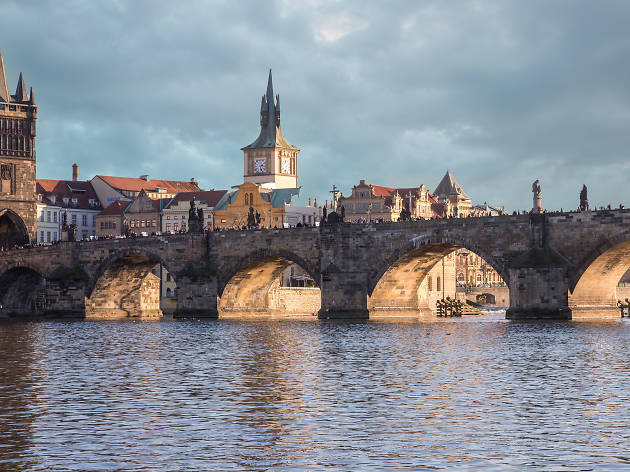 Photograph: Courtesy CC/Flickr/Chris Chabot
If a fairy tale reputation for romance, history and elegance is what draws you to Prague, this is your neighbourhood. The cobblestoned streets curve in mysterious waves across the hills that connect the Prague Castle to the Charles Bridge. This area bustles with sightseers by day, then gives way to reasonably peaceful nights.
EAT:
Sample the decadent tasting menus of Czech cuisine's take on duck and game at U Modre Kachnicky. For a lighter bite with coffee (or a microbrew with lunch, as the locals do), pop into ROESEL beer & cake just off the Charles Bridge.
DRINK:
Make a reservation at U Maleho Glena to snag one of the few tables available for live jazz every night of the week. You'll find beer fans crammed into the tables and sipping Pilsner at Lokál U Bílé kuželky. If quiet conversation over wine is more your thing, head up the hill to Vinoteka U Mouřenína.
DO:
A trip to the Prague Castle is the obvious frontrunner in the area, but there's more history to explore nearby. The 215-step climb up the bell tower beside St. Nicholas' church gives you panoramic views, and the top floor holds remnants of its recent days as a spy tower during the Communist era. Music fans may want to scribble their names on the John Lennon graffiti wall, where at least one street musician is usually covering Beatles songs.
STAY:
Malá Strana's streets are lined with luxury hotels. For a cozy home-away-from-home experience smack in the centre of it all, try an apartment in the boutique Nicholas Hotel Residence.
If you do just one thing…
Take a walk through Wallenstein Gardens (Valdštejnská zahrada) and bask in an atmosphere of royal relaxation. This Baroque landscape, open from April to October, is a peaceful masterpiece of manicured hedges, carp-filled ponds, frescoed buildings and live peacocks wandering freely amongst visitors.
2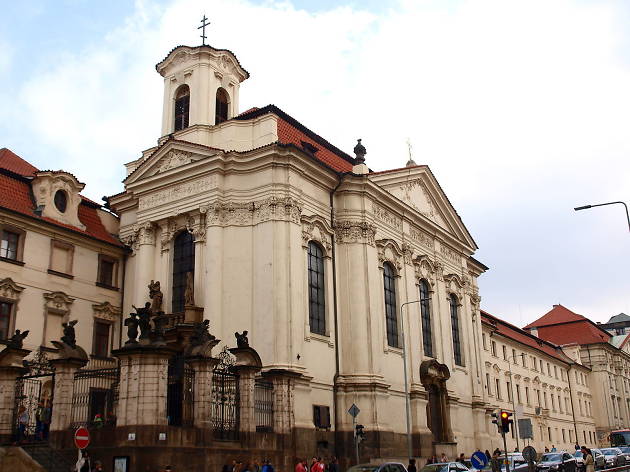 Photograph: Courtesy CC/Wikimedia Commons/VitVit
This micro-neighbourhood is technically part of the larger New Town district that wraps around Prague's historic centre. The southern area near Charles Square (Karlovo Náměstí) has a more residential vibe than New Town's other areas—Wenceslas Square and Náměstí Republiky. Karlovo Náměstí boasts easy walking access to nightlife options and the waterfront, with the possibility of a good night's sleep.
EAT:
Rub elbows with Prague's foodie community at the Saturday farmer's market on the Naplavká riverbank. Start any other morning at Mama Coffee, one of the integral players in helping to develop Prague's taste for quality espresso over instant coffee in recent decades.
DRINK:
Warm up with craft cocktails at the Funky Bee before moving down the street to dance with the well-dressed crowds at Nebe. The international student scene is literally underground as you head towards Old Town, hanging out in Vzorkovna's maze of rooms (alternatively called the Dog Bar) accessible only with prepaid drink bracelets.
DO:
Get a glimpse into Prague's WWII history at the Cathedral of Saints Cyril and Methodius. This church still holds bullet holes and a memorial to the brave band of Czech rebels who assassinated Reinhard Heydrich, one of Hitler's right-hand men (for the full story, watch the movie Anthropoid before you go). Then, to lighten the mood, visit the kitties at nearby Cat Café Prague.
STAY:
Do you want to see the Prague Castle from your bed? Book yourself into the boutique Dancing House Hotel's with floor-to-ceiling-windows, a sparkling buffet breakfast room and a rooftop bar with 360-degree views of the city. You'll also get bragging rights for spending the night inside one of Prague's most famous buildings. For comfort on a budget, the modern, environmentally friendly Mosaic House hostel offers a livelier option.
If you do just one thing…
Rent a paddleboat from Slovansky Ostrov and see the city skylines from the centre of the Vltava River.
3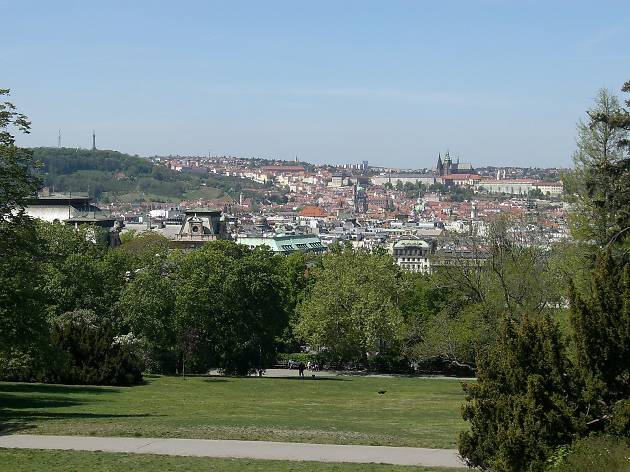 Photograph: Courtesy CC/Wikimedia Commons/Chmee2
You're likely to cross paths with both locals and transplants in this neighbourhood known for its cafes, green spaces and an LGBTQ-friendly bar scene. This area gives visitors a chance to step slightly off the beaten path, just outside the city centre, without forgoing access to English-speaking staff or bumbling into less welcoming, locals-only spaces.
EAT:
Cover your table in tapas at Kofein. Indulge in high-end vegetarian at Etnosvět or casual at Radost FX. Taste the delicious influence of Prague's Vietnamese community at Pho Vietnam Tuan & Lan, French cuisine at Marthy's Kitchen, or comfort food at Bad Jeff's BBQ. When it comes to food, Vinohrady's all about variety.
DRINK:
The central location of Náměstí Míru (technically "Peace Square," though nobody calls it that) is surrounded by Czech beer culture. Choose from the lively beer hall atmosphere of the Prague Beer Museum or the smaller, microbrew aficionado's 20 PIP Craft Beer Pub.
DO:
If the sun is shining, the grass lawns of Reigrovy Sady are likely to be packed with picnickers, partiers and families of all ages, all admiring (or awaiting) the sunset view over the city centre. This sprawling park also holds one of the city's most popular beer gardens.
STAY:
Pure White Hotel offers a more modern geometric design vibe amongst a norm of historical elegance plus service with a smile, including a menu of pillow preferences.
If you do just one thing…
Stop by Náměstí Míru to admire the neo-Gothic Church of St. Ludmila, home to some of the city's favourite Christmas and Easter markets.
4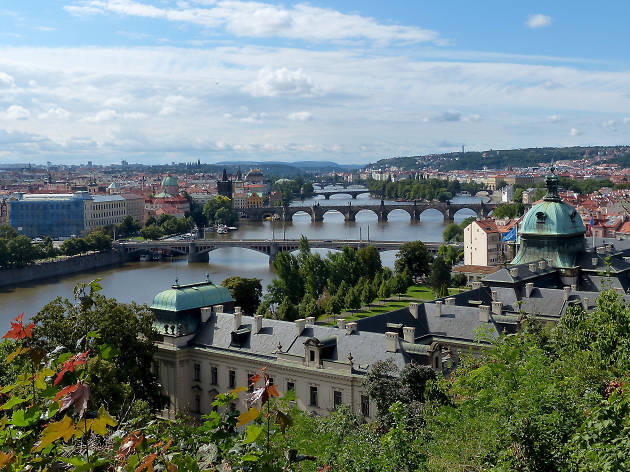 Photograph: Courtesy CC/Flickr/Roman Boed
This former industrial neighbourhood has followed in the footsteps of so many others of its kind by converting warehouse spaces and factories into gathering places for artists and oddballs. Located across the river from the historic city centre and around a river bend from the Prague Castle, Holešovice shows Prague's movement towards the future while keeping its past in plain sight.
EAT:
Sasazu's Asian fusion menu offers fine dining in dim lighting that's totally worth the price. For a trendier budget option, stop by the local hipster haven Vinitroblock for coffee in a design studio environment, then grab a bite at the food-truck-in-a-school-bus outside.
DRINK:
Cross Club, a multi-room events space decorated with gears, pipes and metal features, is the local hot spot for dance music. For a more relaxed evening, head to the massive outdoor beer garden overlooking the river and Old Town from neighbouring Letna Park.
DO:
Dive into the arts scene, from the fine art housed in the National Gallery's Veletržní Palace to the socially conscious conversation starters at the DOX Centre for Contemporary Art. The Jatka 78 performance space embodies this area's transitional roots with its name (meaning "slaughterhouse") now housing circus arts and theatrical experiments.
STAY:
Sir Toby's Hostel is beloved among backpackers for affordability and a social scene of young international travellers. Dorm rooms are limited to ages 18-39, but private rooms are open to all ages.
If you do just one thing…
Buy a cup of coffee using cryptocurrency at Paraleni Polis. The staff at this self-proclaimed Institute of Cryptoanarchy will happily walk you through how to purchase Bitcoin (or the most affordable alternative online currency) from their onsite machine in order to pay for a treat from their café.
5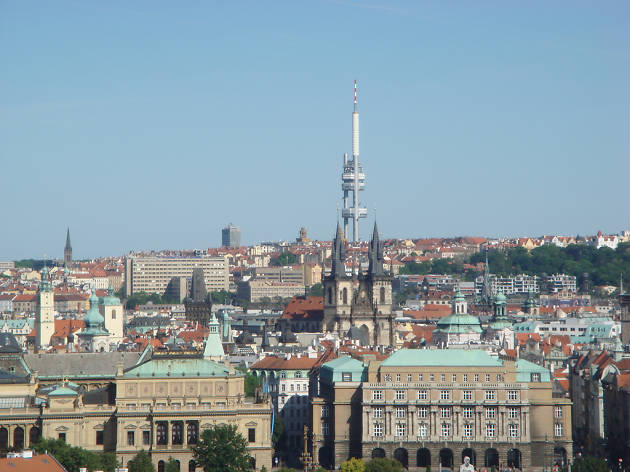 Photograph: Courtesy CC/Flickr/Chris Young
If this isn't your first trip to Prague, or you're more interested in a glimpse of local life than major monuments, make your base in this grittier neighbourhood (think functional concrete apartments more than pastel facades). This sprawling area, starting around the square at Jiřího z Poděbrad and extending off the eastern edge of most tourist maps, is known for its density of pubs, so you'll never be far from a drink.
EAT:
A meal in Žižkov is often secondary to the beer that accompanies it. Case in point, the beautifully simplistic Pivo a Párek, which roughly translates to the entirety of their offerings: beer and hot dogs. Heartier appetites can head to U Slovanské Lipy for traditional fare or to U Sadu for some late-night, post-pub grub.
DRINK:
You'll hear a variety of international languages comparing the merits of Beer Geek's 32 tap beers, while cocktail fans congregate over candlelight at Bukowski's Bar. On a sunny day, head towards the beer garden at the base of Vitkov Hill for prime dog watching as you sip golden lager in the sun.
DO:
You haven't seen Žižkov without a stop at the TV Tower. Stand at the base and admire the David Černy baby sculptures crawling the walls, take a trip up to the observatory deck, enjoy a cocktail with a view in the bar or splurge on a nice dinner at the Oblaca restaurant. For a more casual evening of entertainment, visit Kino Aero to discuss independent film over drinks on their outdoor patio.
STAY:
Unless you feel like splurging on a luxury hotel room at the top of the Žižkov TV Tower, Airbnb is your best bet for comfortable accommodation in this area.
If you do just one thing…
Walk to the top of Vitkov Hill to watch the sunset away from the crowds.
Ready to book a hotel?
There's no shortage of accommodation options in the city, from luxury boutique spots near the city's top attractions to more modest, cheap hotels.