11 of the best Airbnbs in Prague
From swanky lofts to charming traditional apartments, here's how to do the city in style with the best Airbnbs in Prague
Prague is a stunner of a city—steeped in history with plenty of characterful baroque buildings, hip bars and stunning musems to explore. So, it's not surprising that its Airbnb offerings in this magical part of the world are some of the most aesthetically pleasing around. But you know what? Many of them are also seriously well-designed, with all the most mod of mod cons you could ever need. Plus, most of them come without the price tag of the city's best hotels. So check out our pick of the 11 best Airbnbs you'll find in the Czech Republic's capital city.
Best Airbnbs in Prague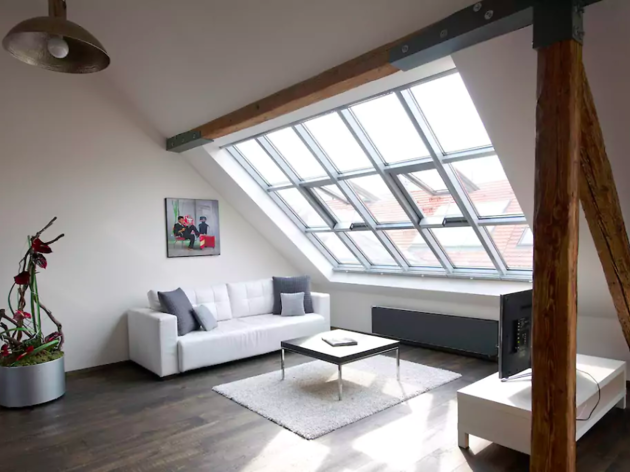 ©Airbnb
Spacious one-bed loft, Wenceslas Square
Claustrophobes can breathe easy as this place has space, lots of it. But if you think the temperature will be hard to regulate in these cavernous rooms, think again. Underfloor heating, air conditioning and remote-control operated windows ensure maximum comfort. This centrally-located pad sleeps four if two are happy on the sofa bed.
©Airbnb
Luxury one-bed apartment, St. Peter's Square
You could stay in a hotel but would your room come with a HD home cinema, high-tech sound system, Nespresso coffee machine and breakfast staples? Probably not, which is why you should stay at this bright and stylish flat, situated five minutes from the Old Town Square. With its nude decor, natural light and indulgent king-sized bed, this pad is perfect for a romantic getaway – and there's even a hammock in the bedroom (in case of lovers' tiffs...).
©Airbnb
Fifteenth century gothic one-bed studio, Old Town Square
Want to be in the thick of it but still get a good night's kip? This secluded studio opens out onto a little garden oasis, where you can breakfast before heading into town, which won't take long. In just 18 steps you can be in the Old Town Square, with the rest of Prague's highlights within walking distance. Pretty neat eh?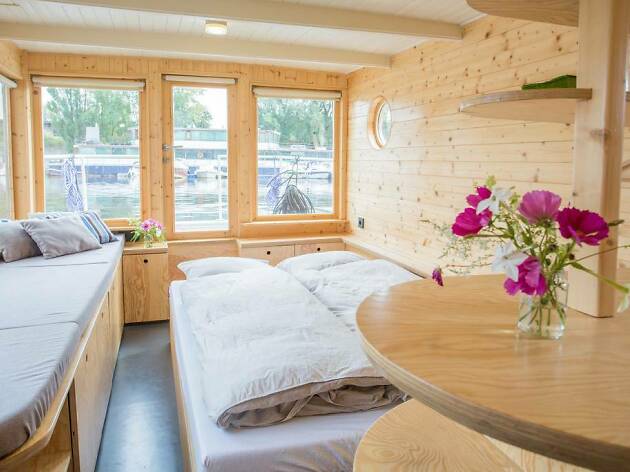 ©Airbnb
Restored, wooden, three-bed houseboat
Dry land is great 'n all but it comes at a premium. A boat, on the other hand, could be a cheap and convenient option for a couple or lone traveller. This one has been designed by an architect – which explains the charming wood interior, stylish utilities and equally pleasant soft furnishings. There's also a balcony (perfect for enjoying a warm evening). Plus, nearby trains, trams and buses can have you in the centre of town in around 15-minutes.
©Airbnb
A loft hideaway near Náplavka Riverbank district
A monochrome spot that is anything but boring, this contemporary space is full of the little flourishes that we long for in our own homes; especially the vanity bathroom mirror and a deliciously grand entrance. Beyond appearances, there are also all the amenities you could possibly need. After romance? Take a stroll along the river when the sun sets.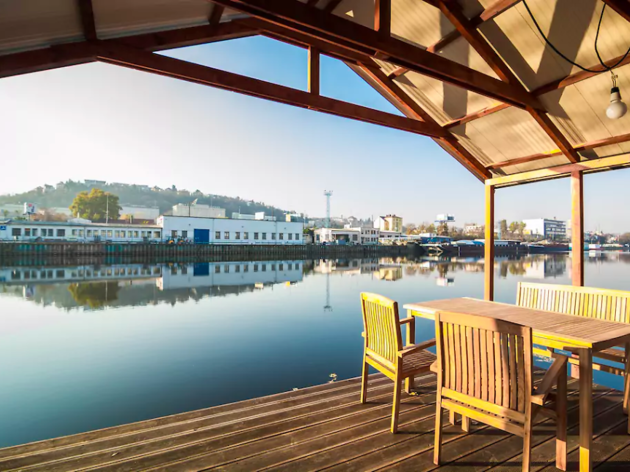 ©Airbnb
Family-sized houseboat in Cisarska louka - Imperial Meadow
"There is nothing — absolutely nothing — half so much worth doing as simply messing about in boats." If a talking rat in Wind in the Willows is anything to go by, then you'll have a jolly good time exploring Prague from this surprisingly spacious houseboat. It's a peaceful spot, where up to eight guests can refuel, feed the swans and admire the views from the water's edge before cruising up river (20 mins) or hopping on a tram/the metro (15 mins) to reach the city centre.
©Airbnb
Charming two-bed apartment, Old Town
Bright, good-sized rooms, river views and location – in the heart of the Old Town, make this two-bed a perfect choice for family travellers. Though on the small side, the lift means you won't have to carry tired toddlers (or heavy prams) up the stairs. Nab the room with the balcony and you're laughing.
©Airbnb
Boho-chic six-bed attic, Old Town
With its hanging plants, wooden beams and colourful hodgepodge furnishings, this pad oozes bohemian vibes. Charles Bridge and the Old Town Square are a short stroll away, so it's easy enough to pop back and chill before taking on your next tourist spot. Six guests should have no complaints staying here – there are two king-sized bedrooms and a queen-sized sofa bed.
©Airbnb
Boutique one-bed apartment, Zizkov district
Just 20 minutes out of the centre is this bohemian beauty. Situated in the downtown area, you'll be well located to explore the cafe culture and burgeoning art scene springing up from young startups. The top floor is roomy enough for a couple who like to spread out.
©Airbnb
Art Deco three-bed apartment, Vinohrady
Do Prague in style with a stay at this aesthetically pleasing pad, which is full of art deco features. Wenceslas, the Old Town Square and Astronomical Clock can be reached by metro in four minutes. For comfort, convenience and interior design inspiration, this three bedroom apartment is a good shout.
©Airbnb
Hip two-bed flat, Malá Strana
If you're the kind of travellers who are more likely to be in the bar than in bed complaining about the noise then you'll have a grand time at this artsy flat, where the rooms are inspired by writers and the beds are made out of pallets. And yes, it is above a bar but if you can't beat them, join them.
A quick itinerary
This itinerary takes in some classic sites in Prague as well as unique things to do that should be on any visitor's bucket list.