Interview: Lim Jia Qi reimagines HDB blocks into works of art
How a young artist's unique perspective of Singapore's concrete jungle translates into art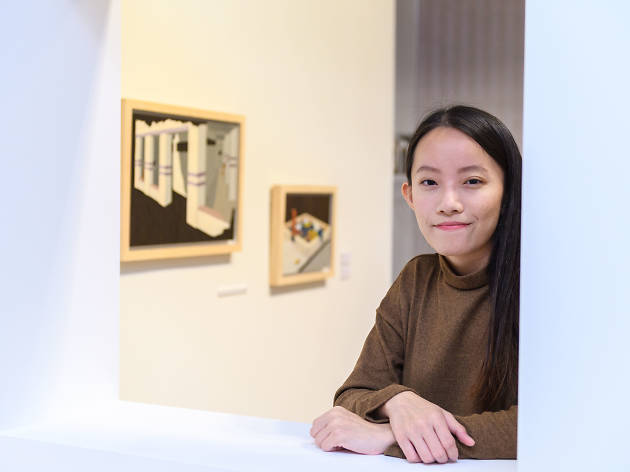 At 22, not most of us have our interests (or even life) sorted out. But not Lim Jia Qi. In September this year, the 22-year-old local artist staged a two-week exhibition at ION Art Gallery as part of the prestigious Young Talent Programme, which nurtures budding Southeast Asian artists below 35. That's a feat, not most can add to their bragging credentials.
Her solo exhibition, Concrete Encounters reimagines bleak HDB flats into something completely new by using print, drawing and relief techniques. We caught up with the artist to suss out what goes through her mind when she's working on her artworks.
Congrats on your solo exhibition! How long have you been making art?
It's been five years now.
We love your unique visual language. Can you tell us more?
In LASALLE, I majored in Fine Arts printmaking. That's where I learnt different print techniques such as copperplate etching, woodcut, silkscreen and lithography. It was then that I developed my creative style, mostly inspired by Singapore's urban landscape.
Yes, your art is very much derived from Singapore's architecture and infrastructure. Why is that so?
Singapore's urban landscape is filled with unimaginative spaces such as housing estates. Most of our housing architecture and infrastructure are more practical and banal, with concrete components assembled to form buildings we call home. But we've shaped our own environment by intuitively adding organic elements. Flowerpots and laundry, for instance, gives characteristic and a sense of intimacy to a space.

Photo: ION Orchard
Trees are also a recurring element in your work...
I'm intrigued by how deliberate we are at planting and the amount of care we give so as to integrate nature in our urban landscape. In my work Grids – featured during the Young Talent Programme 2018/19 Winners' Solo Exhibitions at ION Art gallery – the setting is a carpark, where a hole was deliberately cut out to allow a tree to grow. It also acted as a barrier of protection for the tree. I find this unusual amount of care quite intriguing, given how nature usually blooms wildly on its own.
How do you find your subjects?
I paint from photographs, which I take whenever I encounter anything that piques my interest. I'll take walks around different neighbourhoods and photograph spaces that I find poetic and resonates with the current idea that I'm working on.
What are the mediums you use in your work?
Most of my current pieces are done on wood blocks, which I carve and then paint on. Sometimes I would ink up certain areas using a brayer as with conventional relief print methods. However, instead of presenting a print as the final piece, the block is the artwork.

Photo: Lim Jia Qi
Why do you use concrete slabs as an alternative base?
Concrete is often neglected in the art world. Coming from a printmaking background, I'm interested in the advancement and explorative nature of this traditional medium. Also, my main subject matter is the architecture of housing flats – so it's quite relatable to work directly on the concrete material itself.

Run us through your thought process when working on a piece.
I try to capture the poetics of spaces and structures, reconstructing them in terms of narrative and/or the absence of such. To stir viewers' emotional attachment and familiarity with these spaces, I sometimes break down forms and shift certain perspectives to create a sense of dis-familiarity.
If not an artist, what else will you be?
A chef! I feel like I'm more of a hands-on person. In fact, when I was learning printmaking, many of my mentors compare the step-by-step methods and techniques with a precise quantity of materials similar to cooking. Ironically, I have never fried an egg before.
What are your favourite hangouts in Singapore?
I like taking a stroll at Skyville@Dawson, where you can find the wall murals of Queenstown heritage by comic artist Troy Chin, or hanging out at Telok Ayer Arts Club, which usually hosts art and music events. There's also an interesting woodworking studio in Mandai, Tombalek Woodworking Centre, where you can learn to make your own chair from scratch.

Surround yourself with art