Heads up! We're working hard to be accurate – but these are unusual times, so please always check before heading out.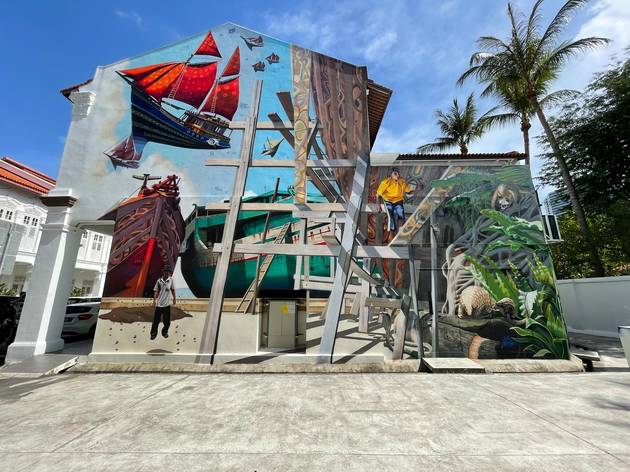 The best street art in Singapore
Where to find the best street art that brightens up our concrete jungle
There's more to this city than meets the eye. In between our shiny skyscrapers and towering metal cranes, there are plenty of Insta-worthy urban artworks that simply take our breath away. From the graffiti that's hidden in plain sight to pieces that lurk away in the backstreets, there are still some things about our little city that might still surprise you. We pick eighteen of the best murals around town, so keep your eyes peeled the next time you're around.
RECOMMENDED: The best urban art trails in Singapore and the best contemporary art galleries in Singapore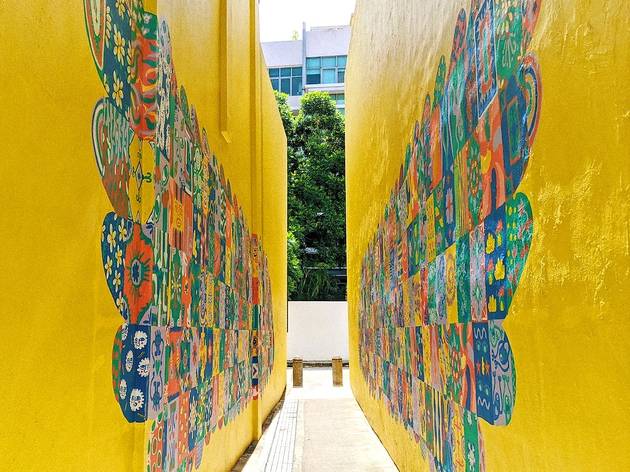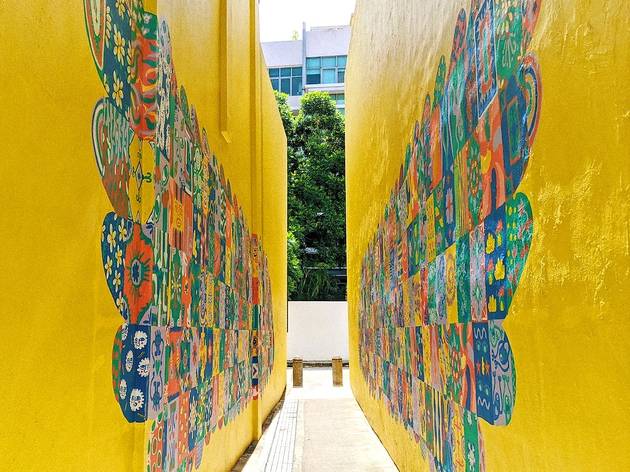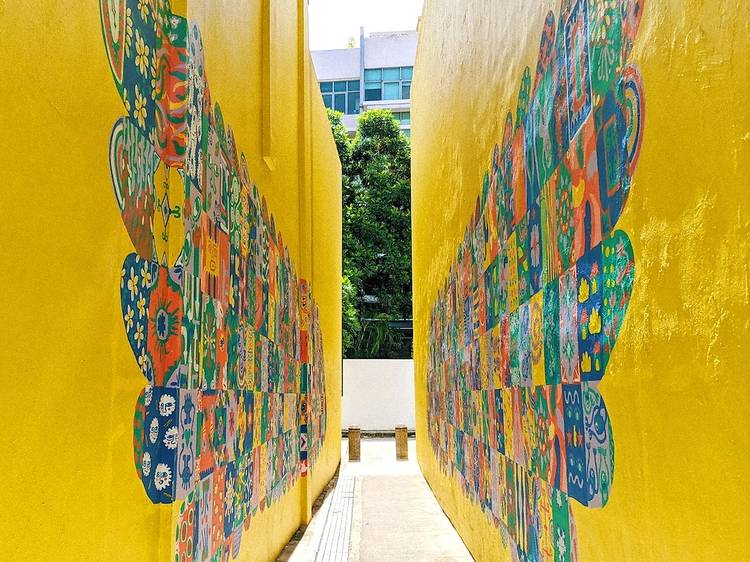 Photograph: Delfina Utomo
Vibrant shophouses and the strong presence of Peranakan heritage is all around in Katong. If you're strolling along East Coast Road – en-route to ice cream parlour Birds of Paradise – remember to keep your eyes open. You might just spot this majestic mural at one of the small side laneways between two shophouses. Titled Medley Alley, this eclectic mural by Nicia Lam, Valerie Neo, Novena Angela and Yillish Lam resemble wings made of colourful tiles (a nod to iconic Peranakan tiles) that represent the metamorphosis between generations.
107 East Coast Rd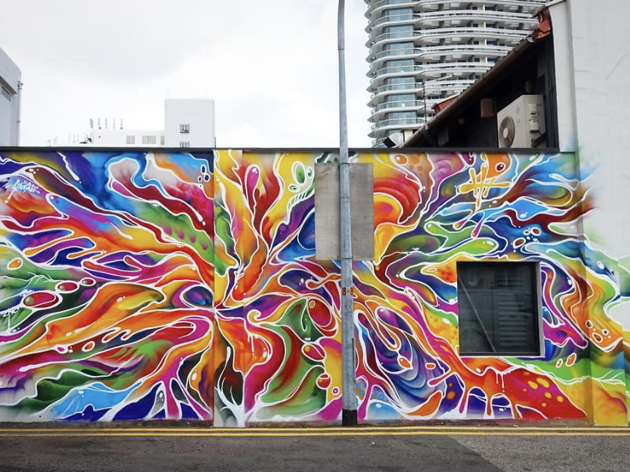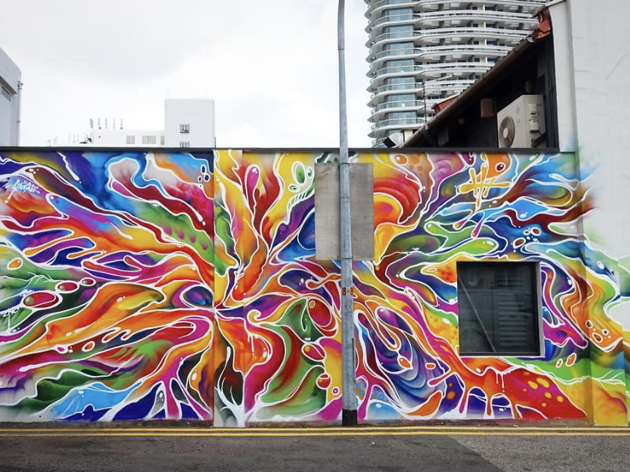 Photo: singaporestreetart
Amidst the heritage of Kampong Glam are modern additions to the colourful neighbourhood. A little way off Aliwal Arts Centre is a vibrant piece of wall art on the wall next to the side alley entrance of Aliwal Arts Centre. Part of the Aliwal Urban Arts Festival 2019, this alpha batik piece with loop colours is an eye-catching and breath-taking explosion of colour painted by Singaporean artist Slacsatu.
Aliwal Arts Centre, 28 Aliwal St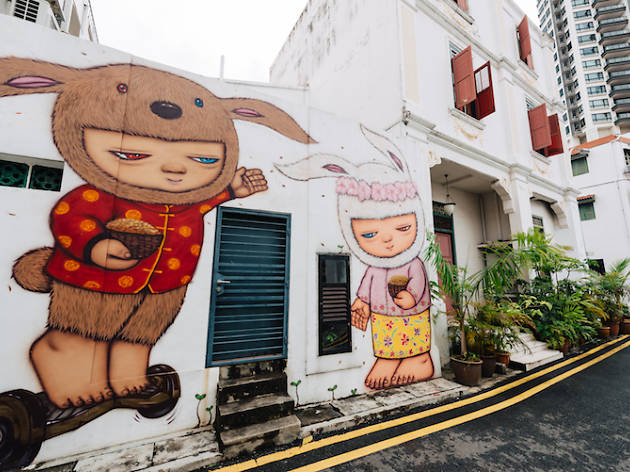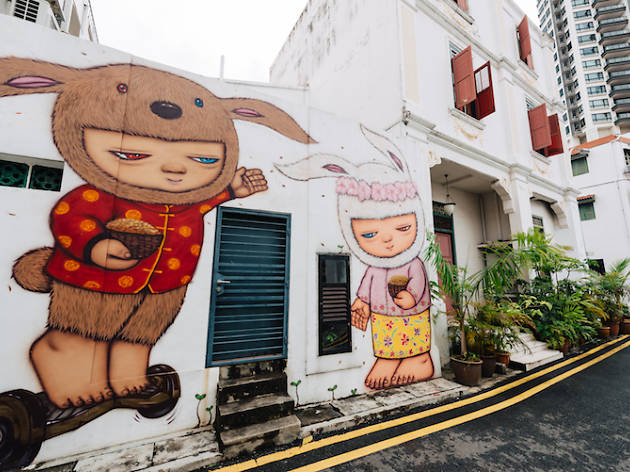 Photo: Ahmad Iskandar Photography
Well-known Bangkok doodler Patcharapol Tangruen – better known as Alex Face – and his signature bunny-like creatures have left their mark on charming Spottiswoode Park Road. The peculiar yet adorable-looking duo of rabbits here don traditional costumes, such as a changshan and nonya kebaya.
Along 64 Spottiswoode Park Rd, Outram Park.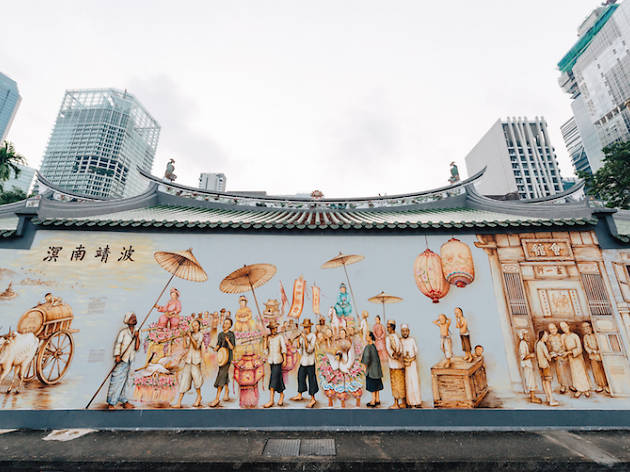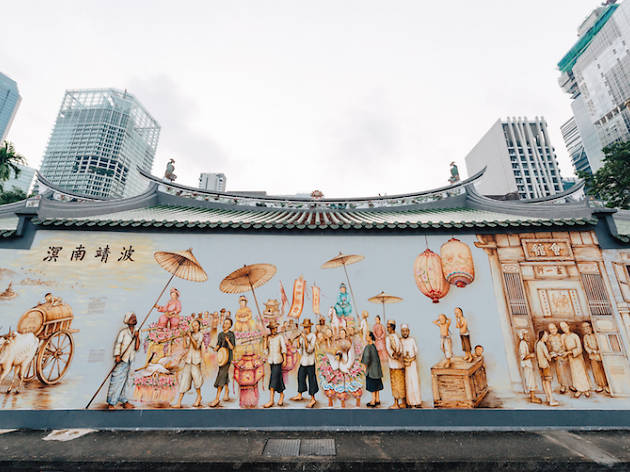 Photograph: Ahmad Iskandar Photography
Sketched by local artist Yip Yew Chong, the 40m-long colourful mural behind Thian Hock Keng temple stretches along Amoy Street. In it, Yip beautifully illustrates the early lives of Hokkien immigrants. The work features seven different panels, including drawings of a modern Chinese wedding ceremony and the bustling kampong days.
Opposite 92 Amoy St, Telok Ayer.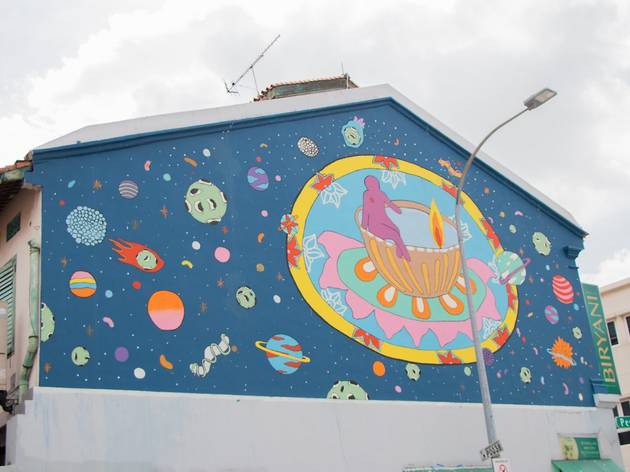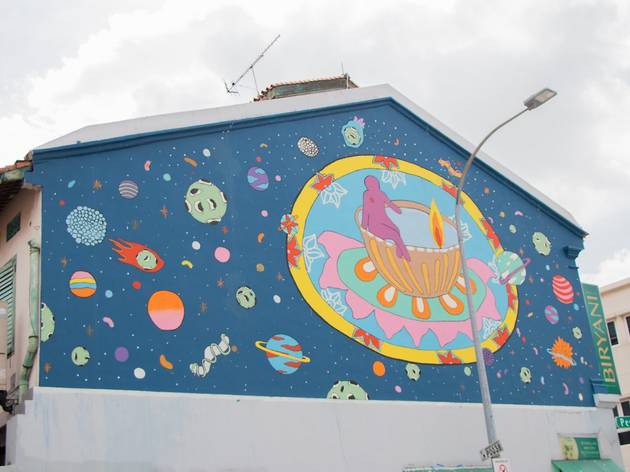 Photograph: Artwalk Little India 2021
On 50 Dunlop Street is 'Vilakku bb', which depicts the lighting of an oil lamp. As part of Artwalk Little India 2021, visual artist Mithra Jeevananthan has created a landscape inspired by the colours used in Kolam-making and the Enney Vilakku to symbolise the hope of bringing colour back to life during these hectic and dreary times.
50 Dunlop Street, Singapore 209379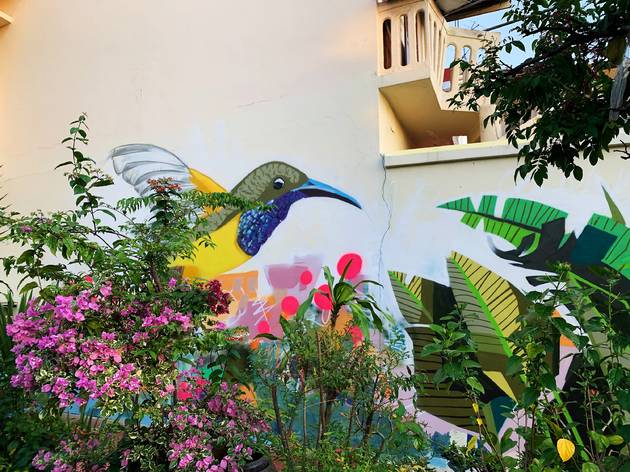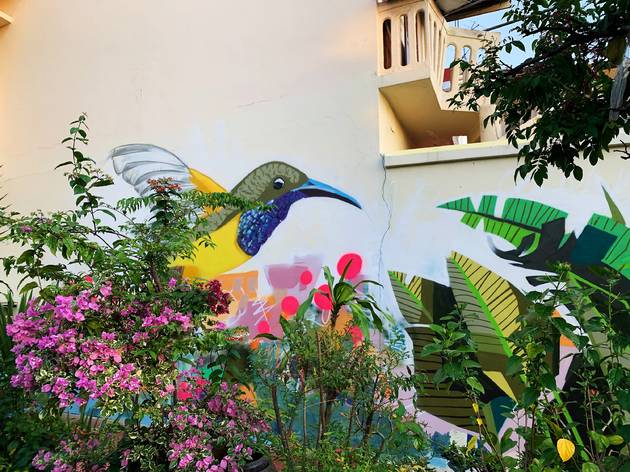 Photograph: Dewi Nurjuwita
In the back-alleys of Tanjong Katong Road, you'll find Fleeting by System Sovereign's co-founder Kiat, created as part of Arts In Your Neighbourhood (AYN). The mural, depicting a sunbird, was inspired by conversations the street artist had with residents that led to a discovery of sunbirds that often visit to drink from the alleyways' water pipes and to feed on the flowers blooming in residents' gardens.
At the back of Teo Hin Tyres, 190 Tanjong Katong Rd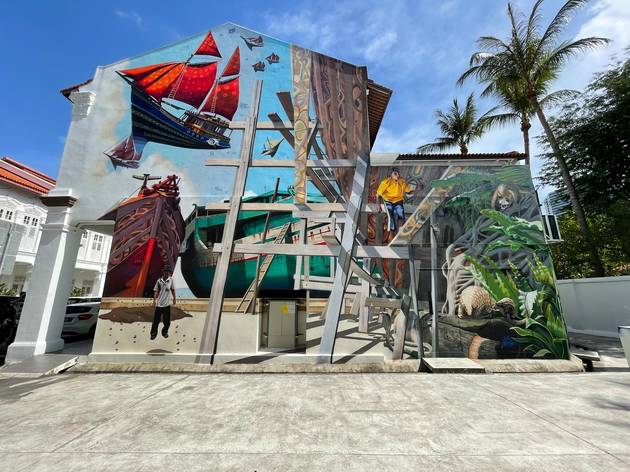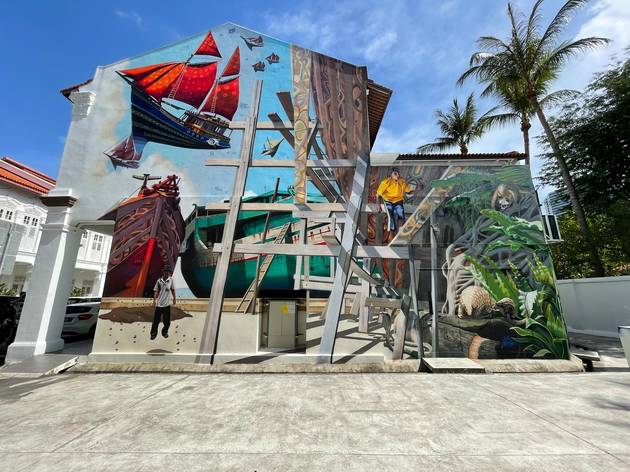 Photograph: Cuturi Gallery
There's a new (and massive) masterpiece in the happening district of Kampong Gelam and it's splashed on the facade of Cuturi Gallery. Dreamt up by Didier Jaba Mathieu, it depicts ships that allude to Singapore's seafaring past and nods to the Lion City's flora and fauna. To know more about the story behind Didier's mural, visit www.cuturigallery.com.
61 Aliwal St, Singapore 199937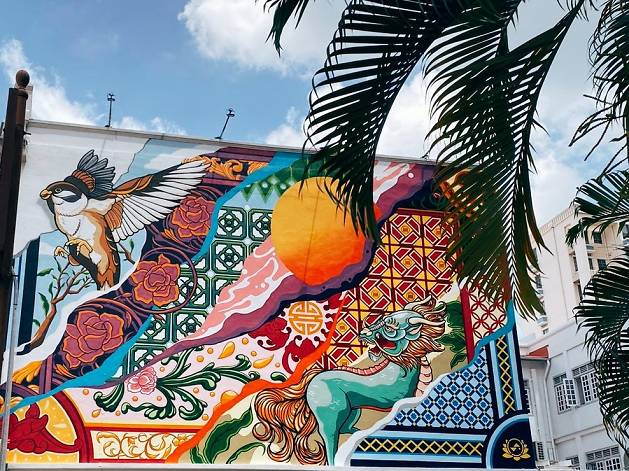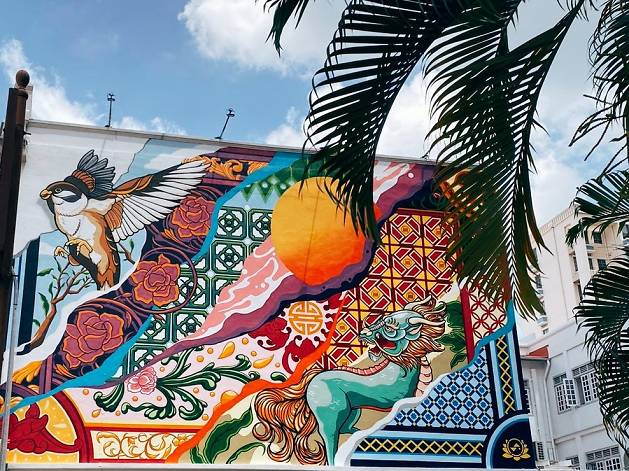 Photograph: Fabian Loo
Good news for Shake Shack lovers: you can still get your juicy burgers and decadent shakes for delivery or takeaway. But 89 Neil Road is known for more than just that. The new outlet also features murals by local artist Sam Lo that are an ode to its culturally rich surrounds, inspired by motifs from around the neighbourhood. The most striking one, of course, can be found on the building's facade, depicting a bird and Chinese qilin alongside Malay roof eaves and colourful Peranakan tiling.
Outside Shake Shack, 89 Neil Road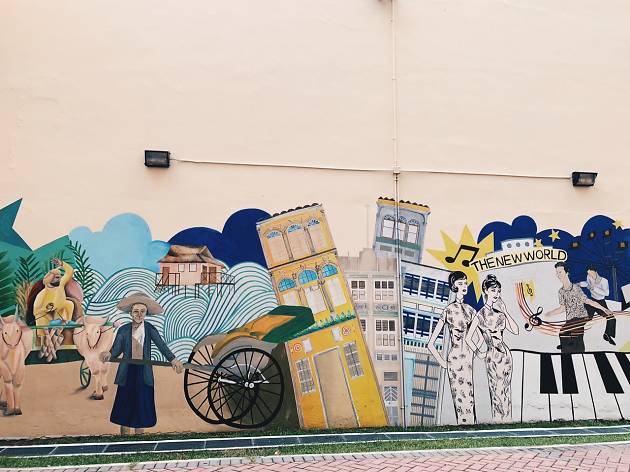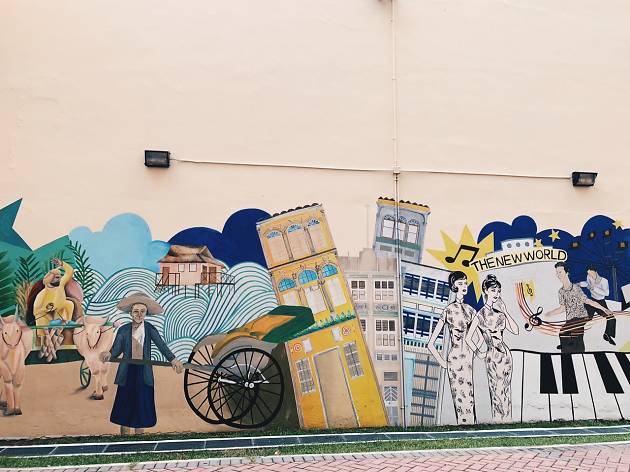 Photograph: Dewi Nurjuwita
On French Road in between HDB blocks in Jalan Besar, you'll find this mural featuring bullock carts and scenes from the now-defunct New World Amusement Park that used to be in Jalan Besar from the 20s to 60s. The mural was dreamt up by Social Creatives, a collective aiming to promote community art at HDB blocks around Singapore.
Block 805 French Road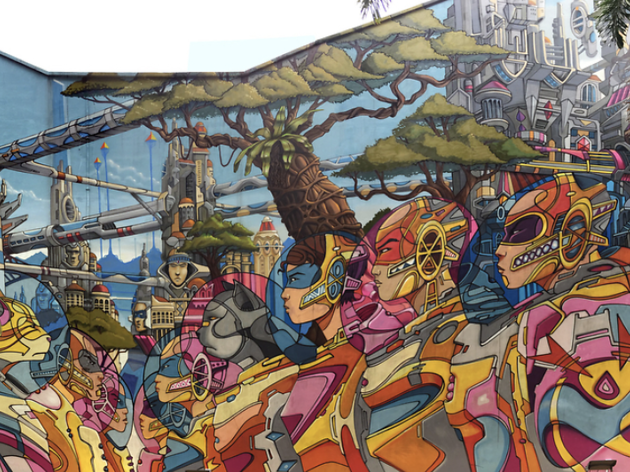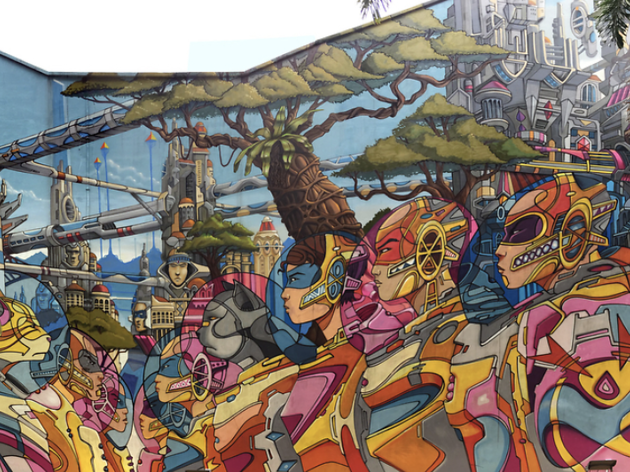 Photo: Didier Jaba Mathieu
Haji Lane, one of Singapore's most well-known streets famous for its quirky shops, artisanal cafes, is also lined with murals by some of the top street artists in Singapore. Check out the now completed mural "el lío" by Didier Jaba Mathieu at the back of Piedra Negra on the corner of Beach Road and Ophir Road. Jaba's works impressive works line all over the area dating back to 2011.
Haji Lane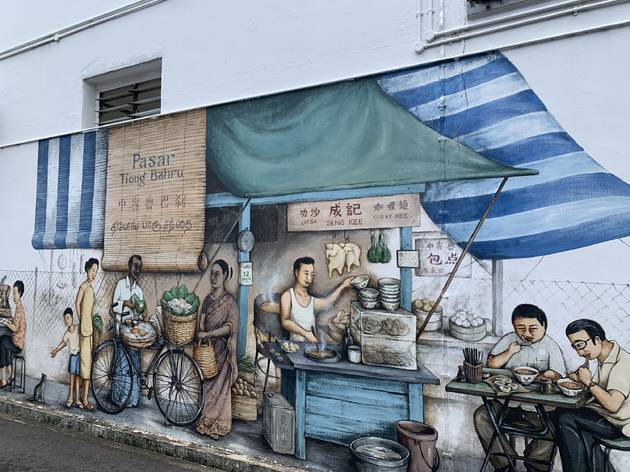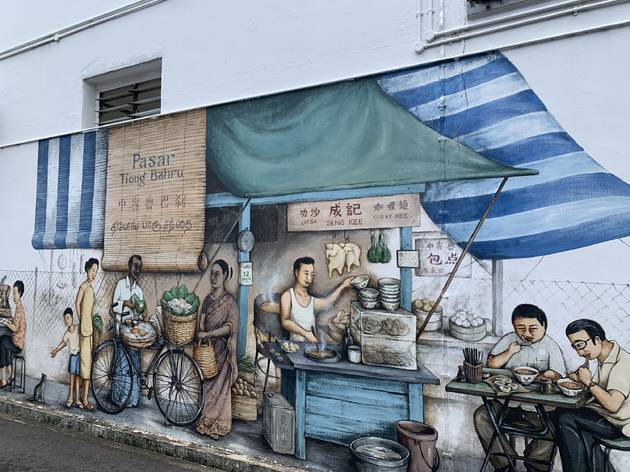 Photograph: Dewi Nurjuwita
Amidst Tiong Bahru's hip cafes, restaurants, yoga studios, shops and bookstores are breathtaking street art. Tucked within its alleys is a couple of heritage murals by painter Yip Yew Chong, including Pasar and the Fortune Teller, Bird Singing Corner and Home.
Blk 73 Eng Watt Street, Blk 71 Seng Poh Lane and Blk 74 between Tiong Poh Road and Eu Chin Street respectively.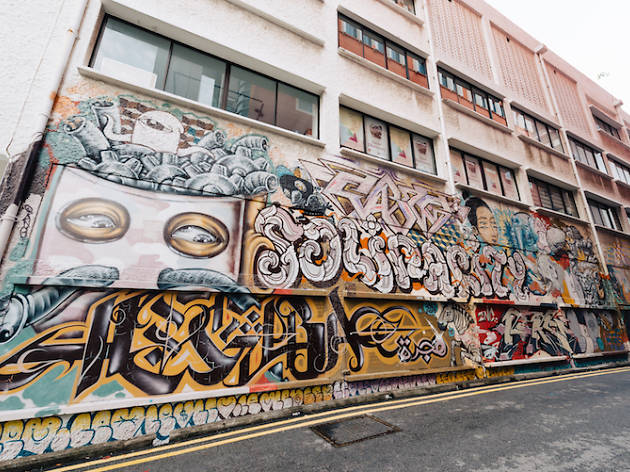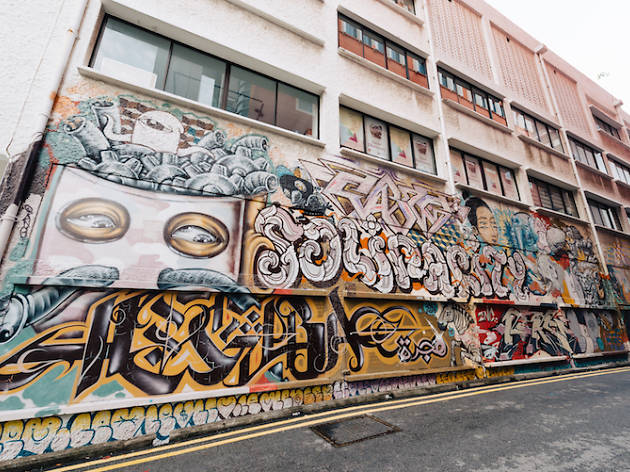 Photograph: Ahmad Iskandar Photography
It's no surprise that the arts and heritage district of Bras Basah is splashed with – what else? – art. Benches and lamp posts are decorated with neon paintings – but move away from the main street and duck into the alleys. The quiet corner of Queen Street is an epic mixed-media collage – bizarre one-eyed monsters, tigers and dragons framed by bubble alphabets – that covers the bleak industrial walls.
On Queen St, next to Oxford Hotel, Bras Basah.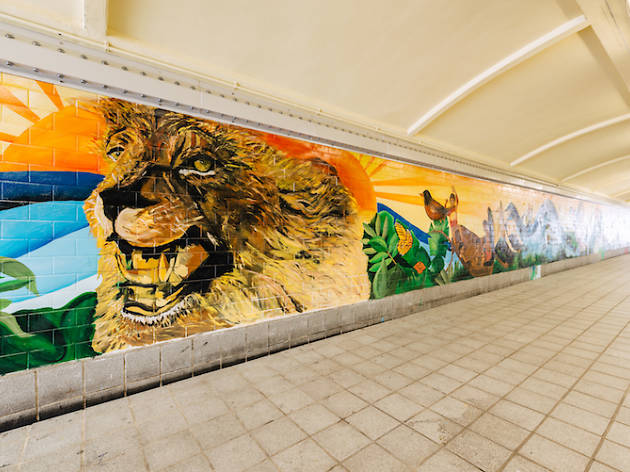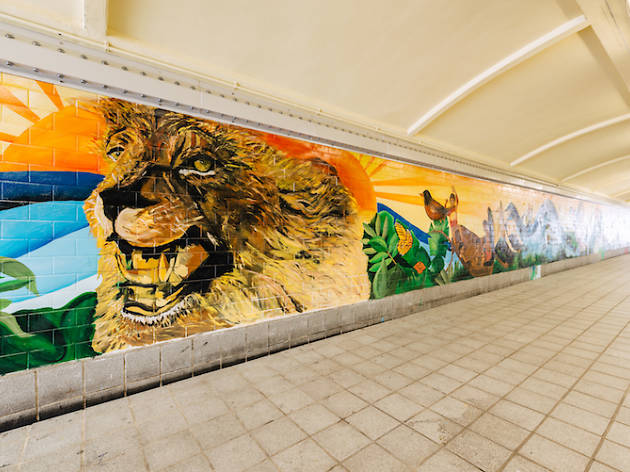 Photograph: Ahmad Iskandar Photography
Next time you're strolling along the Singapore River, make sure you take the underpass instead. You'll be surprised at the amount of art that lies beneath these canals. Under Coleman Bridge, transport yourself to old Singapore with paintings of Sir Stamford Raffles, samsui women and the roaring lion. You might even encounter soulful buskers while you admire the works.
Eu Tong Sen St, Coleman Bridge, Boat Quay.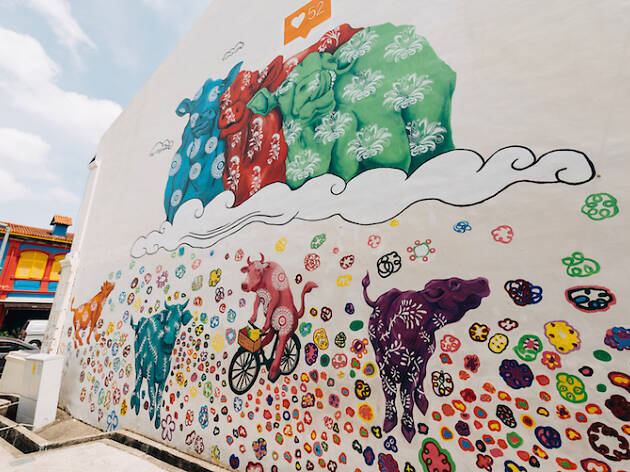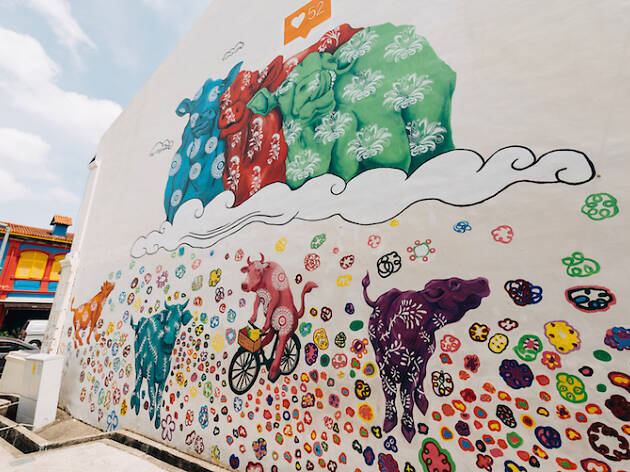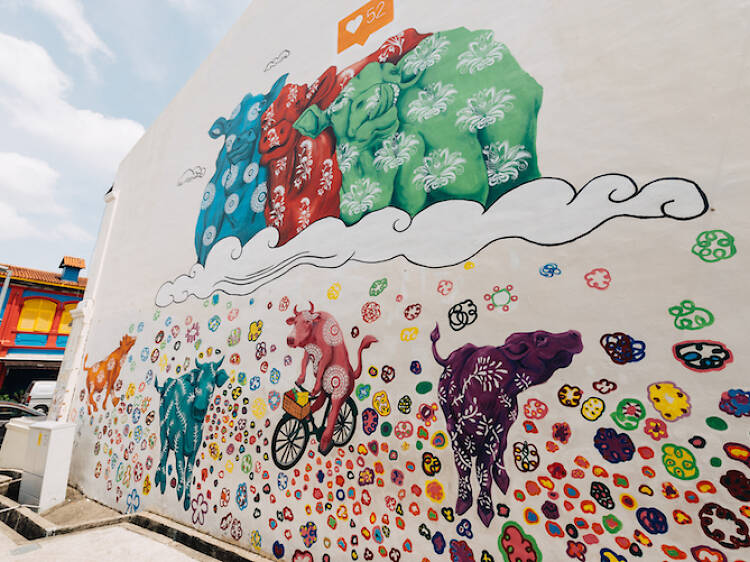 Photograph: Ahmad Iskandar Photography
As you take in the sights and sounds of this culturally rich precinct, don't miss the street art that dot the area. On Kerbau Road, you'll find a rainbow cow mural that's udder-ly fitting. Kerbau – Malay for 'buffalo' – played a huge part in the development of Little India and the artwork is a reminder of the area's old cattle trading business.
Along Kerbau Rd, next to Little India MRT Station, Little India.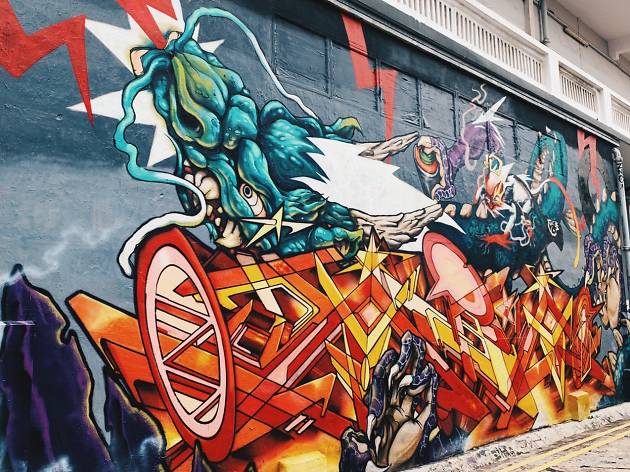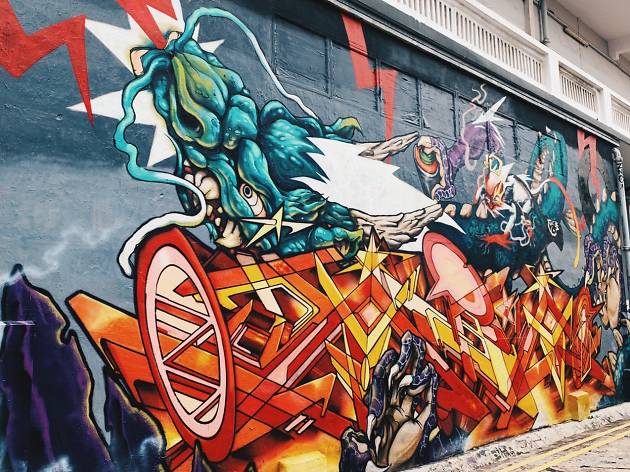 Photograph: Dewi Nurjuwita
Another mural in the colourful Aliwal precinct, this one by Antz (Anthony Chong) is one you need to know. The wall features a fierce dragon splashed in vivid hues – a colourful contrast to the surrounding area.
Behind Aliwal Arts Centre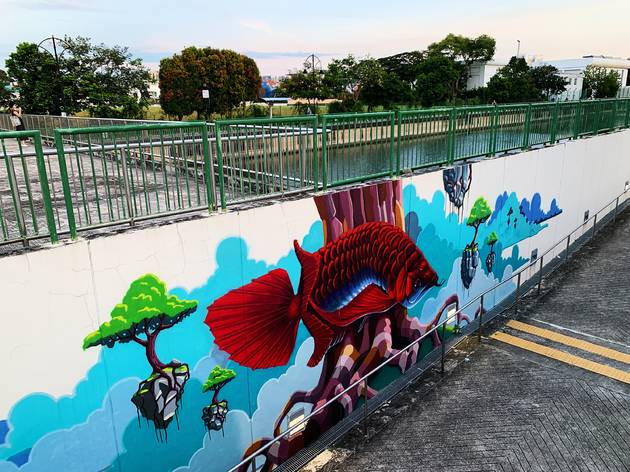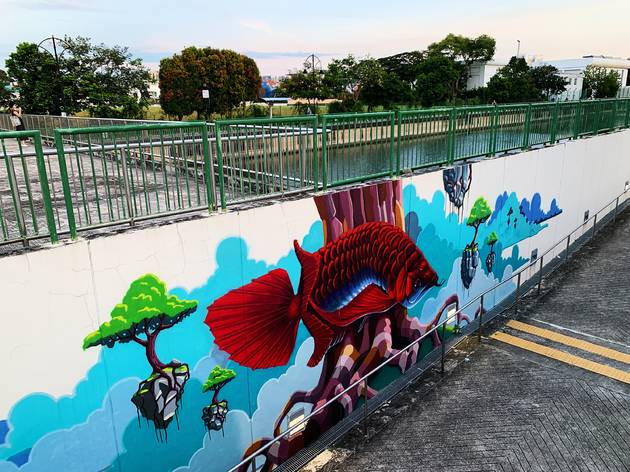 Photograph: Dewi Nurjuwita
If you're heading for a run in the Joo Chiat neighbourhood, take the Geylang Park Connector and look out for this colourful mural of an arowana by Didier Jaba Mathieu. A visual feast for the eyes, the mural was created with the help of kids from Jamiyah Children's Home.
Geylang Park Connector Underpass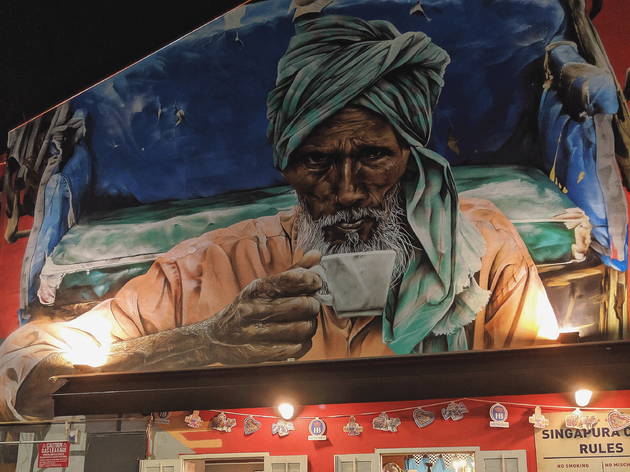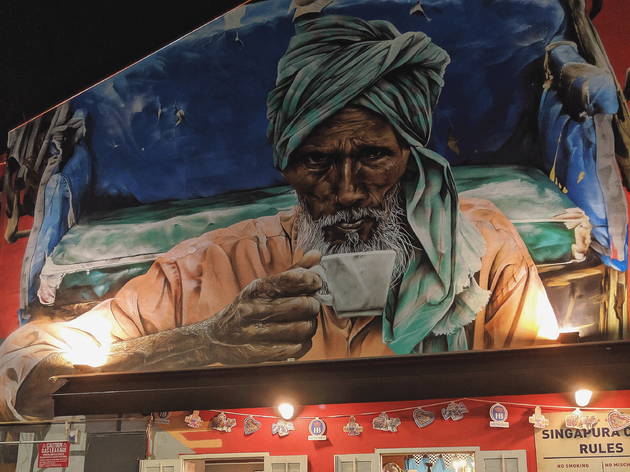 Photograph: Delfina Utomo
Outside The Singapura Club at Dunlop Street, you'll find a stunning mural by graffiti artist Ceno. Depicting an old Indian man drinking from a teacup, the mural takes a nod from Ceno's previous work at the establishment's first outpost at Haji Lane – just in colour this time.
The Singapura Club, 102 Dunlop St.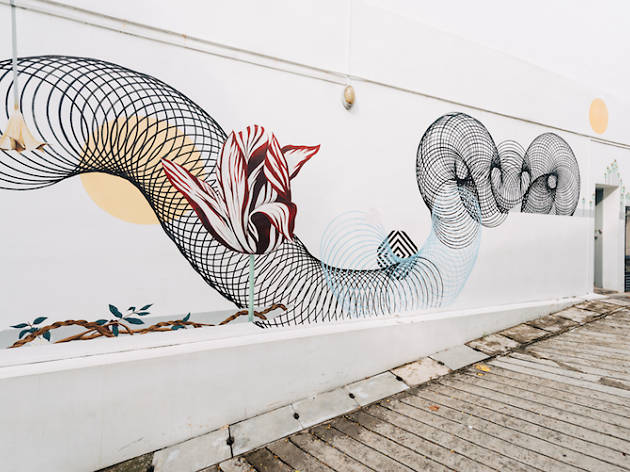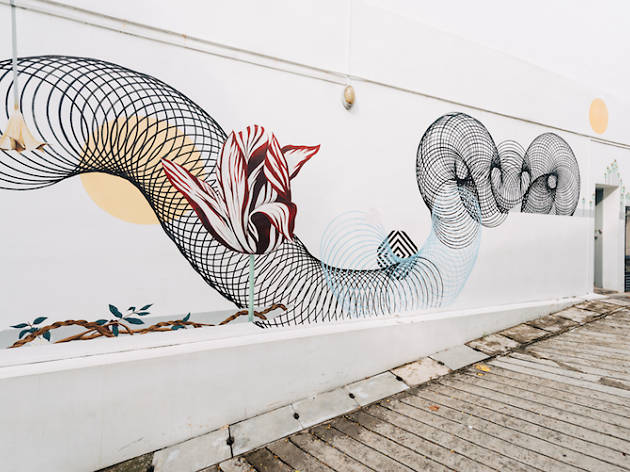 Photo: Ahmad Iskandar Photography
Remember the slinky? Yeah, well, this particular piece reminds us of that toy. The mural, simple but mesmerising, spreads across a white façade on Neil Road which leads you to the garden-inspired café Botanist.
74 Neil Rd, outside Botanist, Outram Park.
More public art