The best street art in Singapore
We search every nook and cranny – and in all of our city's back alleys – to find the best pieces of street art that brighten up this concrete jungle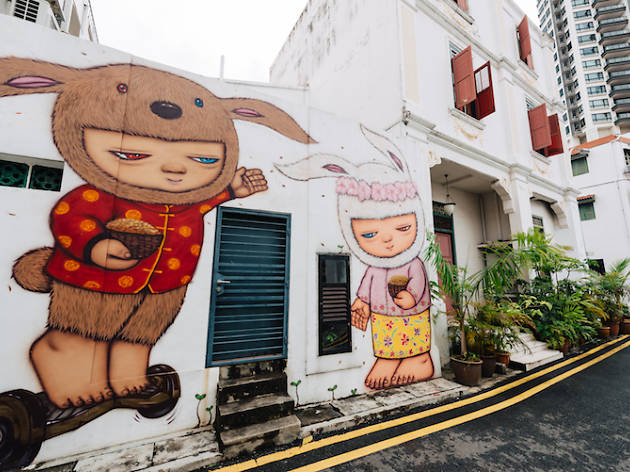 By

Sofiana Ramli and Cam Khalid
|
There's more to this city than meets the eye. In between our shiny skyscrapers and towering metal cranes, there are plenty of Insta-worthy urban artworks that simply take our breath away. From the graffiti that's hidden in plain sight to pieces that lurk away in the backstreets, we pick seven of our favourite murals and let you know where to find them.
RECOMMENDED: The best urban art trails in Singapore and the best contemporary art galleries in Singapore
Photo: Yip Yew Chong
Take a break from checking out some of the hip cafes, restaurants, shops and bookstores that lined this vibrant neighbourhood. Tucked within its alleys is a couple of heritage murals by painter Yip Yew Chong, including Pasar and the Fortune Teller,Bird Singing Corner and Home.
Blk 73 Eng Watt Street, Blk 71 Seng Poh Lane and Blk 74 between Tiong Poh Road and Eu Chin Street respectively.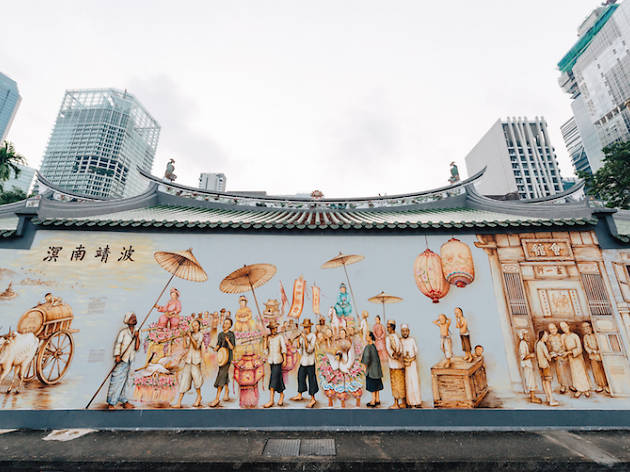 Photo: Ahmad Iskandar Photography
Sketched by local artist Yip Yew Chong, the 40m-long colourful mural behind Thian Hock Keng temple stretches along Amoy Street. In it, Yip beautifully illustrates the early lives of Hokkien immigrants. The work features seven different panels, including drawings of a modern Chinese wedding ceremony and the bustling kampong days.
Opposite 92 Amoy St, Telok Ayer.
Photo: Ahmad Iskandar Photography
Chinatown's got one big cock. And it's found on the corner of Ann Siang Hill. Hiding not-so-secretly behind a row of shophouses, the massive mural designed by Armenian-born street artist, Didier Jaba Mathieu, pays tribute to the feathered animal in the Chinese zodiac. Who knows? The piece might get replaced with a sketch of a dog in 2018.
On Ann Siang Hill, next to The Coconut Club, Chinatown.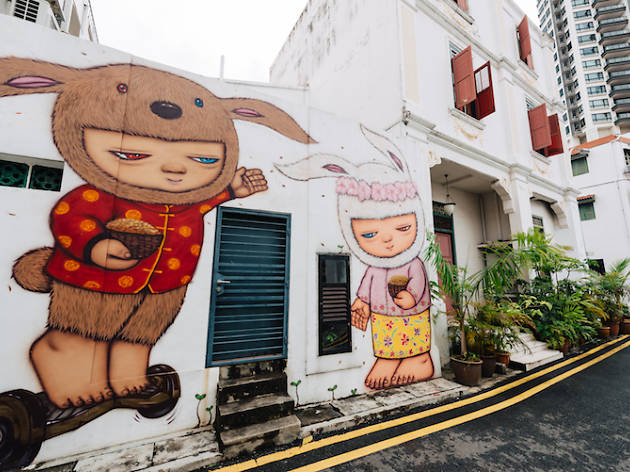 Photo: Ahmad Iskandar Photography
Well-known Bangkok doodler Patcharapol Tangruen – better known as Alex Face – and his signature bunny-like creatures have left their mark on charming Spottiswoode Park Road. The peculiar yet adorable-looking duo of rabbits here don traditional costumes, such as a changshan and nonya kebaya.
Along 64 Spottiswoode Park Rd, Outram Park.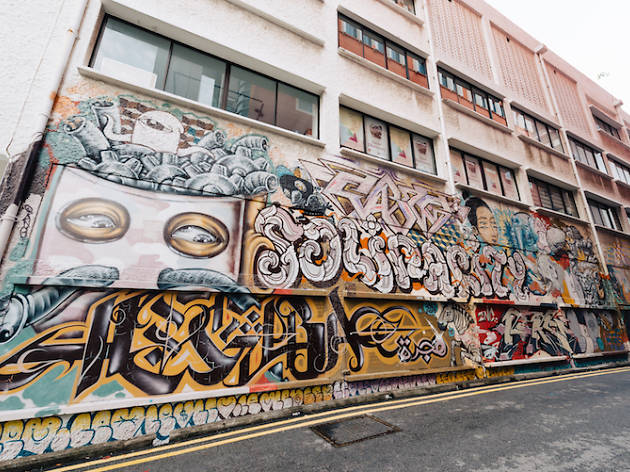 Photo: Ahmad Iskandar Photography
It's no surprise that the arts and heritage district of Bras Basah is splashed with – what else? – art. Benches and lamp posts are decorated with neon paintings – but move away from the main street and duck into the alleys. The quiet corner of Queen Street is an epic mixed-media collage – bizarre one-eyed monsters, tigers and dragons framed by bubble alphabets – that covers the bleak industrial walls.
On Queen St, next to Oxford Hotel, Bras Basah.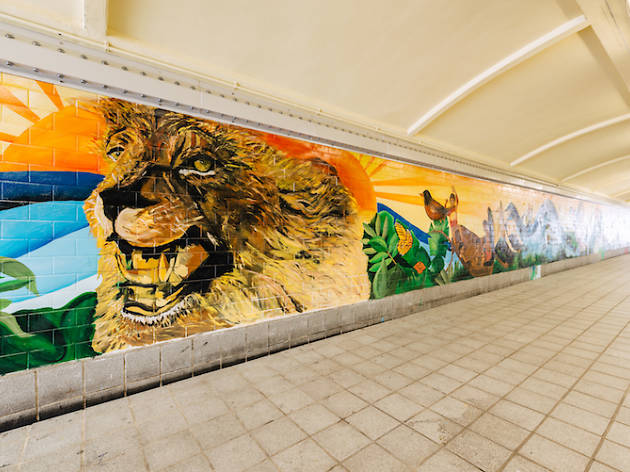 Photo: Ahmad Iskandar Photography
Next time you're strolling along the Singapore River, make sure you take the underpass instead. You'll be surprised at the amount of art that lies beneath these canals. Under Coleman Bridge, transport yourself to old Singapore with paintings of Sir Stamford Raffles, samsui women and the roaring lion. You might even encounter soulful buskers while you admire the works.
Eu Tong Sen St, Coleman Bridge, Boat Quay.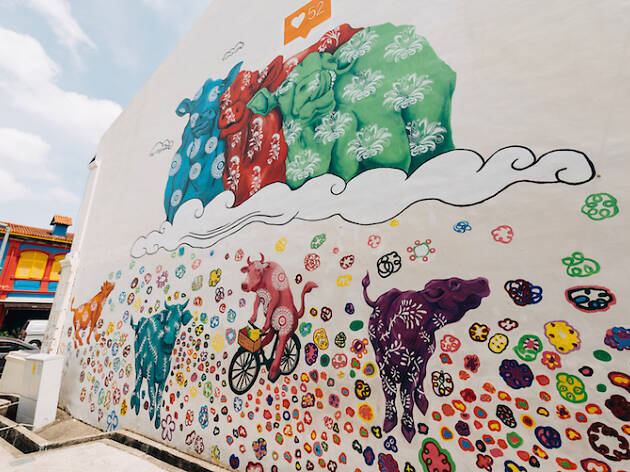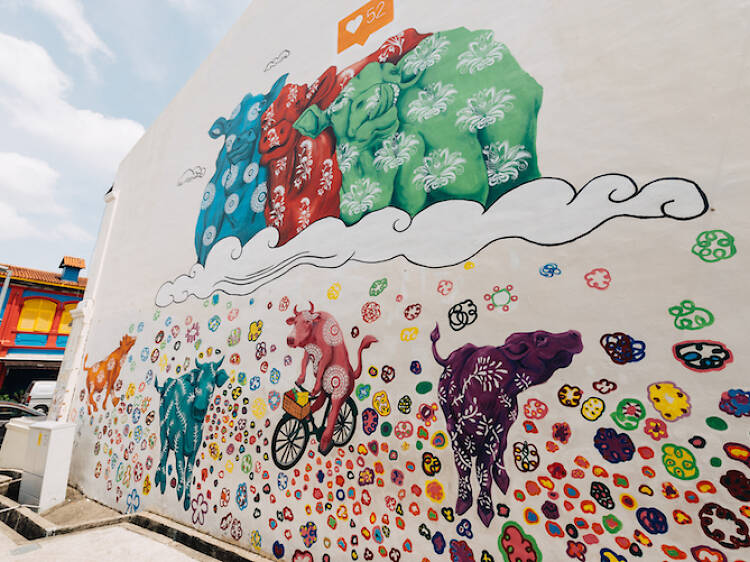 Photo: Ahmad Iskandar Photography
As you take in the sights and sounds of this culturally rich precinct, don't miss the street art that dot the area. On Kerbau Road, you'll find a rainbow cow mural that's udder-ly fitting. Kerbau – Malay for 'buffalo' – played a huge part in the development of Little India and the artwork is a reminder of the area's old cattle trading business.
Along Kerbau Rd, next to Little India MRT Station, Little India.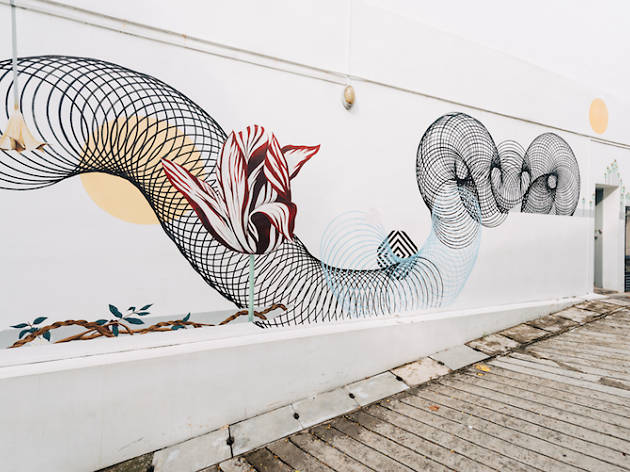 Photo: Ahmad Iskandar Photography
Remember the slinky? Yeah, well, this particular piece reminds us of that toy. The mural, simple but mesmerising, spreads across a white façade on Neil Road which leads you to the garden-inspired café Botanist. We hear the wall makes for some pretty cool post-brunch #OOTDs. With a takeaway coffee in hand, of course.
74 Neil Rd, outside Botanist, Outram Park.
Want more public art?