If cocktails can help conversations flow, then new bar Analogue is certainly a talking point in more ways than one. The drinking studio is the latest venture by award-winning Native's Vijay Mudaliar, who hopes to shed light on issues of food sustainability through its entirely plant-based menu – a first of its kind in Singapore.
It starts with the space, designed to encourage dialogue. Located within the historic grounds of a restored chapel, the interior features a striking cerulean 3D-printed countertop, made with over 1,600kg of used plastic, that weaves and wraps around ornate columns. And surrounding it are smaller tables, made using mycelium, a form of fungus. More than just statement pieces, these eco-friendly fixtures serve a higher purpose of helping the team introduce issues of recycling when first settling down at the storied location.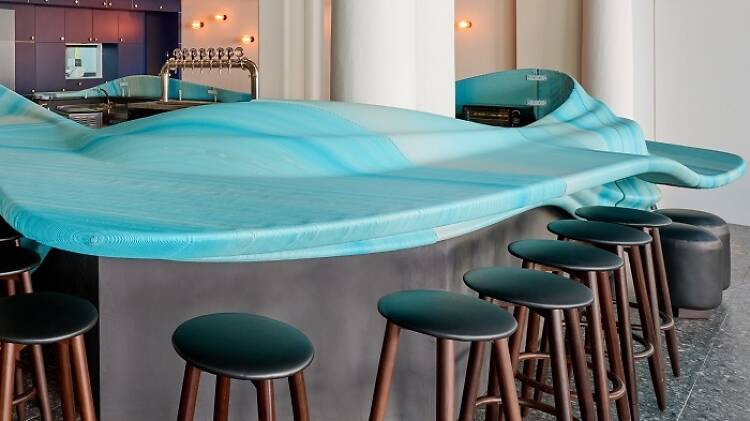 Other hot topics find their way onto the menu. Cactus ($25) is an ode to succulents and their resilience to heat in a world that is rapidly heating up; mezcal adds an alluring smoky undertone to what is otherwise a fruity and thirst-quenching mix of prickly pear, pink dragon fruit, and aloe vera. Spirulina ($25) raises a toast to algae and its role in providing renewable energy; the refreshing gin-based drink is made more appetising with savoury hints from wakame. Also an easy favourite: Soursop ($25), which replaces over-farmed honey with a vegan alternative to create a delightfully vibrant and floral-scented tipple. Adzuki ($25) packs all nutty aroma from the red bean without any of its cloying sweetness. It then settles into pleasant earthy notes from the buckwheat and matcha.
Most cocktails here taste refreshingly light, yet heavy in their thought and intent. Not only do they help spark discourse on the larger food industry, the drinks also pair well with plant-based plates that come loaded with flavour. Jackfruit tacos ($25 for three) hide hearty, meaty rempah-spiced filling between crispy shells; while pumpkin dumplings ($20) are creamy parcels with an almost mochi-like skin.
The bar might rely on environmentally conscious substitutes – or analogues – to present old things in mindful and delicious new ways. But in doing so, Analogue has inadvertently created a different way of imbibing that cannot be replaced.
Time Out Singapore reviews anonymously and pays for all meals. Read our restaurant review policy here. What the stars mean:
★ Poor ★ ★ Promising ★★★ Good ★★★★ Very good ★★★★★ Exceptional