Interview: Paloma Faith
We hit up London to pay Paloma Faith a visit before her set this October, as part of the Women's Tennis Association Finals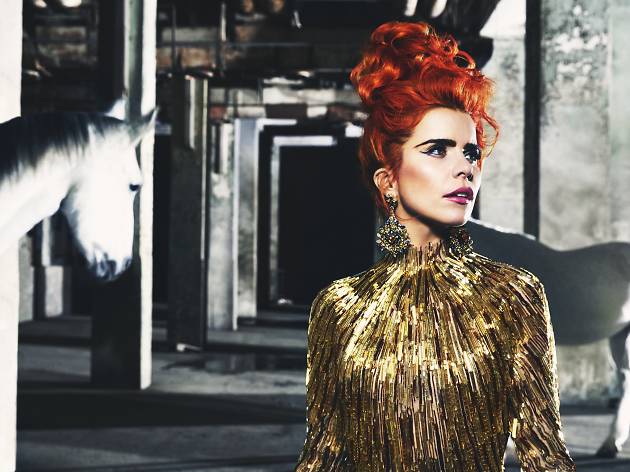 It's a few hours before her headlining set at London's Kew the Music festival, and Paloma Faith hardly looks the part. She's dressed in a hoodie, has no makeup on, and her tresses are tangled in a half-hearted bun. This is not the British sensation we're used to seeing light up stages with her fiery blue-eyed soul. And that's awesome.

The 34-year-old has made a name for herself as a new-school diva whose quirky costumes and stage antics belie her salt-of-the-earth charm. It's no act. Faith is warm, chatty and off-the-cuff in person, never mind the fact that she has three acclaimed albums and was named the British Female Solo Artist of the Year at the Brit Awards 2015.

'I don't see myself as a role model, but I'm aware that my actions will affect people,' Faith says. 'Sometimes I worry and think, "Oh no, I shouldn't have done or said that." But, y'know, everyone's fallible.' Pop stars, take note.

Like the Nina Simones and Bob Dylans of the world, Faith wants her art to catalyse change. Problem is, music is no longer the reckoning force it once was. 'It shows how conservative [we've become],' she sighs. 'People aren't very brave in that sense anymore.'

As though to hammer home the point, Faith thrusts a magazine at us. A harrumphing Kanye West is on the cover. 'Look at this,' she begins. 'It says, "Kanye: punk, provocateur, activist." I think if Kanye's a punk, provocateur, activist, we're in trouble. He's promoting a bad attitude – I just find him a bit grumpy. I look at the people who used their positions to write songs that make change, like "The Times They are a-Changin'". They aren't negative, like Kanye moaning. They're hopeful.'

Realising she might have been too glib, she flashes her manager a sheepish grin. But her expression sums up her vibe: 'I don't flipping care.'
'I've based my career on writing songs about personal experience. But I'm now focusing on my observations of the world.'
In Faith's trio of albums, she has drifted from urban R&B to confessional paeans to the big song-and-dance hurrah of her latest record, A Perfect Contradiction. Motown funk courses through her work, but unlike lesser musicians, this isn't a crutch for Faith. It's a challenge.

'I feel a duty to reinvent [soul music],' she explains. 'Because the people who did it first were so good, it'd be foolish to try and sound like them.'

Her fourth record will swerve yet again. During her set at Glastonbury, Faith dropped a massive hint for the upcoming LP: she launched into a cover of 'Purple Haze' that would've set guitars ablaze. Yes, classic rock is her next major reference point – which makes sense given her screw-the-man ethos.

'I've based my career on writing songs about personal experience. But I'm now focusing on my observations of the world. I'm trying not to think about romantic love for this album. I need to look beyond that to make people
think about things beyond the end of their noses,' she says.

It all amounts to what Faith describes as an 'angrier' album. 'But with hope,' she adds. 'It's kinda rock 'n' roll; I'm saying this isn't right, but we can do this. Let's get together and – y'know that great Bob Marley lyric?' We do, Paloma. And you're alright.