New bands to catch at Baybeats 2017
Introducing six budding bands to look out for at this year's annual indie music festival
Decipher
Our music kinda sounds like if Hans Zimmer had a lovechild with a hardcore band. Atmospheric, yet hard-hitting?
We draw influences from different types of music because we all listen to various genres. It's a mix of bands such as Moving Mountains and Touché Amoré with heavier acts like Animal as Leaders.
Our favourite performance was opening for American metalcore We Came as Romans in 2015. It was probably our biggest show to date.
Listen to 'The Sea That Surrounds Us' from our new EP Strange Comfort. The song's about trying to be comfortable with oneself, which is something we feel most listeners can relate to.
At Baybeats 2017, hear our new and old songs, including tracks from our latest record.
Decipher performs on Jul 14 at the Powerhouse stage.
FXTRT
FXTRT is pronounced as 'foxtrot' and we're a four-membered math-pop band.
Our musical style is a combination of influences from each member. We channel our emotions, thoughts and beliefs to our craft and bring our personalities together as a band.
Last year we performed at Indiependence Day, which was held just a few days after Hari Raya. So we decided to go full on festive mode with a colourful baju kurung get up. It was also our first time sharing the stage with our favourite local bands like Knightingale, and Xingfoo and Roy.
Listen to 'Maggie' from our sophomore EP Bento Set A for a taste of what our band sounds like. It's a colourful mixture of emotional tones, guitar wizardry and bouncy drum grooves that'll get anyone bopping.
Prepare to get sweaty with us at Baybeats because we'll be funking it up with some choreography and cool outfits. Join in and dance with us!
FXTRT performs on Jul 14 at the Arena stage.
Tides
We are made up of Randy on vocals, Hugh and Isyraf on guitar, Danish on bass and Syafiq on drums.
We play melodic hardcore. It's essentially riff-laden hardcore music but with more emphasis on melody.
Since forming the band in 2015, we've been inspired by other homegrown melodic hardcore acts, like Exhibitors and False Plaintiff, that started out in the local underground scene.
Our songwriting stems from our personal experiences, both positive and negative, which we hope translates to our audience.
Look out for our new single release coming out soon. We've also written and recorded some stuff that's different from our debut EP, Hourglass.
Tides performs on Jul 15 at the Powerhouse stage.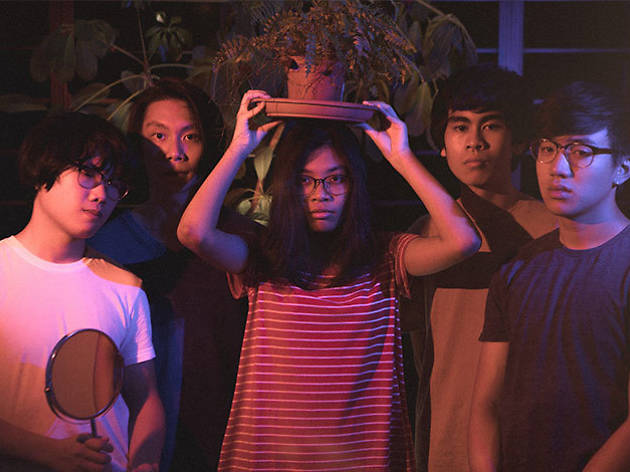 Subsonic Eye
Simply put, our band makes happy music for sad people.
We get inspiration from our own memories. Oh, and by staying up too late watching Netflix shows and YouTube videos.
One memorable show we played was with Hong Kong-based group Thud in their home city. It was our first-ever overseas performance, and we couldn't believe that people came down to watch us.
Listen to 'Cosmic Realignment' from our debut album, Strawberry Feels. We feel that the song best encapsulates the band's sound in one song.
Catch us at Baybeats, hear some loud music and crack open a cold one with the boys! And then feel sentimental afterwards.
Subsonic Eye performs on Jul 15 at the Arena stage.
Faux Pas
We are four individuals who love making people dance.
In a nutshell, our music aims to bring the 'rock' back to 'indie rock'. Our sound features a lot of groovy basslines, thumping drums, driving guitar riffs and raspy vocals.
The band share a collective love for British rock groups like Arctic Monkeys and Blur, with our musical roots firmly planted in groove-based bands such as Red Hot Chili Peppers.
We had the opportunity to play alongside local heroes like Lost Weekend and The Livid Sun at a gig at Aliwal Arts Centre. It was amazing to watch these bands and be on the same line-up as them because we learned so much from each other.
Listen to our first song we ever wrote, 'You Only Live Once (YOLO)'. The lyrics are pretty relatable with familiar nightlife and club references in the track. Plus, it's our favourite track to perform.
Faux Pas performs on Jul 16 at the Arena stage.
Every Rage I Seek
We are a five-piece modern metal outfit from Singapore.
We define our music as 'modern metal' because it's basically a hodgepodge of various subgenres and influenced by metal music from the past and present.
Our music is an outlet for expression. We're inspired by events around the world today, which includes the catastrophes, wars, grievances and, of course, rage.
Listen to 'They Swarm'. It's the lead single from our 2014 self-titled EP and it's a six-minute juggernaut of a track. We're telling a story with the music – there's an intro, the complexity of drama, the aggression to the release, which all leads to a somewhat happy ending. It's definitely a track you must experience with us live.
Expect orchestrated chaos and a whole lot of rage from us at this year's Baybeats.
Every Rage I Seek performs on Jul 16 at the Powerhouse stage.