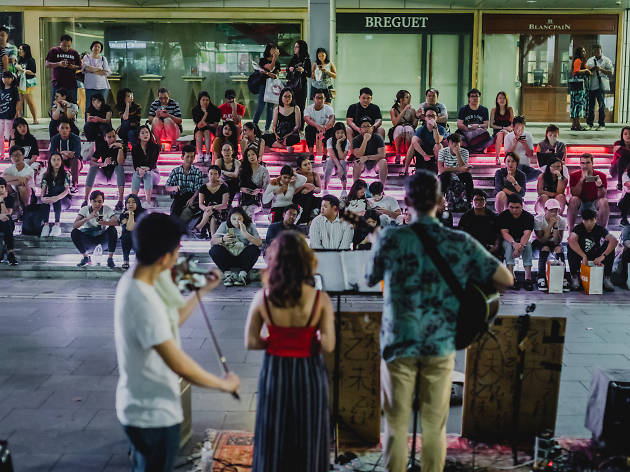 Busking 101: An introduction to Singapore's busking scene
With a guitar in their hands, the wind in their hair and a song on their lips, talented youngsters are taking the music to the street
Find yourself stopping in your tracks to listen to an acoustic rendition of Oasis' Wonderwall along Orchard Road? You're not alone. Singapore's home to plenty of street musicians who turn public spaces into their stage – with special permits, of course.
Opening doors for street performers in the city, the Busking Scheme was introduced in 1997 to champion talented individuals and give carte blanche to express themselves and interact with the audience in a public setting. To be able to do so, have to apply early and prep up for the audition in advance. You'll then be notified within four to five weeks from the date of the audition. Once you've received the Busking Card, you're free to flex your musical chops within a validity period at designated busking locations including Orchard Road, Chinatown, Kampong Glam and Marina Bay.
But contrary to popular belief, buskers aren't just performing for your loose change. We chat to some of the city's talented street performers to get to know what goes on behind the covers and mash-ups. Who knows? One of them might be a viral video away from becoming the next Ed Sheeran or Justin Bieber.
RECOMMENDED: EDM 101: An introduction to Singapore's electronic dance music scene and 6 local musicians that should be on your radar in 2019