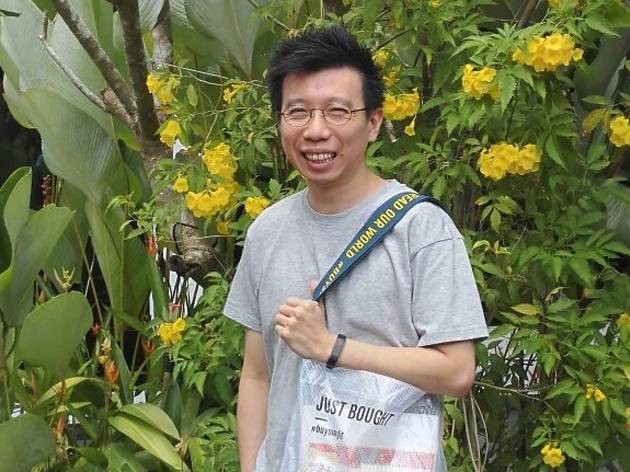 52 Weeks of #ExcitingSG: Week 3
Posted: Sunday March 4 2018, 11:10pm
Welcome to Time Out Singapore's 52 Weeks of #ExcitingSG – our commitment to showing you the best of what's going on in the city this week. Every Monday, a guest writer who's "in" with the scene shares a recommendation on what to see, eat, do or buy in the city. This week, we chat with Kenny Leck, owner of local independent bookstore BooksActually.
What gets you excited about Singapore?
As cliche as this sounds, our multiculturalism. I think we, as Singaporeans, grow up being very comfortable, and take it as a fact that we can easily celebrate and take part in one another's cultures, food, and festivities – all without batting an eyelid.
What's your favourite book?
Daryl Yam's 'Kappa Quartet'. It's an astonishing novel from a young Singaporean writer and of equal volume with the 2 Murakamis of the literary world, Ryu Murakami and Haruki Murakami. This novel possesses the ability to enthral the reader between the 2 worlds, Singapore and Japan, and the lives that intertwine it."
Tell us, what's the best outdoor spot to read in Singapore?
Strangely, Hong Lim Park. Not many people realise that in the hustle and bustle of Chinatown/CBD area, there's a green patch of greenery, surrounded by fantastic food places. It's a quiet place for one to slow down the hectic pace of city living, and of course, a good reading spot.
What are you most excited for this week?
It's #BuySingLit week from March 9-11 so of course I can't resist recommending more literary inspired events.
First, Books and Beer x Buy SingLit. Call me a cheapskate but nothing beats the chance to see and swap books with other fellow readers for free. Plus, there'll be plenty of beer and good chatter with literary minded folks too.
Second, OH! Open House – this year's edition lets you explore Emerald Hill in its most unusual art and heritage tours. Besides viewing and appreciating art pieces in a person's home, you also get to learn about the estate's history. One of my favourite in recent years is when they did an art tour within the HDB housing units of Marine Parade.
Last but not least, the screening of documentary film 'I Want To Go Home' by director Wesley Leon Aroozoo, in remembrance of the March 11, 2011 tsunami that struck the coast of Japan during the Great East Japan Earthquake. It was a great tragedy but there are always the touching human stories that sustains the living and the loved ones that are left behind. Mr Takamatsu's story is no different. I'm sure if more people watches this documentary, we'll be less jaded with how callous our world can sometimes be.
For more upcoming cool happenings, check out Time Out Singapore's 52 Weeks of #ExcitingSG challenge. Don't forget to show us how you're living your best Singapore life via the hashtag #ExcitingSG – we might just throw some free passes and VIP tickets to exciting festivals, gigs and events your way!
Share the story