Calling all epicureans who are on the constant search for new culinary experiences, you ought to get a seat here at this intimate triune of culinary, libation and dessert pop up headlined by Janice Wong for all of February. Together with power couple Tryson Quek of 2am:dessertbar and Bannie Kang – World's Best Bartender 2019 at Diageo World Class, the trio seeks to treat guests to a fine journey of six delectable courses with four titillating cocktails to pair.
Upon arriving, we quickly cosied up to the intimate space sporting tropical tones and wood accents with an alluring emerald bar counter finished with gold details. We had playful interactions with the warm personable team while they plate the artful dishes right in front of us, almost as if they were intently teasing us with the irresistible sights, senses and smells. We're convinced that it only made us hungrier and so will you.
First up was the Algae. A freshly brackish mouthful of No.3 Iris Oyster served with a side of Cucumber, Kombu, and Frost. Each bite brought us a breath of the sea and reminded us of literal algae. Paired with a refreshing Clean Water, this bright expression has the aroma of nori and drinks with faint guava notes, perfect palate cleanser and starter.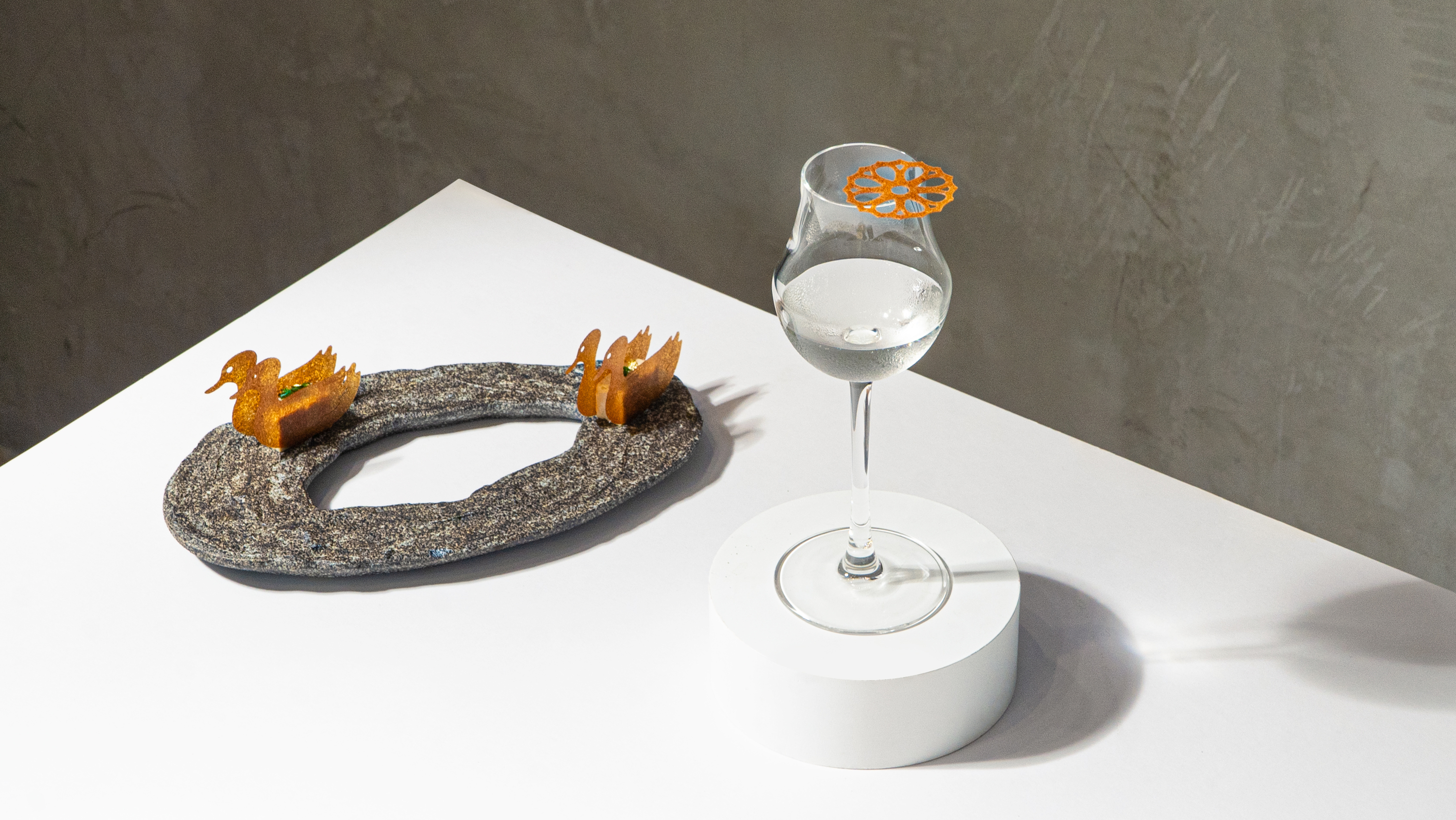 Yet another intricately presented dish with an ironic name, the Ugly Duckling reveals a confit duck rillette served with creamy duck liver and delicately dressed in maple that introduces mixed textures of melt and chews. We also identified tangerines notes in the mix and crunch textures from the potato crisps. Paired with the perfumey White Meat, which drinks sweet tropical notes and a dry sake–like finish that cut the richness from the luscious starter.
Presented with smoky theatrics, the Cow on Field is Tryson's version of a steak tartare that uses organic Angus beef (slightly less acidic) to deliver clean sweet flavours that are contrasted with crisp kale and wait for it – yuzu sorbet! Topped with leafy dust and served with a bite-sized grainy mustard sourdough, this seemingly unorthodox dish showcases a delicate balance of clean flavours that is a dream to devour. Paired with Green Land, this bright yet highly complex tipple sports a nose–tickling curry leaf stem and drinks herbaceous and savoury with a sweet watermelon finish.
Bannie happened to share that Green Land was her favourite creation as she experimented with Macao pepper that highlighted notes of lemongrass which made the drink extra refreshing. We can't help agree that it is one unusual but fine tipple that showcases the delicate nature of the often overpowering curry leaf.
Alas, Janice Wong serves up a boozy plate of art that is well finessed. The Drunken Island treats your palate to notes of cinnamon, ginger spice, whisky, reinvigorating sea salt and subtly sweet torched meringue with a subtle herbaceous finish for an overall indulgent bite. Paired with Double Red, a smoky spirit-forward drink that tastes of citrus and berries with a dry oaky finish that helps to balance out the dessert.
Overall, it's not every day one gets to experience a menu that places an emphasis on delicate execution and finesse that only comes with experience. There were sporadic moments where we felt as if we were at a private dining experience in someone's home and that felt sincerely genuine.
What really stood out?
It was without a doubt the fact that every single dish and cocktail held its own weight without having the need to conform to the typical one plus one pairing template that works (or don't) only when paired together, and that alone is worthy enough to warrant a visit. At least for us.
The six hands dinner (from $138) will be available throughout February at 50Fifty, with limited seats available each day.
Book here.
Read more
Oatside: A fresh face to the oat milk space
Satisfy your sweet (and boozy) tooth at Museum of Ice Cream's 'Adults Only' Affair
An afternoon trip around Southeast Asia, Japan, and Europe, all in bites