What used to only be requested by hipsters looking for plant milk is now increasingly common in your favourite coffee nooks and restaurants should you've been paying close attention. While many foreign Western brands capitalised on first-mover advantages and dominated the shelves early on, only a handful managed to produce worthy substitutes to the bovine juice that has been serving us faithfully for centuries.
Then came OATSIDE, a trendy "full stack" oat milk brand that boasts creamier and maltier textures that were developed and made in Asia, for Asia. Founded by Benedict Lim – former Chief Financial Officer at Kraft Heinz Indonesia – amidst the pandemic lockdown when he went full mad scientist mode in experimenting with making his own oat milk at home. Upon first look, we're instantly drawn to the warm contemporary branding with colourful graphics and cheeky innuendos that appease the millennial crowd.
But enough about the humdrum, we get it you wanna know how it tastes so let's get milkin'! To find out whether OATSIDE holds true to its claim, Time Out participated in a blind milk–taste test conducted by a professional sommelier as we sized up the Barista's Blend – the flagship original oat milk – against a few other brands in the plant milk space. On its own, the oat milk pours a beautiful opaque off–white while we unanimously agreed that it drinks creamier, maltier and much more viscous than all other labels. With coffee, the delicate oat notes don't mask or alter the coffee notes while it steams well to create a beautiful microfoam to deliver a stellar cup of latte. A feat that most plant milk failed to achieve.
Ain't no room for negative energies like fake artificial flavours in 2022 which bring us to our next favourite, the OATSIDE Chocolate. A dark, rich, and semi-sweet blend that features 100 percent Rainforest Alliance certified blend of Indonesian-African cacao beans made adult–worthy and child–friendly. With no added sugar and flavours, there's no such thing as a food-spiracy here.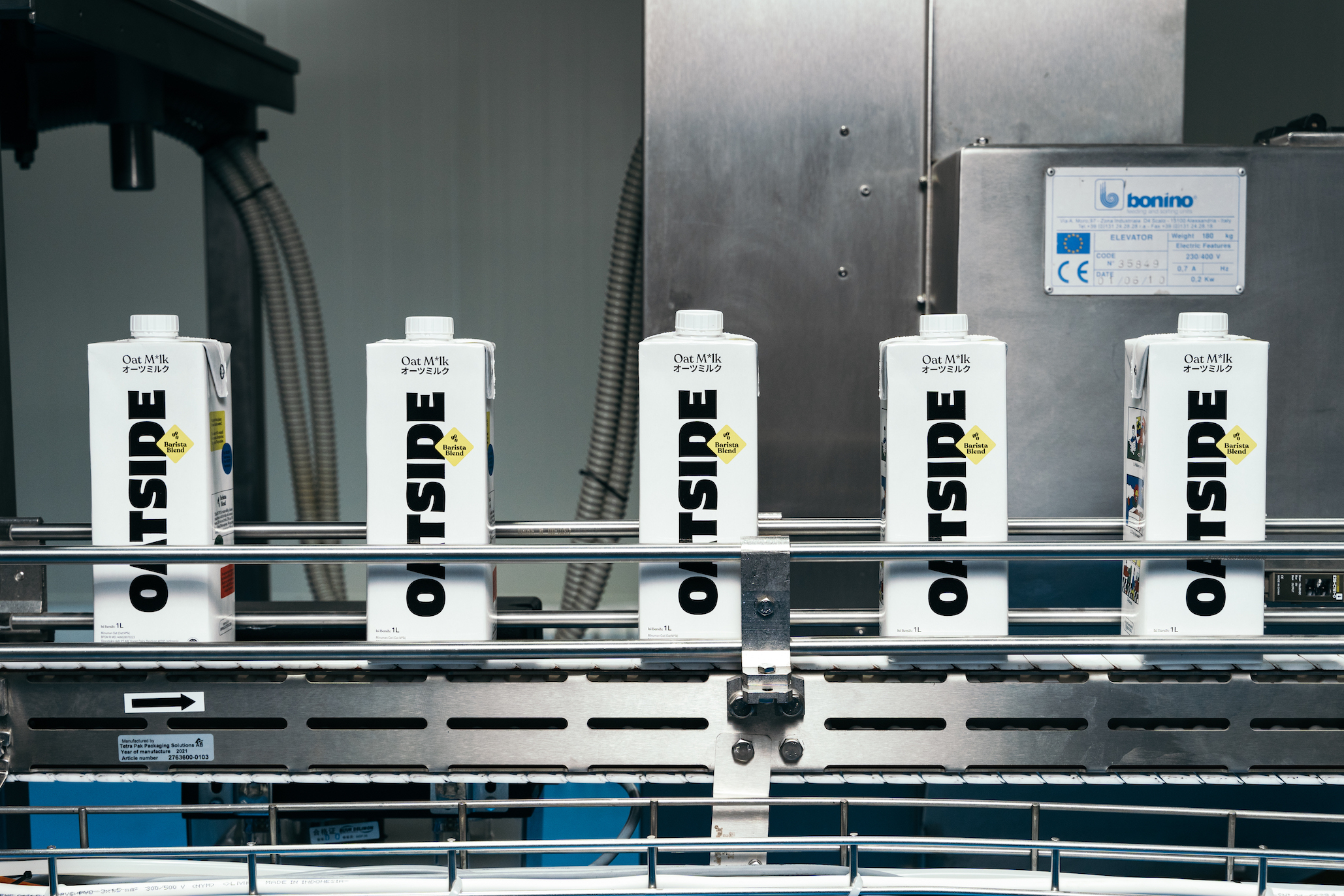 If you're still puzzled by what "full stack" means, it is simply OATSIDE's dedication to bringing us an authentic farm-to-table oat milk experience. Besides only using sustainably-sourced ingredients of the highest quality, the highlight is definitely having their own production line which meant cutting off run-of-the-mill contract manufacturers. This also meant having full control over the entire production and oat extractions with specific customisations to produce tasty oat milk of such calibre – channelling major control freak vibes if you'd ask us. In a space where aggressive growth and massive capital injections are moulding future consumer trends and behaviours, OATSIDE is proving to be an exciting contender in the plant milk space.
So to answer the question – do we really need another new plant-based milk? Well, yes! We'd also agree that it doesn't hurt to know that producing oat milk requires 90 percent less land and water, and produces 70 percent less emissions as compared to cow's milk. After all, if we're all looking to live longer, we sure as hell don't wanna be climate refugees on Elon Musk's Mars colony, sharing a vacuum toilet with Jeff Bezos while all of life on Earth happens underwater.
Read more
Satisfy your sweet (and boozy) tooth at Museum of Ice Cream's 'Adults Only' Affair
An afternoon trip around Southeast Asia, Japan, and Europe, all in bites
Japanese concept iKO's reinvigorated menu drips in style and seasonality