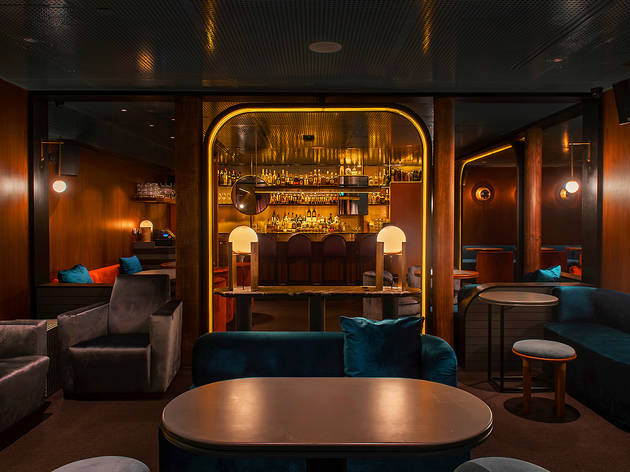 Asia's 50 Best Bars 2020: Jigger & Pony takes home top spot, with 11 Singapore bars making the list
Singapore takes home the top spot once again
Posted: Thursday May 14 2020, 10:22pm
Singapore's Jigger & Pony clinched the No. 1 spot on the annual Asia's 50 Best Bars list 2020, beating out last year's top bar The Old Man from Hong Kong.
The bar, located at the Amara Hotel, continued its upward trajectory to climb eight spots and take home the title of Asia's Best Bar.
"It's a very unusual night," shares Indra Kantono, director and co-founder of the Jigger & Pony Group. "We've always dreamed of this moment, but we've never expected it to be in this circumstance."
Hong Kong's The Old Man fell one spot to place at No. 2. The Singapore outpost of the Earnest Hemingway-inspired bar, on the other hand, debuts on the list at No. 22 – earning it the London Essence Best New Opening Award. Another local bar that sees its placement on the list for the first time is MO Bar at Mandarin Oriental, coming in at No. 46.
The list also sees Nutmeg & Clove (No. 32) making a return after slipping out of the list last year. Other local entries include 28 HongKong Street (No. 30), Gibson (No. 25), D.Bespoke (No. 23), Tippling Club (No. 17), Michter's Art of Hospitality Award winner Manhattan (No. 8), Native (No.6), and Atlas (No. 5).
Outside of the top 50 list, No Sleep Club was named this year's Campari One To Watch – an award that recognises rising stars in the bar scene. Unlike traditional cocktail joints, No Sleep Club brings together elements of a café, restaurant, and bar. "Like a clubhouse," shares its co-founder Jessica Hutch.
"It's encouraging because we don't fit into any category but still made it on the list," she adds.
In view of the current situation, this year's edition of the Asia 50 Best Bars was revealed via a virtual live countdown instead. The annual awards ceremony was originally planned to take place in Singapore at the Capitol Theatre, for what would have been a third consecutive year. It plans on returning to Singapore in May 2021, should the situation improve by then.
It has been a particularly tough period for the local bar scene. On the role of bars and bartenders in this current climate, Jigger & Pony hopes to use to be able to use its new-found platform to help the local community and fellow local businesses beyond the industry. "Our role is to build that [human] connection, deliver hospitality, and make people happy," says Indra.
While we might not be able to have a celebratory drink at Jigger & Pony, the group's food and drink offerings are available online at humpback.sg for those who want a taste of Asia's Best Bar. As to when the bar will re-open, Indra noted that they will fully comply with the government's guidelines and also take steps internally to ensure that they can do so safely.
Check out the full list of bars that made the list this year:
1 Jigger & Pony, Singapore
2 The Old Man, Hong Kong
3 Coa, Hong Kong
4 Indulge Experimental Bistro, Taiwan
5 Atlas, Singapore
6 Native, Singapore
7 The Bamboo Bar, Thailand
8 Manhattan, Singapore
9 The SG Club, Japan
10 Aha Saloon, Taiwan
11 Vesper, Thailand
12 Sober Company, China
13 Bar Mood, Taiwan
14 Bar Trigona, Malaysia
15 Bar Benfiddich, Japan
16 Quinary, Hong Kong
17 Tippling Club, Singapore
18 The Wise King, Hong Kong
19 Speak Low, China
20 High Five, Japan
21 Bee's Knees, Japan
22 The Old Man, Singapore
23 D.Bespoke, Singapore
24 Tropic City, Thailand
25 Gibson, Singapore
26 Draft Land, Taiwan
27 Room By Le Kief, Taiwan
28 Otto e Mezzo Bombana, Hong Kong
29 Charles H, Korea
30 28 HongKong Street, Singapore
31 Rabbit Hole, Thailand
32 Nutmeg & Clove, Singapore
33 Backstage Cocktail Bar, Thailand
34 Caprice Bar, Hong Kong
35 The Pontiac, Hong Kong
36 Hope & Sesame, China
37 Junglebird, Malaysia
38 The Odd Couple, China
39 Bar Trench, Japan
40 Sidecar, India
41 Bar Orchard Ginza, Japan
42 The Curator, The Philippines
43 Union Brasserie, Bakery & Bar, Indonesia
44 Lobster Bar & Grill, Hong Kong
45 The Back Room, The Philippines
46 MO Bar, Singapore (New)
47 Alice, Korea
48 Coley, Malaysia
49 Le Chamber, Korea
50 Cham Bar, Korea (New)
Share the story