Welcome to Da Bao Diaries, a column dedicated to what Time Out Singapore's editors are eating and drinking at home. Da bao is a Singaporean colloquialism derived from Mandarin that refers to having a meal to go instead of dining in at an establishment.
It's the final week before we can hopefully dine out again. But for those who aren't ready to jostle with the crowd, consider these $20 meal boxes from Andaz Singapore's newly launched delivery platform, enjoy a luxurious hawker feast from Jekyll and Hyde, slurp down noodles from Menbaka Fire Ramen, and sample new dishes from online restaurant Coop.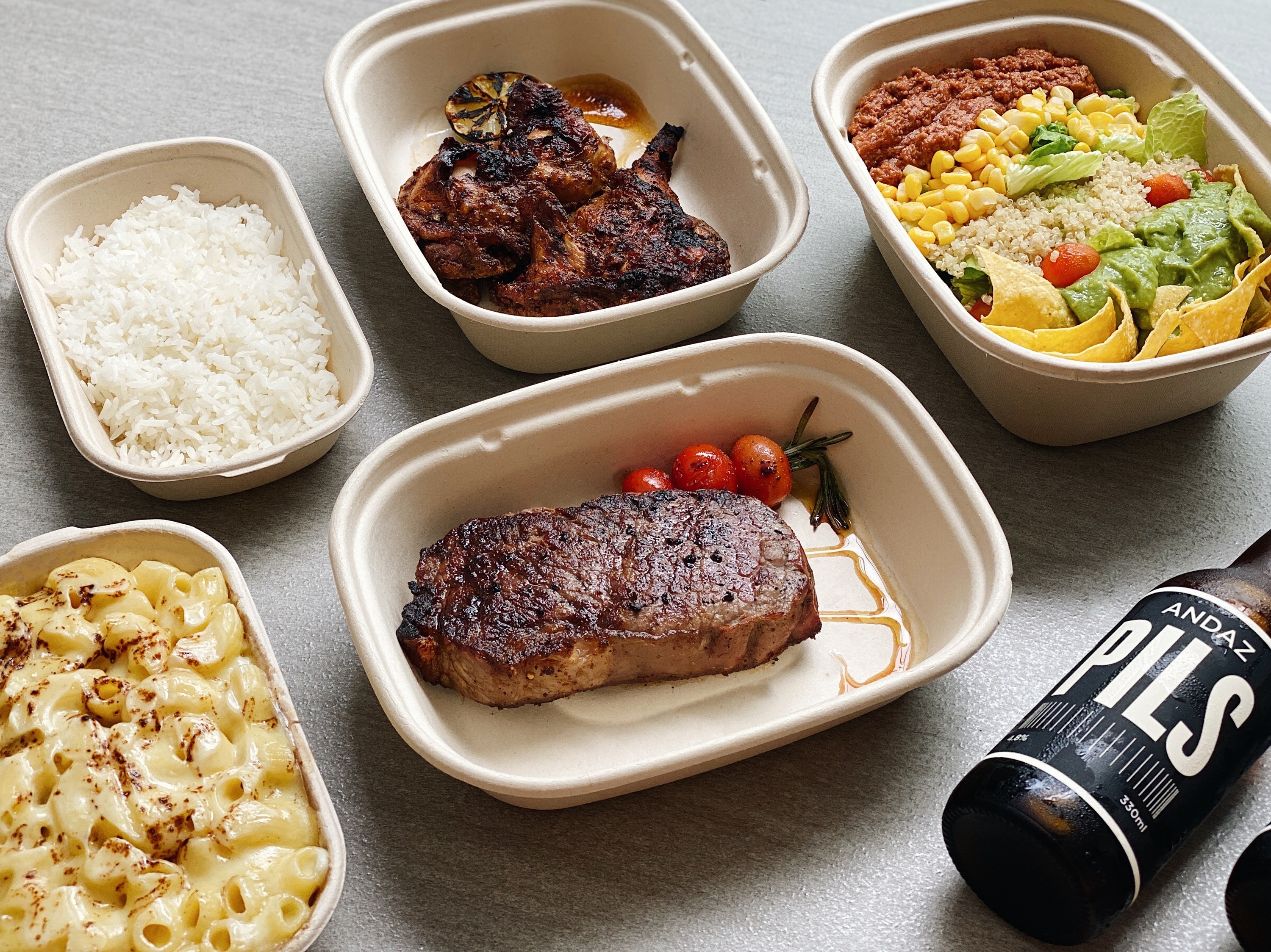 Andaz Singapore
Andaz Singapore has recently introduced its takeout platform, which brings together hit dishes across Alley on 25, 665 Degrees Fahrenheit, and Auntie's Wok and Steam. And our favourite part of this new delivery option: an affordable $20 meal box section, with choices that range from Chinese classics of sweet and sour pork with organic steam rice, to Western plates of penne with wagyu beef ragout. We especially loved the Andaz vegan burrito bowl which makes a colourful, healthy lunch option – where quinoa, corn, guacamole, tortilla chips, and a heaping spoonful of Impossible meat chilli sit atop romaine lettuce. The grilled jerk chicken, slick with a finger-licking spice rub, is also worth an order and comes complete with rice and pineapple salsa to cut through the grease.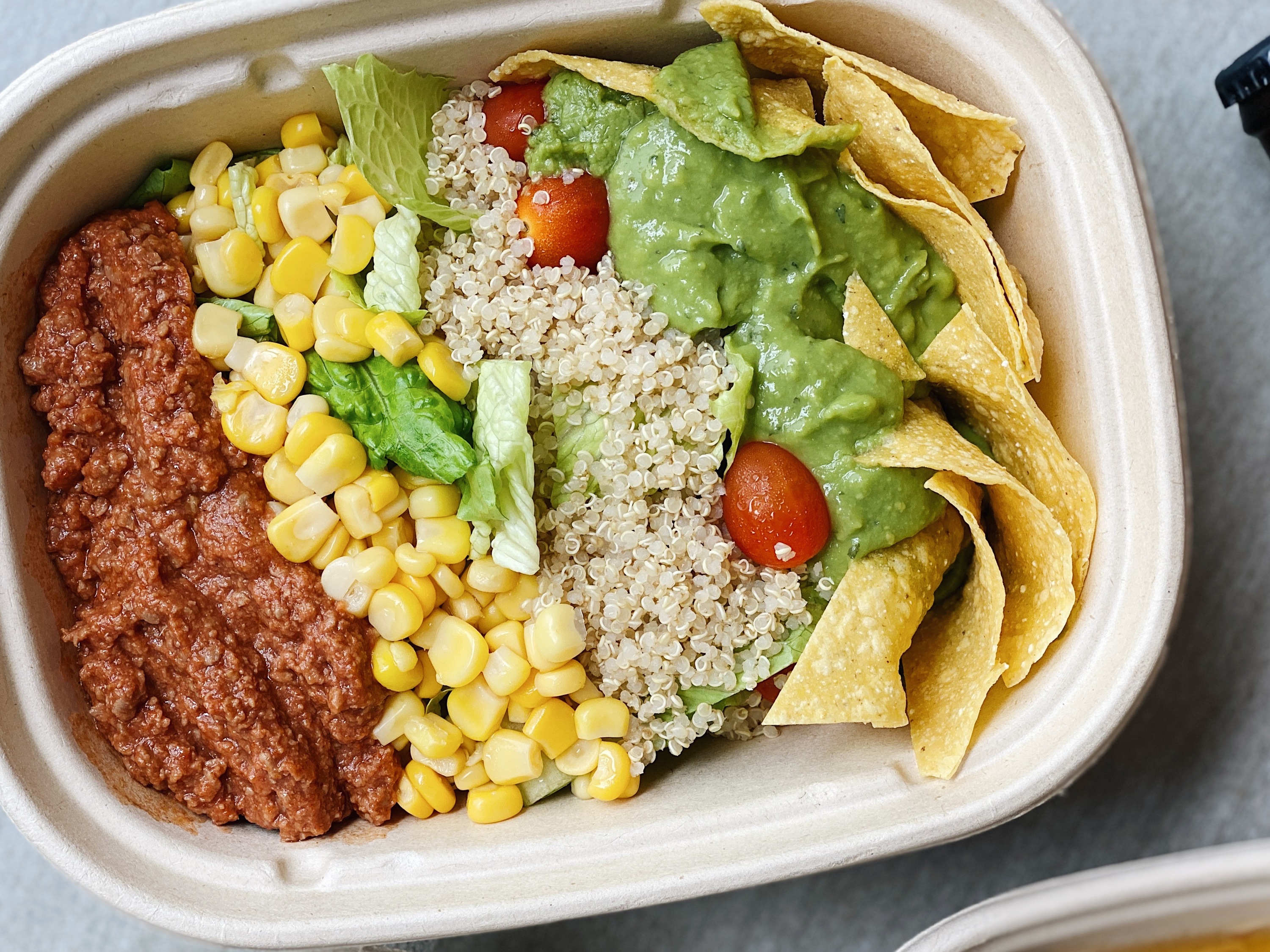 It is also possible to plan for a stay-home steak night with the smoke-kissed treats from chophouse 665°F. USDA Prime New York striploin ($58) sports a nice char and pinkish middle, and is best paired with some macaroni and cheese ($10). For maximum enjoyment, and loads of cheesy pull, pop the pasta into the microwave for a few seconds to unlock its full gooey, creamy potential. Thirsty? Quaff down bottles of refreshing Andaz pilsner, which goes for just $6.
Minimum order None
Delivery fee Varies according to your location
Order here Islandwide delivery available via Grabfood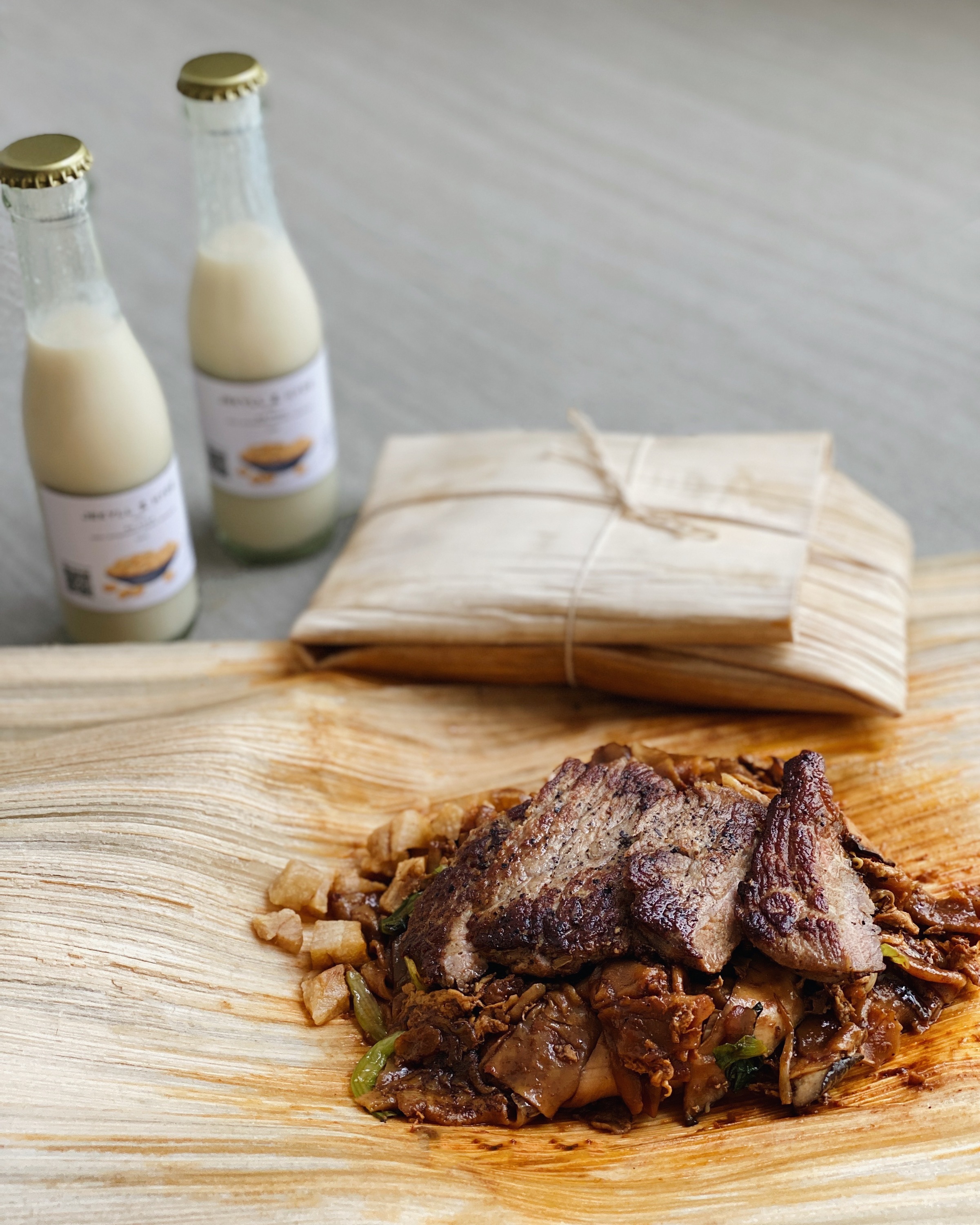 Jekyll and Hyde
We've come to learn that nothing is as it seems at Jekyll and Hyde, much like the iconic novel it is named after. What was once a cocktail bar has since transformed into an all-day dining destination. And what are seemingly classic local favourites have been jazzed up by the kitchen to create fresh results.
Char kway teow, in particular, comes beefed up with slices of tender wagyu ($28.89). Wok-tossed rice noodles come cooked with slices of king oyster mushrooms, then wrapped in opeh leaf to seal in the flavours. The eco-friendly packaging helps trap the steam, which keeps the food warm throughout the delivery journey, and even lends a pleasant, woody fragrance. Thick cuts of wagyu beef add heartiness to the smoke-kissed dish.
Tau huay gets a boozy makeover too in its popular Mr Bean ($23.55). Fans of the old Jekyll and Hyde will recognise this vodka-spiked soya beancurd drink, which was only available as an off-menu item at its new location. Now, the well-loved concoction gets a permeant spot on its delivery menu. Sample these delicious highlights in the aptly named Jekyll Star Set ($94.16), which comes with two servings of wagyu char kway tiao and Mr Bean.
Minimum order $50
Delivery fee $10, free for orders above $150
Order here jekyllhyde.oddle.me/en_SG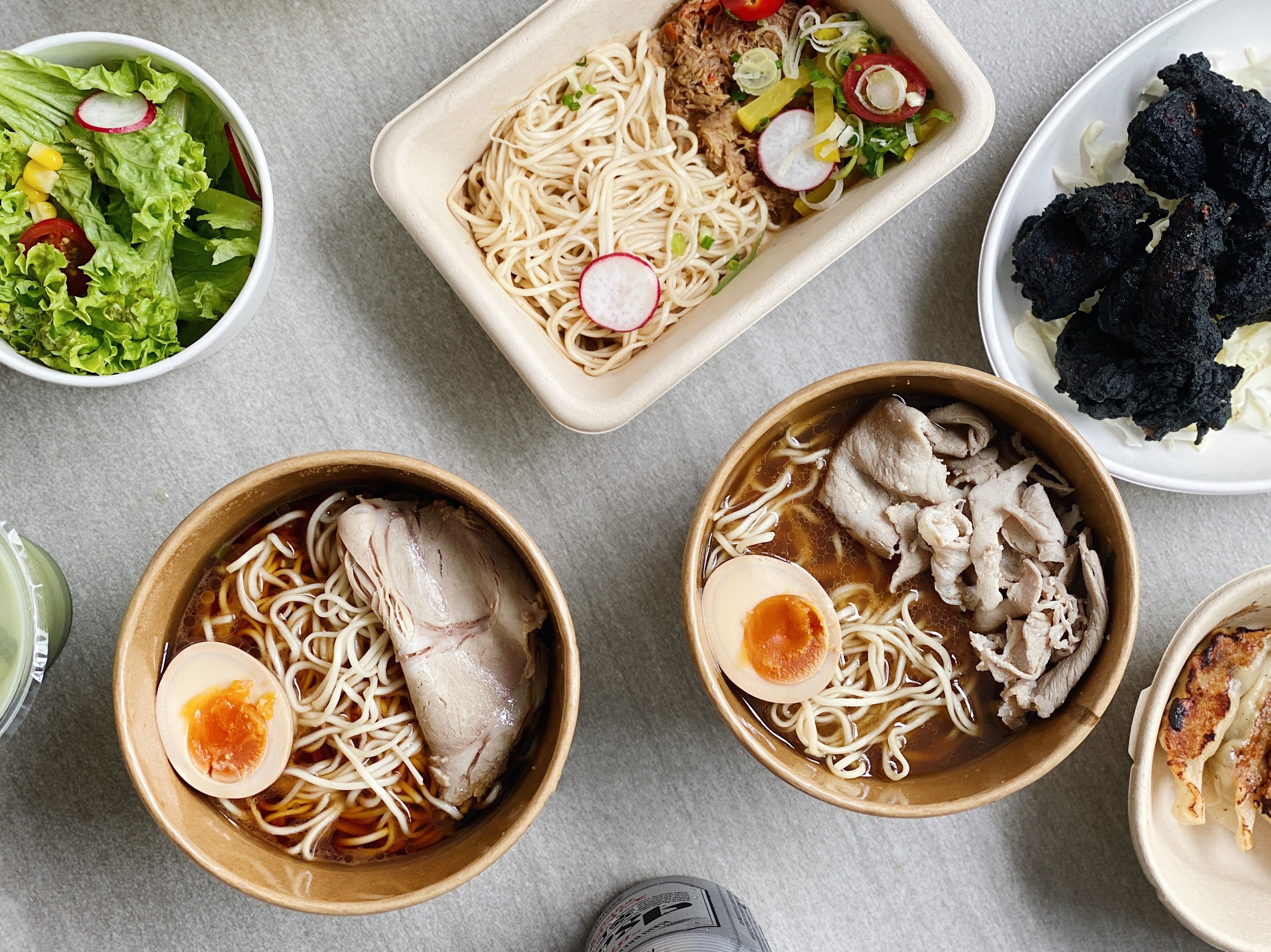 Menbaka Fire Ramen
This Kyoto-based joint is best known for setting its bowl of noodles on fire. But while the takeout menu from Menbaka Fire Ramen doesn't come with usual pyrotechnics, the broth served is still imbued with a kiss of smoke. Try it in the signature Fire Ramen ($20.05), made with chicken broth and an ancient 226-year-old blend of imported shoyu. Or get the Tonkotsu Fire Ramen ($22.29) boiled with pork bones for a creamier base.
The best way to sample what Menbaka has to offer is through a premium two-pax bundle ($61.49). Choose from two bowls of signature ramen, and pair each mouthful with sides of charcoal-infused kaarage, gyoza, charred butter corn, mini salad, and more. Also included is the takeout-exclusive Nijo Dry Ramen, where thin strands of noodles come coated in Japanese sesame dressing. Toss it all with the accompanying teriyaki chashu ragout for a moreish treat that can be enjoyed at room temperature. Each set comes with two cups of tea, but we'd recommend throwing in some matcha beer ($16.69) too. Canned Asahi and Uji matcha syrup is packed separately, giving you the chance to play bartender and concoct a refreshing brew with an alluring bittersweet fragrance.
And from now till June 13, every order of the Tonkotsu or Kara Miso Fire Ramen will come with a free side dish of chashu croquette or pork gyoza.
Minimum order None
Delivery fee Varies according to your location
Order here menbakakyoto-fireramen.oddle.me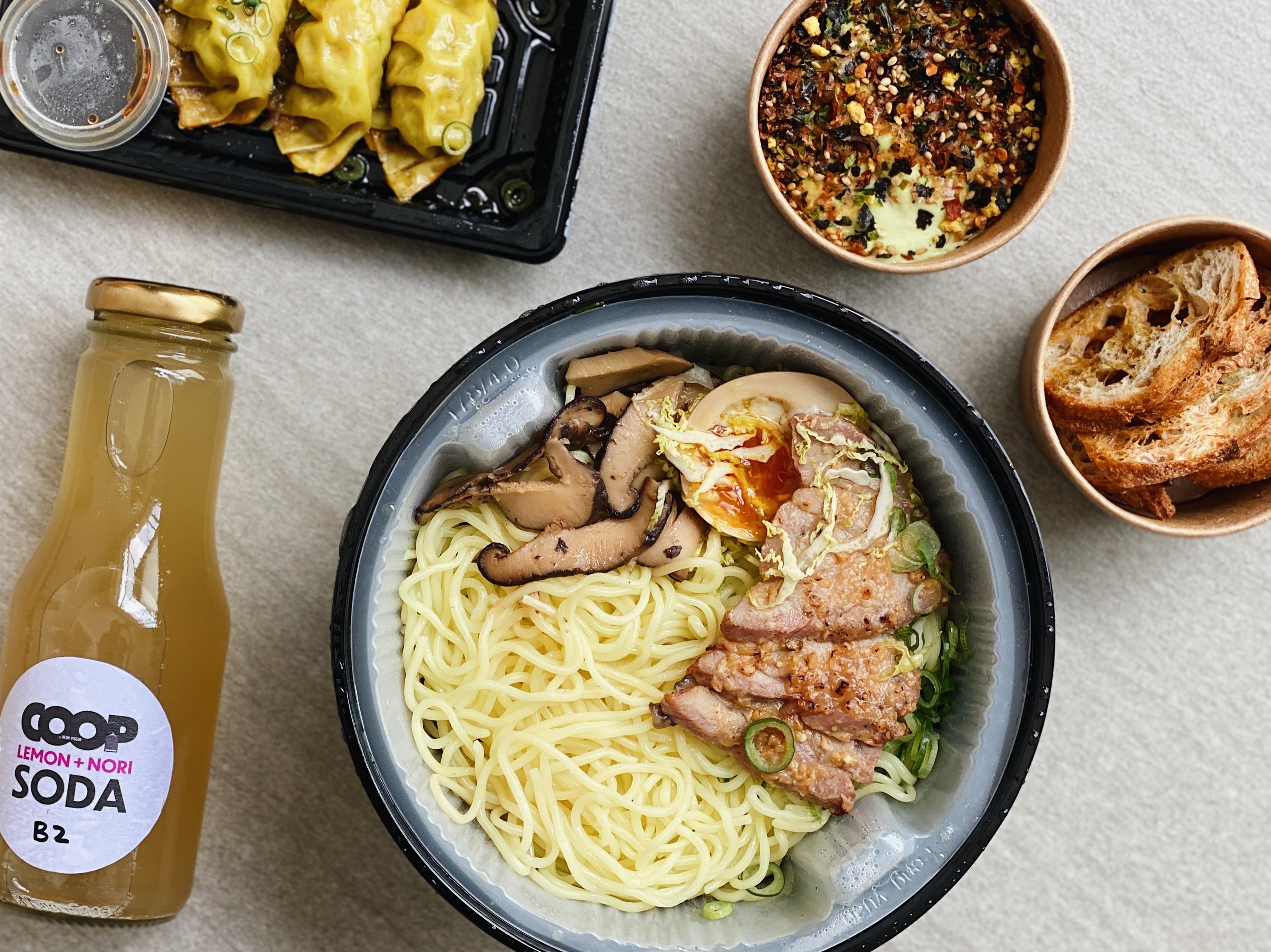 Coop
Modern izakaya Neon Pigeon has found a new (virtual) home. Coop is its latest digital restaurant, which offers a wallet-friendly menu of sando burgers (soft bread with crisp fried cutlet), rice bowls, ramen, and other convenient one-bowl options. And everything comes under $20.
Buns can come with pork ($16) and tofu ($14) katsu; while rice from the Niigata Prefecture might see toppings of teriyaki prawn and cauliflower pickle ($18), or fried and glazed, Korean-style, with daikon kimchi. Or try the ramen, served with a comforting broth cooked with duck and chicken, then brightened with some lemon ginger tare. We liked the tender pieces of sake-smoked Kurobuta pork collar ($16), with additions of shredded Napa cabbage and slices of shiitake mushrooms that make for a light, nourishing lunch.
The minimum order value of $14 might be easy to hit, but don't let that stop you from adding some sides and drinks to the cart. Neon Pigeon's signature Tokyo Hummus ($10) with curried chips is a must-get. Then finish the meal with some lemon nori soda ($5), a novel concoction of lemon juice with soda water and nori syrup that is reminiscent of salty lemonade with its slight savoury finish.
Minimum order $14
Delivery fee $12
Order here coop-neonpigeon.oddle.me/en_SG