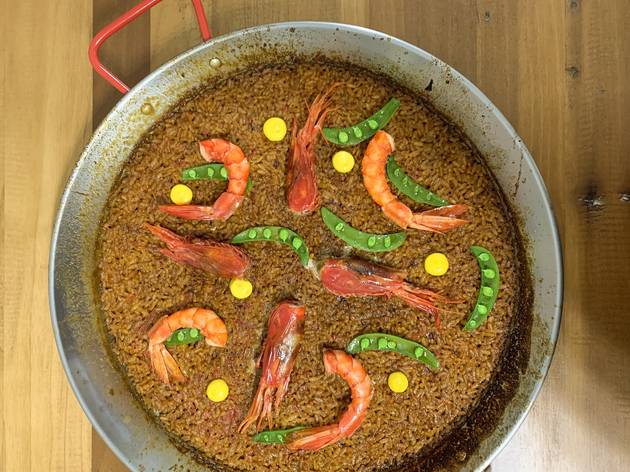 Da Bao Diaries: Esquina's carabinero paella and Basque burnt cheesecake
Welcome to Da Bao Diaries, a daily column dedicated to what Time Out Singapore's editors are eating and drinking
Posted: Tuesday April 7 2020, 7:14pm
Welcome to Da Bao Diaries, a daily column dedicated to what Time Out Singapore's editors are eating and drinking while Singapore's 'circuit breaker' measures are in place till May 4. Da bao is a Singaporean colloquialism derived from Mandarin that refers to having a meal to go instead of dining in at an establishment.
There are very few things in life I enjoy more than dining out. The chatter of fellow diners bouncing off the walls, the warmth of service staff – whether they call you ma'am or xiao mei – and napkins that smell like fabric softener or colourful tissue packets that line the top of a hawker centre table. They are all luxuries I've come to take for granted.
But from today, April 7, life as we know it changes forever. And until we can all come together to have a meal again, we can still try to bring a slice of dining out to our dinner table. Many of Singapore's restaurants and hawkers have been quick to react, offering delivery or special family-sized set meals that make sense for the home.
Esquina's Homely Spanish Family Meal, in particular, caught my eye. Priced at $250 it comes with a full pan of carabinero paella ($108) that it says serves three to four – but really could serve five to six if you have other dishes on the table to share. Sides include bread spread with tomatoes topped with Iberico Ham Arturo Sanches ($35) and a traditional Spanish omelette ($42) stuffed with sliced potatoes and onions with a soft, melty centre. And speaking of soft, melty centres, you also get an entire oozy Basque cheesecake ($108) that's one of the best versions of the trendy dessert we've had in town.
How to order The ordering process is simple enough, just call the restaurant at 6222 1616 or email info@esquina.com.sg at least two hours in advance. There's a $50 minimum order for delivery and a $5 delivery free. Check out the full menu here, add your dishes to cart and choose your preferred delivery time. I requested for mine between 7pm to 7.30pm and it arrived two minutes ahead of schedule – don't you love it when dinner is ready early?
Time Out Singapore da baos anonymously and pays for our food.
Read on for more restaurants offering takeaway and delivery
Want your hawker fix? This Facebook group tells you which hawker stalls are available on delivery too
Wash it all down with bottled cocktails from these local bars
Share the story