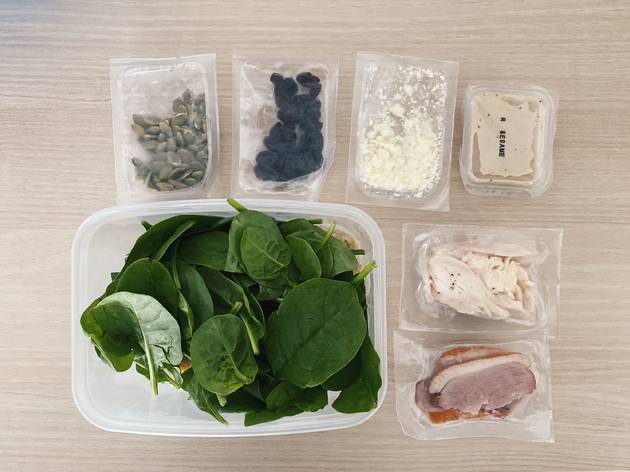 Da Bao Diaries: fresh, hearty meal boxes from Shake Salad
Not all convenient, pre-packed meals need to be unhealthy
Posted: Thursday May 21 2020, 2:03pm
Welcome to Da Bao Diaries, a daily column dedicated to what Time Out Singapore's editors are eating and drinking while Singapore's 'circuit breaker' measures are in place till June 1. Da bao is a Singaporean colloquialism derived from Mandarin that refers to having a meal to go instead of dining in at an establishment.
You've probably seen Shake Salad's packaged meals in vending machines around town. Sure, it's convenient but how fresh can something stored in a machine be? Well, if you've always been intrigued by it then nows the time to satiate your curiosity and desire for some greens.
You no longer need to hunt down a vending machine to try this healthy meal. The company is delivering during this period, which is great when you're in the mood to eat clean without splurging. And just because the salads come pre-packaged doesn't mean that quality is compromised. Each bowl, or box, is packed with ingredients that are restocked every day.
Greens and grains come stored in plastic containers, while accompaniments of dried fruits, seeds, cheese, and sauces served separately in plastic sachets. To enjoy, just dump everything together in the container and yes, give the whole thing a good shake.
The classic Caesar salad ($6.90) comes with romaine lettuce, cherry tomatoes, cucumbers, grapes, baked potatoes, red onions, walnuts, sous vide chicken breast, parmesan cheese, and croutons; while the Greek pasta salad ($7.90) is packed with fusilli, a Mesclun mix, carrots, onions, capsicum, raisins, feta cheese, and smoked duck breast.
It's more fun, we reckon, to create your own salad. Build upon a base of four different bowls, and dress up the salad with your choice of toppings and sauces. Try the Chopped Salad ($6.90), which comes with quinoa, baby spinach and sweet additions of tomatoes, raisins, and corn. Don't overlook the protein options – they might come packed in plastic sachets, but the chicken breast ($1) and smoked duck breast ($2) are both incredibly tender. Drizzle in some roasted sesame sauce and shake it all together to combine. Each package even comes with a spork, making it a convenient desk-bound meal to enjoy as you work or binge-watch Netflix.
And when you're done, keep the container instead of tossing it out. It's sturdy and roomy enough to hold your next take-out meal the next time you da bao from your nearby hawker centre. Plus, it's microwave-friendly too.
HOW TO ORDER Head over to shakesalad.oddle.me/en_SG to place your orders. There's a minimum order of $30 that comes with free island-wide delivery.
Need more takeaway inspiration?
Share the story