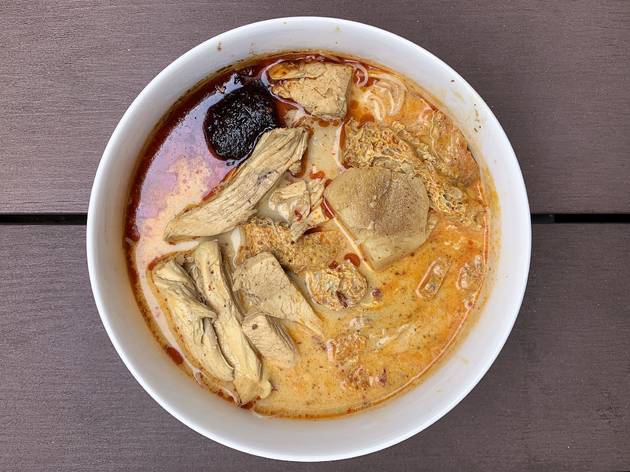 Da Bao Diaries: Hock Hai Curry Chicken Noodle
Welcome to Da Bao Diaries, a daily column dedicated to what Time Out Singapore's editors are eating and drinking
Posted: Wednesday April 8 2020, 9:48pm
Welcome to Da Bao Diaries, a daily column dedicated to what Time Out Singapore's editors are eating and drinking while Singapore's 'circuit breaker' measures are in place till May 4. Da bao is a Singaporean colloquialism derived from Mandarin that refers to having a meal to go instead of dining in at an establishment.
If I had to choose only one local dish to have for the rest of my life, it would be a toss-up between mee pok and curry chicken bee hoon. But thanks to the rainy weather we've been having, the urge to get the latter for today's Da Bao Diaries was particularly hard to resist. While Ah Heng Curry Chicken Bee Hoon Mee over at Hong Lim Food Centre has my vote as the best curry chicken noodles in the city, I live in the east. So I went over to Bedok Interchange Hawker Centre to get my cravings sorted instead.
Hock Hai Curry Chicken Noodle has long been a weekend staple for me and my family. Each bowl ($5) comes loaded with tau pok, beansprouts, potatoes, your noodle of choice and poached chicken in a glistening soup curry that's mildly spicy and sweeter than most. For those of you who like your curry chicken noodles spicier and more savoury, the secret is to add in a tablespoon of dried shrimp chilli to the broth, turning it a glossy shade of red and imbuing it with more complexity. Even then, the curry stock is compellingly drinkable – and if you're like me you'll be left with a clean bowl without a drop of curry left.
How to order Hawker centres like the one at Bedok Interchange are still open for takeaway but Hock Hai Curry Chicken Noodle is also available on delivery platform Why Q, which charges a delivery fee ($1.50) and small order fee ($2) if you spend under $10.
Time Out Singapore da baos anonymously and pays for our food.
Read on for more restaurants offering takeaway and delivery
Want your hawker fix? This Facebook group tells you which hawker stalls are available on delivery too
Wash it all down with bottled cocktails from these local bars
Share the story