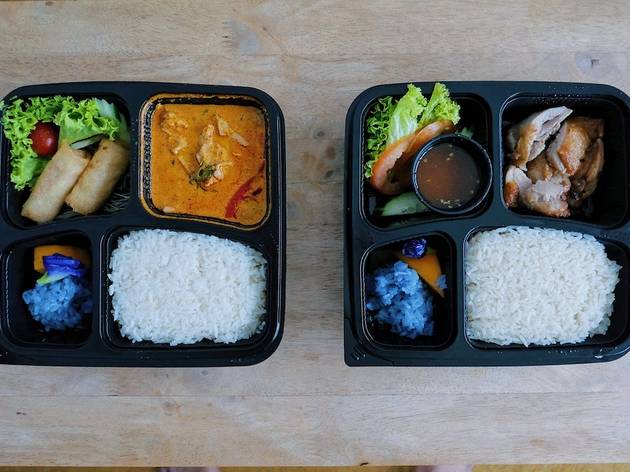 Da Bao Diaries: Thai-inspired meatless bento box sets from Blue Jasmine
You can't go wrong with a bento box, especially if it comes with mango sticky rice
Posted: Tuesday April 28 2020, 12:41pm
Welcome to Da Bao Diaries, a daily column dedicated to what Time Out Singapore's editors are eating and drinking while Singapore's 'circuit breaker' measures are in place till June 1. Da bao is a Singaporean colloquialism derived from Mandarin that refers to having a meal to go instead of dining in at an establishment.
Craving Thai food? Always. As days and weeks start to get hazy in 'circuit breaker' mode, jolt your senses awake with a kick of spice in the middle of the workday.
If you're ready to graduate from the neighbourhood delivery options like Nakhon Kitchen, Soi Thai and Thai Express, this eatery at Park Hotel Farrer Park offers lunch bento boxes. The best part – it's pretty affordable. Starting from $13, there are seven options on the Blue Jasmine delivery menu including the classic basil chicken set and also the meatless option of the same dish. We went with the Heura (a plant-based chicken alternative) red curry set ($15) and a roast chicken – 100 percent real chicken – set ($13) to compare the two.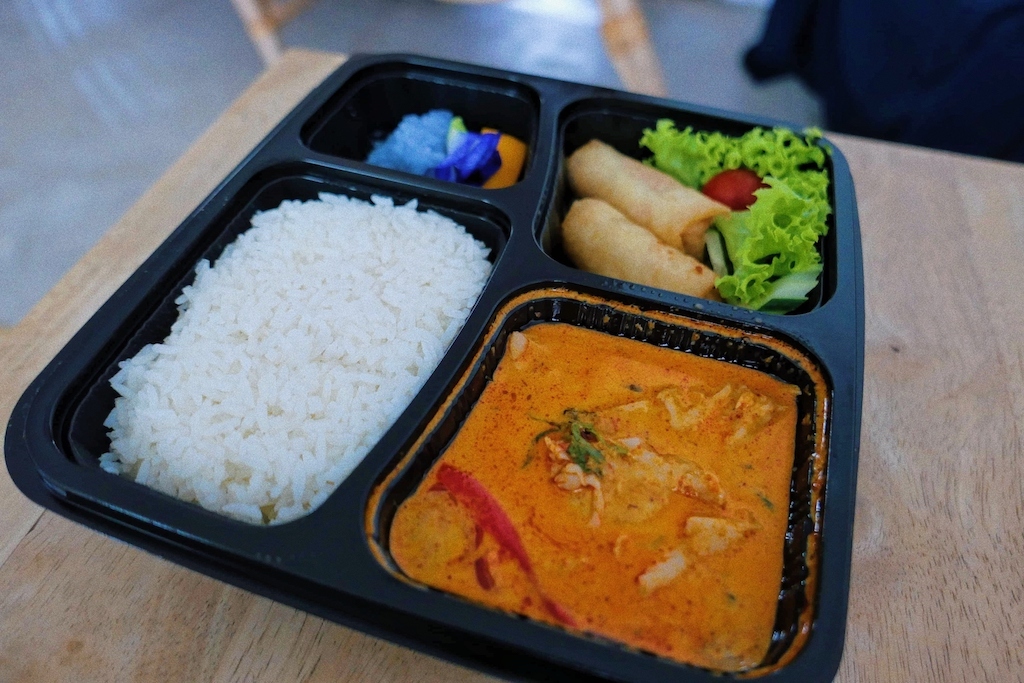 The roast chicken set was a good switch up from the quick standard chicken rice lunch, plus the tangy and spicy dipping sauce made up for the lack of sauce in the dish. If you're curious about plant-based alternatives, then the vegan 'chicken' makes for an interesting experience. It looks like chicken, tastes better than chicken, and feels almost like chicken – but dare we say – crunchier (think bamboo shoots).
Each bento box comes with rice, the main protein, fresh vegetables, spring rolls and a side mango sticky rice for dessert. The restaurant also provides DIY fancy tea pack consisting of a blue pea flower, a lemongrass stalk and a sachet of brown sugar for a post-meal sip.
How to order Blue Jasmine at Park Hotel Farrer Park and remains open for takeaways and deliveries during this period. Enjoy 30 percent off all a la carte dishes for takeaway and choose from seven options for delivery. Delivery is free although there is a minimum order of eight boxes. Email them at hello@bluejasmine.com.sg or call 6824 8851 to place orders.
Need more takeaway inspiration? Check out our previous Da Bao Diaries entry
Read on for more restaurants offering takeaway and delivery
Wash it all down with bottled cocktails from these local bars
Share the story