Singapore is a global city that is home to many well-travelled citizens – yet, for many of us, our sole impression of Scandinavia is their "easy to put together furniture" and meatballs. Who else better to educate us on Scandinavian cuisine than Swede maverick Knut Randhem himself, with his latest Scandinavian dining experience, Hemlig.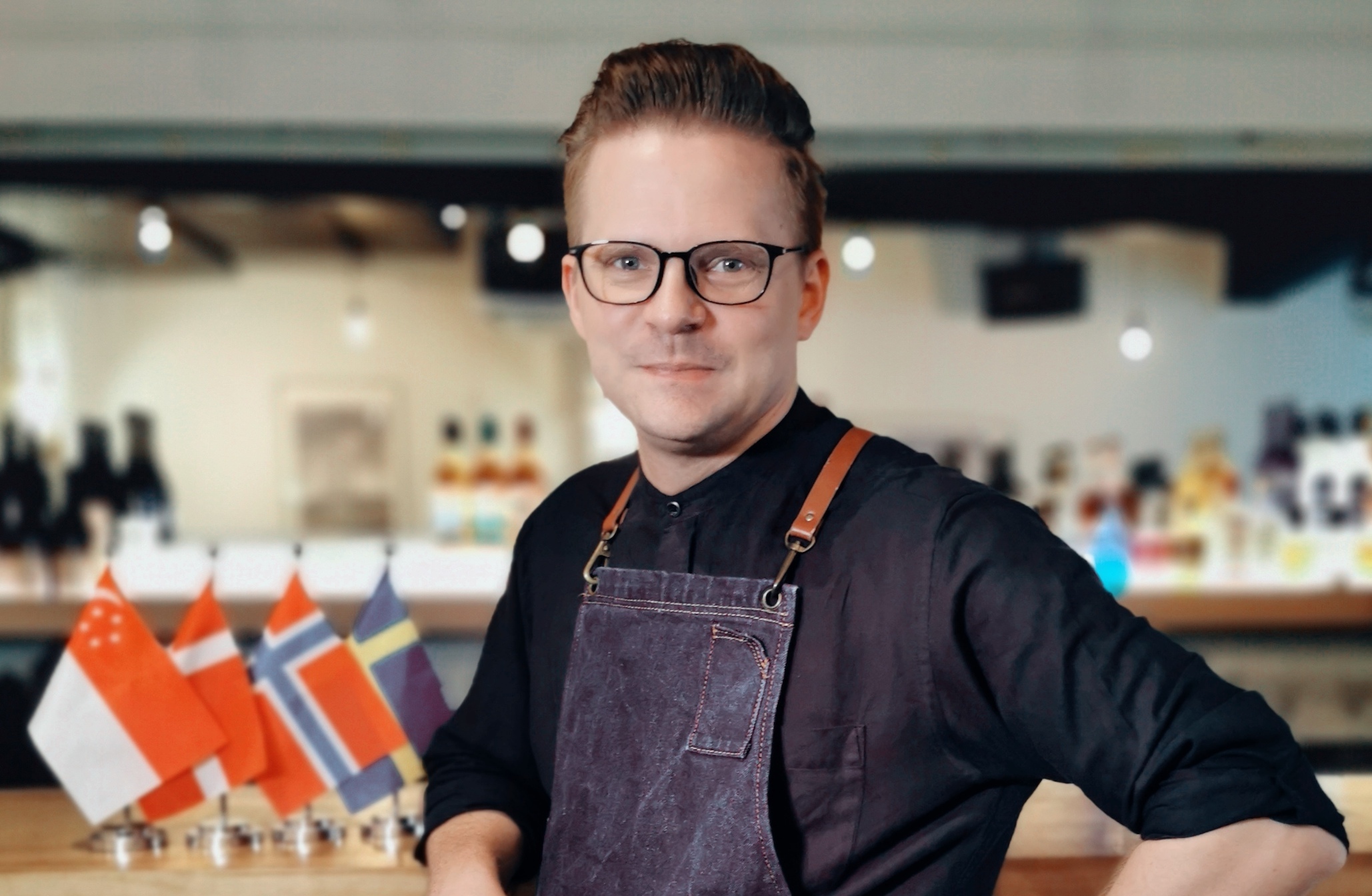 To back Randhem's walk and talk, the award-winning industry stalwart brings with him 18 years around the world – as a Brand Ambassador of Dictador rum in Bangkok, former Head Bartender of Hong Kong's Ce La Vi, and a Bar Manager at our own Butcher Boy. Most recently, he's also co-founded cult favourite Fung Kee Hotdogs.
Dreaming up a home away from home
No, it's not a Viking's war cry if you were wondering. Instead, the Hemlig namesake translates to "secret" in Scandinavian, representing Randhem's life-long dream to introduce Scandinavian dining culture to Singapore and the region. It also offers an authentic slice of familiarity for Scandinavians who are away from home as well.
Clean and cosy is perhaps an apt label for its creative direction. Step into a minimalistic space: snow-white walls, frames of iconic Nordic bridges, and a simple elegant wooden bar countertop. As for the food, things are kept true to style and homely. Randhem describes the food to be like a "grandmother's food served by the grandson".
There's more than just meatballs on the menu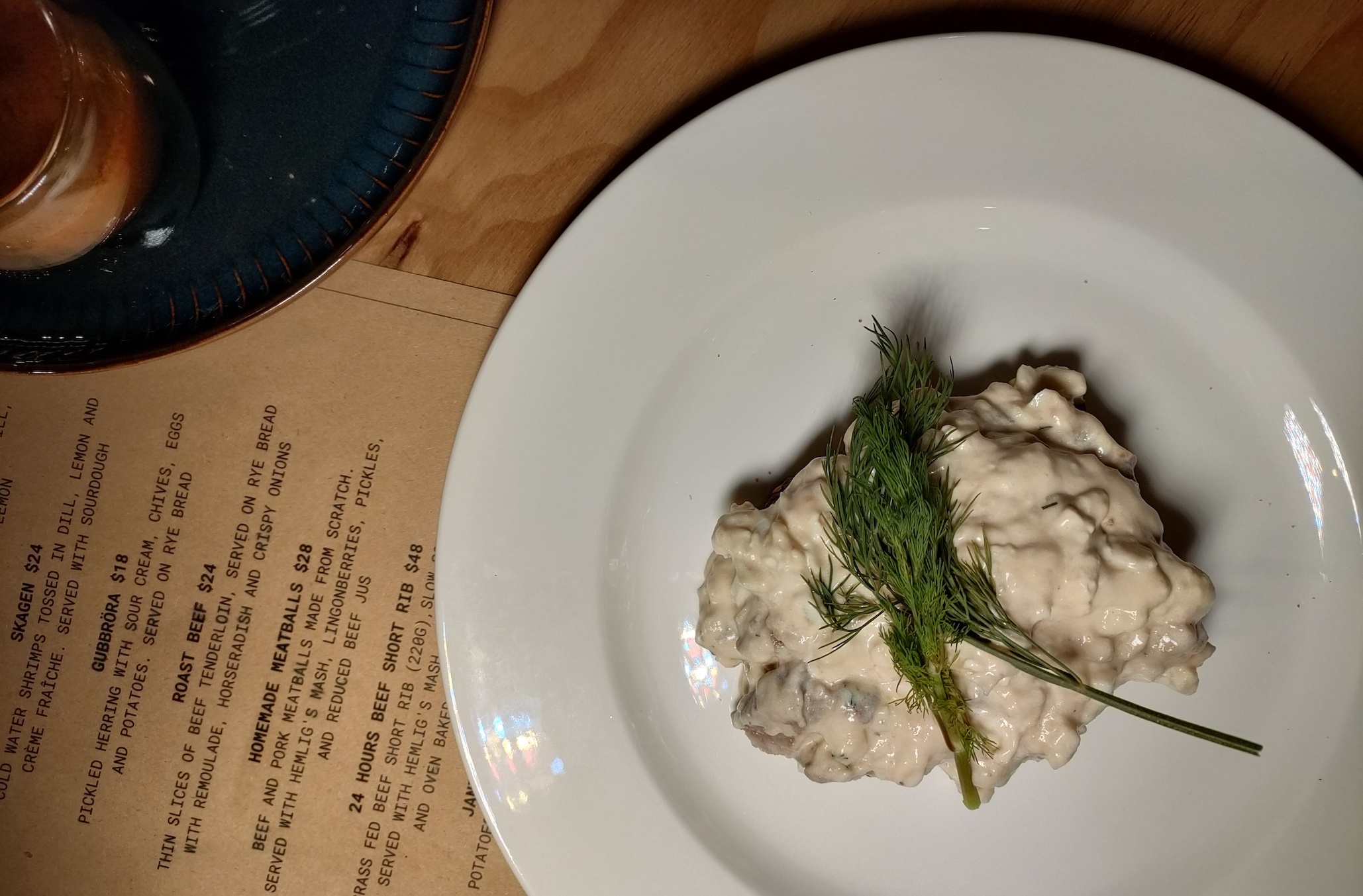 Take the Gubbröra ($18, pictured above) where you'd find traditional Danish pickled herrings mixed with sour cream, chives, eggs and potatoes – all served atop a slice of rye bread. There's also the crowd favourite Skagen ($24) where cold water shrimps are tossed in dill, lemon and creme fraiche then served alongside sourdough. Not to be missed, the homemade meatballs ($28) showcase a blend of pork and beef to deliver juicy morsels paired with buttery mash, sweet yet tart lingonberries and a darn good beef jus reduction that had us licking the plate.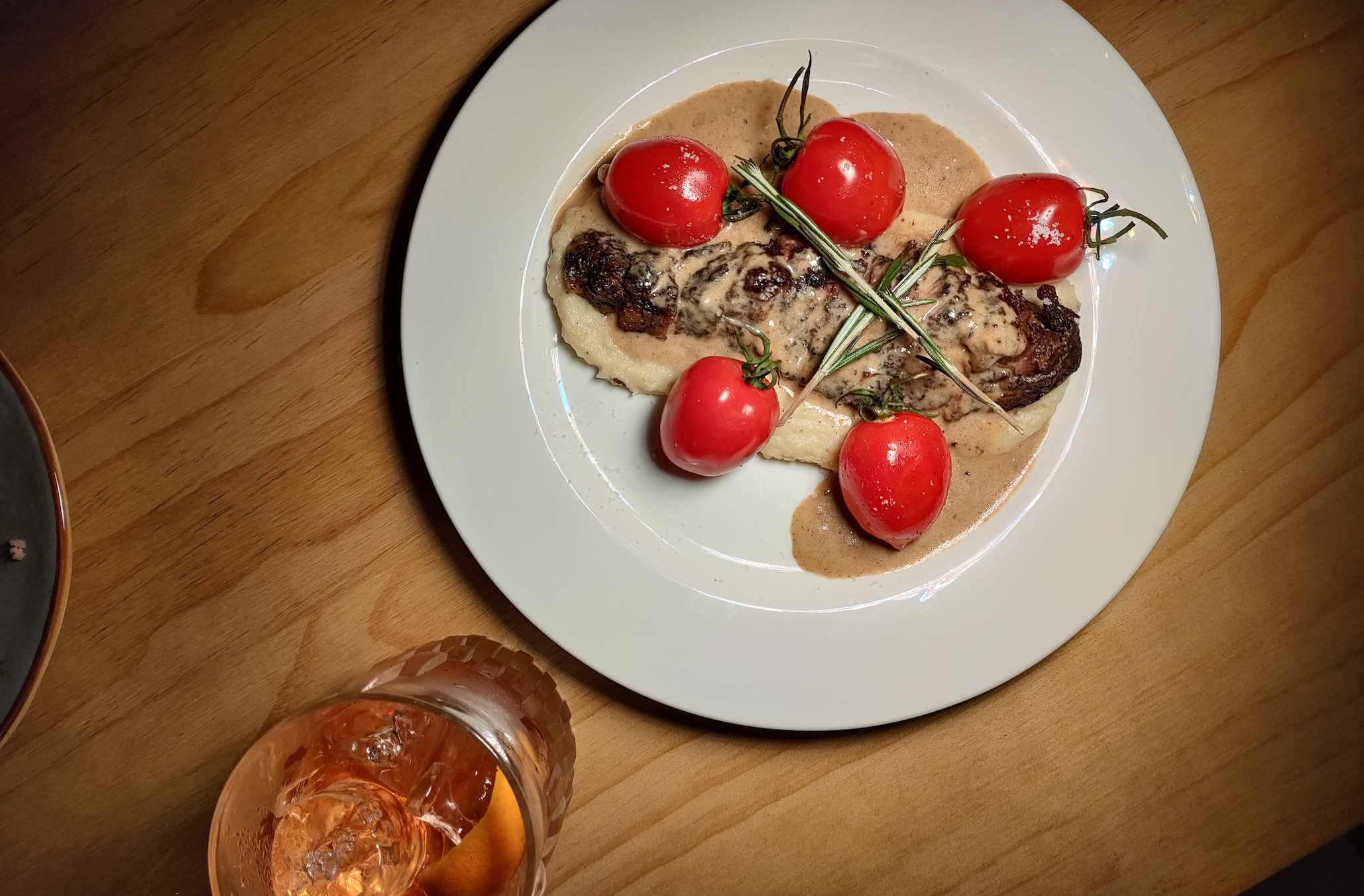 But what ultimately floored us was the humble beef short rib ($48, pictured above). Randhem selects a 120-day grass-fed cut and slow cooks it for 24 hours before serving it up with mouth-watering oven-baked cherry tomatoes. The result is fork-tender decadence in each bite – it's a dish that's bound to please beef lovers all around.
A little booze never hurt anybody
If you're familiar with the Swede himself, you'd probably know of his negronis and advocacy for aquavit (a type of Scandinavian distilled spirit). Themed around the bridges that link up the Nordic countries, the cocktail menu showcases the best of this chilly region. Our favourite tipple is, without a doubt, the Svinesund ($24, pictured above) – named after the bridge that connects Sweden to Norway – where he combines cask-aged aquavit with Campari and Martini Rosso. Sounds familiar? Simply put, it's a classic stiff negroni with a Scandinavian backbone.
Another worthy mention is the Kanon 37 ($24) – named after a famous Swedish cannon – a twist on a classic French 75. Swapping gin out for aquavit, what that does is it highlights the dill, caraway and fennel profiles of the aquavit. In return, it delivers a bubbly tipple that is refreshingly herbaceous.
All in all, the best way of getting acquainted with new cultures is simply through their cuisine. So before you think about paying top dollar for flight tickets to Scandinavia, your best bet is to swing by Hemlig and have a go at a proper Scandinavian culinary experience. Perhaps even learn about how the aquavit came about.
Book here.
READ MORE
Here's why you shouldn't wait to visit the newly opened Osteria Mozza
This intimate steakhouse is one of Bukit Timah's well-kept secrets
Sushi Yujo is a new omakase restaurant in Tanjong Pagar with $38 lunch sets